LG Electronics (LG) will use its innovative OLED technology this summer to take visitors on a 565 million year journey, for a truly unique perspective of the development of the eye, as part of the Natural History Museum (NHM) exhibition Colour and Vision: Through the Eyes of Nature.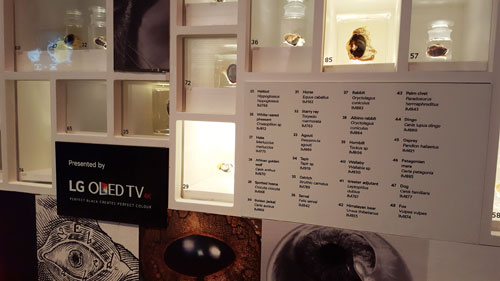 From the Pre-Cambrian period to the present day, visitors will see how colour and the eye has evolved over time – from seeing in black and white to the advanced human vision we experience today. This fascinating journey will be demonstrated not only through rarely seen specimens on display, but also via LG's unique OLED TVs, which are capable of displaying true to life colours and perfect blacks, just as they should be seen in the natural world.
Visitors will also have the opportunity to become part of the exhibition by having a picture of their eye taken at the bespoke LG photo booth. Positioned at the entrance to the exhibition, general visitors and ticket holders will be encouraged to take a snap of their eye and upload to social channels with the hashtags #MyEye and #DiscoverOLED to be in with the chance to appear on the Wall of Eyes in the exhibition.
The exhibition space will feature the award winning LG OLED 4K TVs helping to bring to life elements of the exhibition with OLED's wide colour range. This includes; the Wall of Eyes display, as well as an immersive film at the conclusion of the journey. At the end of the exhibition, visitors will also have the opportunity to see the next stage of OLED technology evolution with the LG E6 OLED 4K TV (which we reviewed here). The stylish new picture on glass TV features super sharp 4K resolution and will showcase how different animals see, as well as colourful content from elsewhere in nature.
Dawn Stockell, Head of Brand LG Electronics UK, said; "Technology plays such a vital role in our ability to understand the world and LG's OLED is at the very forefront of expanding digital colour – so this felt like a very natural partnership looking at how eyes and colour have evolved in the natural world, and how this can be showcased by new technology. Only LG OLED TV can display perfect black on screen, in turn creating perfect colour, lending itself to revealing the beauty of Colour and Vision in the natural world."
Fiona Cole-Hamilton, lead content developer for the exhibition said: "Colours abound in the natural world, and we are delighted to be able to represent nature's diverse beauty in innovative ways through LG's OLED technology. The exquisite digital imagery on show, combined with the rare specimens from the Museum's collection and immersive art, will present the incredible evolutionary journey of colour and vision."
The exhibition opens today until Sunday 6th November 2016, and tickets can be purchased by visiting www.nhm.ac.uk/colourandvision.