New research from market analysis firm IHS appears to have confirmed the bad news given to us by Samsung last week – that it'll be several years before OLED TV hits the mainstream, as all bar one television maker focus their efforts on ultra high-definition (UHD) displays instead.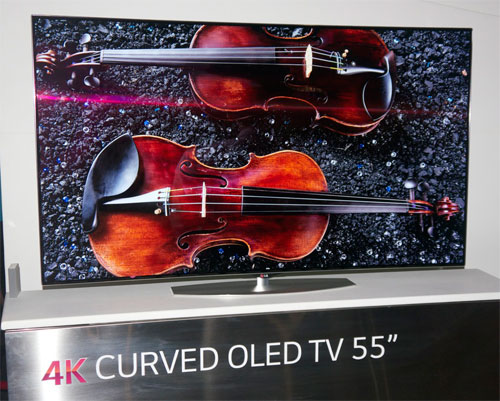 OLED has rapidly won over legions of fans since we saw the first displays featuring the technology at CES 2012. Combining the best aspects of LED and plasma, OLED is said to deliver the most stunning images ever seen on a consumer-grade television, especially when it comes with 4K Ultra HD resolution like LG's most recent models. Video enthusiasts have every right to be extremely excited, but there was disappointing news when a top Samsung official said last week that OLED was still 3-4 years away from becoming affordable, with current models selling at around £5,000 a piece.
But those hoping that it was only Samsung who's having problems delivering affordable OLEDs will be in for an even bigger disappointment now that IHS's latest study is out. In its AMOLED Panel Makers' Strategy Analysis and Market Forecast report, the market research company reveals that it too believes that OLED is likely to remain a niche product for several years to come, and it's done the maths to back up that prediction. This year, IHS expects no more than 50,000 OLED TVs to be shipped, largely due to the fact that LG Electronics is the only brand capable of manufacturing the panels in large volumes.
Things will improve as other brands get up to speed. A number of other TV manufacturers including Chinese brands TCL, Haier and Changhong showed off their OLED televisions for the first time at this year's CES, and IHS says that as manufacturing problems are slowly overcome, shipments will gradually increase. By the end of 2015, it reckons 700,000 OLED TVs will be shipped globally, rising to 2.2 million in 2016, and 5.1 million by the end of 2017. Based on those figures, it's unlikely that OLED TVs will become affordable until around 2018 at the earliest.
The only good news to come from the report is that IHS expresses confidence in OLED over the long term, largely due to the determination of companies like LG and Samsung to push ahead no matter what.
Vinita Jakhanwal, director of mobile and emerging displays and technology at IHS, made the following statement:
"AMOLED televisions were on centre stage at CES, led by LG Electronics, Samsung and Panasonic showing a variety of new sets, including models with a range of screen sizes, ultra high definition (UHD) resolution and curved and even bendable displays."

"The high profile of the products and large number of sets at CES indicates that television brands remain committed to promoting AMOLED technology. Although previous AMOLED TV initiatives have been stymied by production issues, these are expected to be overcome and sets are expected to enter high-volume production in the coming years."
Here at HDTVTest, we're pinning our hopes on LG to accelerate its OLED production sooner rather than later. IHS points out that it's currently the clear leader in OLED development, and is the only brand that's currently capable of manufacturing larger OLED displays (as evidenced by the no-show of any non-prototype OLED TVs from Panasonic, Samsung and Sony).
LG said at CES 2014 that it'll begin shipping its 55-inch, 65-inch and 77-inch curved 4K OLEDs later this year, a signal that the OLED market could split into two distinct segments – high-end, curved, 4K OLED televisions for those with money to burn, and smaller, flat-screen, Full HD OLEDs for the mass market.
Source: IHS iSuppli