Panasonic has been attempting to prove the superiority of its CZ950 4K OLED TV over its own reference-grade ZT plasma and LG's OLEDs in tightly-controlled demos, but how does the Japanese manufacturer's claim hold up in the real world? To find out, British independent AV retailer Crampton and Moore will be holding a three-way TV shootout event in conjunction with Leeds Trinity University on the 7th of November, pitting a Panasonic TX-65CZ952B, an LG 65EF950V and a Panasonic TX-P60ZT65B against one another in a side-by-side comparison.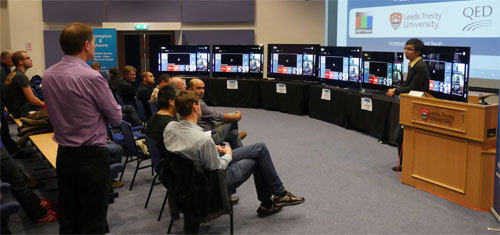 Panasonic's first ever consumer OLED television has generated great interest among video enthusiasts who have been looking for a worthy successor to the now-defunct plasma display panel (PDP) technology, but at an eye-watering price of £8000, many will be wondering if it's worth £3000 over LG's 65in EF950V flat-screen OLED model, or indeed whether it's a step-up from the company's final 2013 lineup of critically-acclaimed plasma TVs. Now, attendees will have the unique opportunity to see and decide for themselves.
The shootout will take place in a light-controlled, theatre-like auditorium at Leeds Trinity University. All three televisions will be given adequate time to run in, and then calibrated to the standard used within the film and broadcast industry. David Mackenzie and I will evaluate the panels, and then demonstrate our findings on various aspects of picture quality including contrast ratio, near-black performance, colour fidelity, motion handling and video processing to lucky attendees who will be asked to vote at the end of the day to select the "Best TV of 2015".
This is the third collaboration between Crampton and Moore, Leeds Trinity University and HDTVTest on similar TV comparison events in the United Kingdom. Panasonic's ZT plasma pipped LG's 1080p OLED to the crown in the inaugural event, whereas Samsung's HU8500 tied Panasonic's AX902 4K television in the second event, although most thought the Samsung delivered significantly better value for money.
The 2015 TV shootout event will take place at Leeds Trinity University (post code LS18 5HD) on Saturday the 7th of November from 1pm to 5pm GMT. The preliminary schedule is as follows:
13:00: Opening statement
13:15: Contrast ratio, near-black performance & colours
14:45: Coffee break
15:00: Motion, video processing & others
16:30: Q&A plus closing statement
17:00: Event ends
Attendance is free, but limited to the first 35 people (due to space constraints) on a first-come first-served basis. To register, please fill in the form below so that you can be issued with an email confirmation for entry on the day.