Video enthusiasts in the UK who are waiting to buy LG's 2016 OLED TVs, we have good news for you. HDTVTest attended LG UK's media briefing in London this week, and the word is the first units could arrive in stores as early as next week (though it's more likely to be late April). The wait could soon be finally over.
According to LG UK's launch timeline, its first 2016 4K Ultra HD OLEDs that are going to be available to buy in the United Kingdom will be the sub-flagship E6 series, with John Lewis appointed as a special partner to stock the screens first, even though an LG spokesperson insisted there's no exclusivity agreement in place. While the South Korean manufacturer has set the retail prices for the 55-inch OLED55E6V and the 65-inch OLED65E6V at £3,499 and £4,999 respectively, LG conceded that street prices may fluctuate between retailers since its RRP cannot be legally enforced.
Next in line will be the top-tier LG G6 range, with the 65in OLED65G6V slated to arrive during the first week of May at a suggested retail price of £5,999. There's also a 77in version, namely the LG OLED77G6V, which will appear during the second half of 2016 for a whooping £24,999. The LG 65G6 and 77G6 are the only models in LG's 2016 OLED TV lineup to offer four HDMI 2.0 ports (the B6, C6 and E6 merely have 3). Production quantities will be limited on the 77-incher, so if you want one you better get your order in now.
Last to arrive will be the LG B6 and C6 series which are scheduled to hit British stores in June, cutting it real close for the start of the Euro 2016 football tournament. Interestingly, despite not featuring 3D capability, the LG B6 will command the same retail price as the curved C6, indicating that the company is placing a premium on the former's flat-panel design to offset the loss of 3D. The 55″ LG OLED55B6V and OLED55C6V will retail at £2,999, whereas the 65″ OLED65B6V and OLED65C6V will cost £4,499.
In our opinion, these prices are very decent, considering that LG holds a monopoly on the world's best TV display techonology, and there's absolutely no reason to cut prices (it's a business and needs to balance the books after all). At £2,999, the most affordable LG OLED55B6 is only a couple of hundred pounds more expensive than the cheapest FALD (full-array local dimming) LED LCD television (namely the Panasonic 58DX902), which will give prospective buyers who are in the market for a high-end TV plenty of food for thought.
And while we're at it, the price differential between the B6 and E6 is only £500 – we'd gladly fork out the extra money for the latter's 3D functionality and superior audio from its integrated soundbar. Passive 3D from 4K UHD OLED televisions is a wonderful sight to behold (we're big fans), with the true blacks, full HD 3D resolution, reduced luminance loss and zero flicker all contributing to the best extra-dimensional picture quality we've ever seen from a direct-view display. When asked, an LG spokesperson said the firm's 3D-capable OLEDs (i.e. the C6, E6 and G6) will ship with one pair of polarized 3D glasses in box.
Compared with last year's EG960V and EF950V, LG has implemented so many improvements on its 2016 OLED TVs that we'd think twice before spending money on a 2015 model right now unless the price difference is truly attractive. In no particular order, here are the advantages of the new LG G6, E6, C6 and B6 versus last year's EG920V, EG960V and EF950V:
Better near-black uniformity: LG was actually confident enough to put up a 5% video stimulus full-field grey slide on an LG OLED65G6 sample which was absolutely free of vignetting. Although the true acid test will come at 1%, 2% or 3% stimulus, and whether the improvement will carry over to the step-down E6, C6 and B6 series remains unknown, initial impressions are extremely good.
Smoother transition from black to above-black: While the above-black handling on 2015 OLEDs occurred in "jumps", this year there'll be a smoother gradation. We were shown a test pattern consisting flashing above-black bars which exhibited clear definition from zero black 16 and just barely visible 17 bars to progressively brighter 18 and 19.
Higher peak brightness: LG claimed some of its new OLED televisions this year can hit 800 nits. Last year's models topped out at 450 nits, which will have implications for HDR remapping.
Dolby Vision HDR: LG is the only television brand in the UK and Europe to support the Dolby Vision HDR standard which uses dynamic metadata to achieve scene-by-scene optimisation, therefore minimising inaccurate distortion and preserving image fidelity.
WebOS 3.0 The third iteration of LG's Smart TV platform is faster (hardware upgrade) and even more intuitive to use.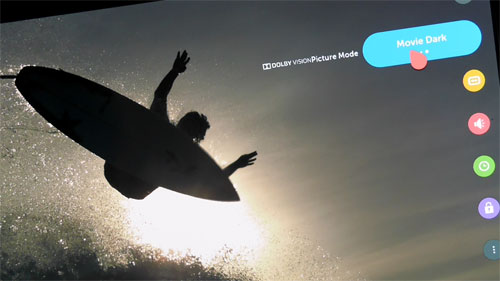 Whilst every 2016 LG OLED television will carry the same core features (3840×2160 resolution, Ultra HD Premium certification, HDR10 and Dolby Vision HDR support), a company executive said there'll be subtle differences in picture quality between ranges due to different SoC (system on chip) used. According to him, the higher-end sets feature a slicker SoC necessitated by soundbar integration, so LG's engineers figured they might as well make use of the extra capacity to improve video processing. From what we could gather, the key difference would be colour volume which takes into account luminance/ intensity (read: peak brightness) in addition to 2D chromaticities.
Update 22 April 2016: LG reached out to HDTVTest and said they've been misquoted re colour volume:
Essentially, the colour volume is not the key difference in the OLED range; as all 2016 LG OLEDs use the same panel from LG Display, and as colour volume is a key factor to panel performance, colour volume across the range should be fairly uniform – of course slight differences in colour volume could occur due to typical value or ways of measurement, but it won't be the key difference.
As with most things related to OLED TV, there's always a possibility that launch dates may slip, given our experience over the past few years. But with so many picture quality issues which have put off video enthusiasts in the past having been pointedly addressed by the company, 2016 is shaping up to be a stellar year for LG.