Even though with companies like Samsung doing their utmost to push next-generation display technologies to a wider audience, OLED TVs are set to remain a rarity in the living room for the next year at least. Samsung of course, made headlines this month when it slashed a massive $6,000 (about £3,850) off the cost of its curved OLED TVs in the USA and South Korea, but according to the latest findings from industry analysis firm NPD DisplaySearch, that's unlikely to tempt many more consumers to open their wallets.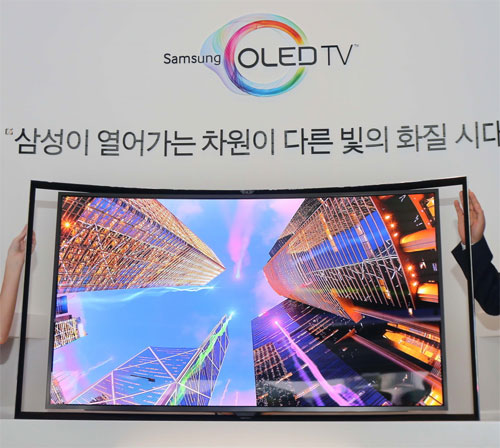 In its latest Quarterly OLED Materials Report, NPD DisplaySearch predicts that OLED TV shipments are set to remain relatively modest over the next 12 months, with less than a million units expected to ship throughout 2014.
What with Samsung and LG constantly reminding us of the stunning images that OLED displays can deliver, and respected American tech site CNet hailing Samsung's KN55S9C curved OLED TV for having the "best picture ever", the news that no one's buying them might be a bit of a surprise. Nevertheless, there are plenty of good reasons as to why consumers have been slow to jump on the OLED bandwagon, and it's not only due to their eye-watering cost. Sure Samsung may have reduced the price of its own model by $6K, but at $9,000 (£5,770) a piece it's still one incredibly expensive television – much more so than Samsung's equivalent sized UE65F9000 Ultra HD 4K TV, which retails at just £4,999 in the UK.
Indeed it's fair to say that 4K has stolen much of OLED's thunder over the last 12 months. Even though we first set our eyes on OLED back at the 2012 CES show in Las Vegas, it took Samsung and LG more than one year to finally bring these televisions to market, during which time all manner of 4K TVs, from the cheap and cheerful versions by Chinese companies like Seiki and TCL, to Samsung's gargantuan 85-inch S9 model have hit the store shelves.
But why has this happened? Err.. well, because it seems that Samsung and LG aren't actually that good at making OLED TVs. Problems with low manufacturing yields have been highlighted numerous times over the last 12 months or so, and even though Samsung now claims to have fixed this and cited increased yields as the reason for slashing the cost of its curvy OLEDs, in reality it's unlikely that things have improved enough that it can churn out OLED displays as fast as its ultra HD LEDs.
It's because of these manufacturing problems that we haven't seen so much as a glimpse of an OLED TV in the UK thus far. To date, OLEDs have only gone on sale in South Korea and the US, with no word on when we can expect to see them arrive on European shores. Now with NPD DisplaySearch's latest forecast basically saying that things are unlikely to get better anytime soon, don't be surprised if British buyers are left twiddling their thumbs in anticipation for another few months at least.
Source: NPD DisplaySearch