Premium television manufacturers could soon be facing a critical shortage of large-sized OLED TV panels in the face of rising consumer demand and a lack of available production capacity, according to a new report.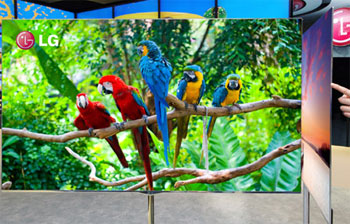 TV makers to face OLED panel shortage as demand surges
The TV Development Status and Competitiveness Analysis, recently published by market research and consultancy firm Displaybank, revealed that 8.5G AMOLED (active-matrix organic light-emitting diode) production lines will be stretched to breaking point in the next three years, should demand continue to grow at its expected pace. With Korean brands like Samsung and LG Electronics having already sewn up the bulk of production line capacity available at their respective panel-making subsidiaries Samsung Display and LG Dipslay, Displaybank warned that unless additional, large-scale 8.5G AMOLED production lines are up and running by 2016 at the latest, OLED television panel manufacturers would be unable to cope with worldwide demand.
OLED TVs are set to become the next 'big thing' in the luxury TV market. Such is the popularity and expected demand of these products, that rival TV manufacturers such as Sony, AUO and Panasonic have been left scrambling to develop their own OLED-based HDTVs, and get these out on the market as soon as possible.
The expected surge in demand is likely to catch suppliers of large-screen AMOLED panels off guard – Displaybank believes that LG Display and Samsung Display, the two biggest suppliers, are already operating at close to maximum capacity just to cope with existing demand. AMOLED panel makers will have to make a concerted effort to extend production facilities in the next couple of years in order to prevent a shortfall in supply, says the market intelligence company.
Displaybank also states that extending production capacity should be achievable for display makers, due to the unique manufacturing process of active-matrix OLED panels, which can be made almost entirely on-site at production facilities, unlike LCD panel displays that are assembled from dozens of different parts that have to be shipped in. In addition, Displaybank's senior researcher Min-soo Kang noted that Samsung and LG Display both have the capacity to convert existing LCD manufacturing facilities to AMOLED production should the need arise.