Latest research shows that OLED TV faces a far from certain future, with yet more concerns being raised over display makers' ability to manufacture the organic light emitting diode panels in sufficient quantities.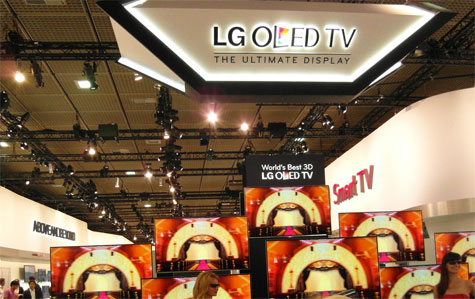 Only 500 sets of OLED TV will ship by end of 2012
The news from market intelligence firm NPD DisplaySearch is a further blow for the likes of Samsung and LG Electronics, whose 55-inch OLED TVs wowed all comers at this year's CES show in Las Vegas. At that time, both Korean firms said that they expected to begin mass producing OLED television sets within months, and it was widely predicted that the new TVs would hit the shops by the summer. But as the months went on, it quickly became clear that this was unlikely to be the case, with numerous production challenges surfacing amidst rumours of high retail prices that would put the HDTVs beyond the reach of all but the wealthiest consumers.
NPD DisplaySearch's latest report reveals that manufacturers still have hopes of rolling out their first OLED televisions before the end of the year, but it's thought that few consumers will be able to get their hands on one. With just 500 units likely to be shipped before the New Year, it won't just be the prohibitive cost hindering shoppers – the likelihood is that most of these will be sold to retailers for demonstration purposes only.
LG and Samsung have a long way to go yet if they are to make production of OLED TVs commercially viable, reports NPD DisplaySearch. Significant technical challenges still need to be overcome for manufacturers to be able to scale up production to large OLED panels. Currently, OLED displays are only being mass-produced for the smartphone industry, and efforts to increase the size of these have proved to be hugely expensive, meaning that retail prices will likely start at around $10,000 (around £6,300) for a 55″ OLED TV.
Another question mark that continues to linger is the potential competition from ultra high-definition (also known as 4K) LCD TVs that took centre stage at the IFA 2012 consumer electronics trade show in Berlin. With Chinese, Taiwanese and Japanese brands all pushing this technology, Samsung and LG will likely be concerned over the ability of their OLED-based models to compete against them in the luxury HDTV market.
Even so, NPD DisplaySearch's David Hsieh said that he expects both Korean TV manufacturers to continue pressing ahead, if only to make a statement of intent:
"4K TVs are currently available and have stolen the limelight of late, and so it's high-time that OLED TV demonstrates its superiority over them," explained Hsieh.
Source: DisplaySearch