Those shiny new OLED TVs shown off by the likes of Samsung and LG Electronics are unlikely to appear in a living room near you soon, with rumours suggesting that manufacturing problems could delay the new technology's launch until late 2013 at the earliest.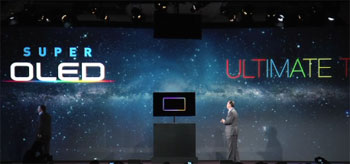 LG & Samsung OLED TVs delayed due to high rejection rates
OLED (organic light-emitting diode) televisions have been widely touted as the future of the TV industry, promising deep blacks and vibrant colours, as well as the thinnest displays ever seen at just 4mm. But while Korean firms Samsung and LG have been eagerly showing off their new prototype hardware at events like the CES in Las Vegas, mass production of the technology remains a big problem – with high rejection rates at manufacturing facilities meaning that viable yields of OLED panels cannot be achieved.
While manufacturers have pretty much perfected their technique for making smaller OLED panels for mobile devices (smartphones and tablets), they're reported to be having all kinds of problems in trying to scale up the size.
NPD DisplaySearch has now revealed that such are the difficulties being faced by Samsung and LG, it's unlikely that either company will be ready to start mass producing OLED TVs for general sale for at least 12 months. This comes after the two companies had originally promised to have their first OLEDs in the shops earlier this summer – a promise that failed to materialise.
Currently, prices are just far too high as a result of the low production yields, with LG's 55-inch 55EM970V OLED TV costing around £10,000, way more than the £1,500-2,500 price tag for similarly-sized LED LCD TVs on the market.
Officially, LG are keeping schtum about their OLED plans, insisting that the new TVs will be available 'soon', while Samsung Display's chief Soo-in Cho was a little more open, admitting that more studies were needed before they could begin large-scale production.