LG Display (LGD), the leading supplier of OLED panels to TV manufacturers such as LG Electronics, Panasonic and Sony, has this week opened its OLED World at Canton Tower to the public to showcase the potential of the self-emissive display technology.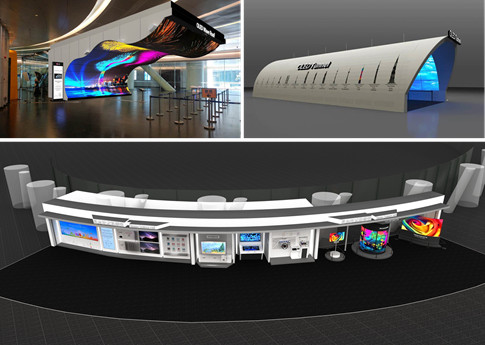 The OLED World took 180 days to be completed at Canton Tower, a China landmark in Guangzhou, Guangdong. There are three main segments, namely an OLED Wave Roof, an OLED Tunnel, and a Display Science Hall.
The OLED Wave Roof is shaped sensually to demonstrate the flexibility of LG Display's OLED panels. It consists of 75 pieces of 55-inch concave and convex OLED panels, with a dimension of 6.2m in width x 3.8m in height x 11.5m in length.
We've seen LGD's OLED tunnel before at the IFA consumer electronics trade show, but the one built at Canton Tower is the world's largest one yet, comprising 144 pieces of 55in curved OLED to create a domed passageway measuring 6.9m wide x 3.5m high x 16.6m long.
The Display Science Hall contains various demos of LG Display's current and future OLED applications, such as Wallpaper TV, Crystal Sound OLED, automobile use, dual-sided screen and Vertical Tiling OLED (VTO). Here is LG Display's promotional video about the OLED World at Canton Tower:
We will be meeting LG Display at CES 2018, where we hope to find out more about the company's plans for the year ahead.