The LG B6, by virtue of being the most affordable model within the South Korean TV maker's 2016 OLED lineup, has attracted the greatest attention among video enthusiasts, especially after the company pretty much intimated there's little difference in picture quality compared with step-up E6 and G6 ranges. The LG OLEDB6 features a UHD (ultra high-definition) screen resolution of 3840×2160, WRGB OLED technology, a flat-panel design, HDR (high dynamic range) support for both HDR10 and Dolby Vision formats, Ultra HD Premium certification, as well as WebOS 3.0 Smart TV platform, but no 3D capability.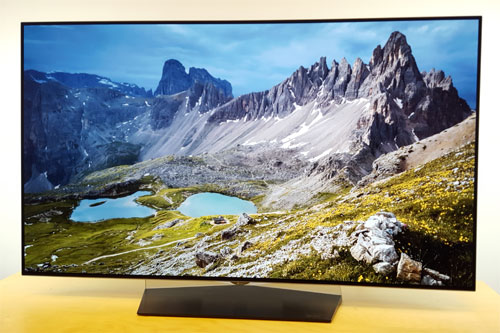 We've been spending time with a 55-inch LG OLED55B6V (it's also available as the 65in OLED65B6V) in our test room for the past few weeks. A public firmware update (version 04.30.50) which landed on the 28th of October in the UK resolved so many issues that we felt compelled to revamp the format of this review to highlight the improvements.
1) No More 4K Blu-ray Frame Skipping
When we first received our OLED55B6V-ZA review sample and watched some Ultra HD Blu-rays from a Samsung UBD-K8500 player, we noticed unmistakable frame skipping (some may describe this as "stutter") every 13 seconds or so, similar to what we had witnessed on the LG 55UH770V LED LCD television which uses the same Realtek RTD2999 SoC (system-on-chip).
Firmware 04.30.50 eradicated the frame skipping, so slow panning shots in 24fps HDR material would proceed smoothly (well, as smooth as 24p allowed) without interruption from stuttering. We're not entirely sure whether this is related to the fix, but the LG 55B6 would fail 3:2 and 2:2 film-mode deinterlacing tests even with [Real Cinema] engaged, but pass them once [Real Cinema] was switched off and on again. In any case, we'd gladly take stutter-free 4K Blu-ray playback over flawless deinterlacing, given that many owners are unlikely to watch interlaced standard-definition content, and deinterlacing artefacts aren't going to be very noticeable at high-def resolution.
2) More Accurate PQ EOTF Tracking
Just like the LG 65E6 we tested several months ago, the OLED55B6 was initially displaying HDR10 images from 4K Blu-ray movies in a brighter manner than the luminance levels specified by SMPTE's ST.2084 standard, presumably to create the impression of a brighter picture in compensation for OLED's lower peak brightness (relative to top-tier LED LCD TVs). To produce accurate tracking of the PQ (perceptual quantisation) EOTF (electro-optical transfer function), we had to decrease [OLED Light] to "63", which of course also dropped peak brightness to 421 nits.
Imagine our joy when we discovered that firmware version 04.30.50 yielded PQ EOTF tracking that's more faithful to the current HDR10 standard on our LG B6 review unit. Ok, it remained slightly too bright, but even after making some adjustments to obtain accurate PQ tracking, peak brightness still exceeded 500 nits comfortably, resulting in less clipping of highlight detail.
Click on the options below to compare PQ tracking:
Old firmware [OLED Light] "100" | Old firmware [OLED Light] "63"
Firmware 04.03.50 [OLED Light] "100" | Calibrated after firmware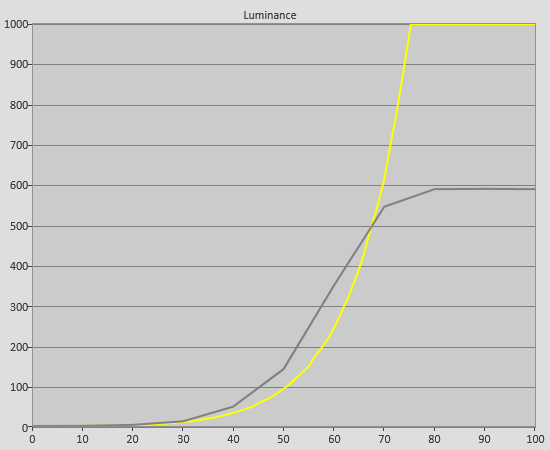 Here's a side-by-side comparison against a 1000-nit Ultra HD Premium LED LCD TV of the sun in Chapter 18 of Kingsman: The Secret Service, a 4K Blu-ray disc that has been mastered to 1000 nits. As always, please refrain from drawing conclusions directly from the photos included in this article, since we had to intentionally lower our camera's exposure to fully capture highlight detail from UHD BD HDR.

Left: UHD Premium LED TV; Right: LG OLED55B6V
However, although the new firmware helped preserve white specular highlights better, bright colours still appeared more muted and showed a coarser degree of gradation than those presented by higher-end LED LCDs, underlining the importance of sheer peak brightness to colour volume:

The last flickers of a dying flame in Mad Max: Fury Road (timecode: 00:30:06)
3) Finer TruMotion Controls
LG has also tweaked the 55B6's [TruMotion] controls in the latest firmware update. No, maximum motion resolution hasn't been boosted (it remained at 650 lines according to the horizontally scrolling lines in Chapter 31 of the FPD Benchmark Software test disc); black frame insertion (BFI) hasn't been introduced (as much as it's craved by ex-plasma and CRT TV owners); and we'd still avoid [TruMotion] "Clear" and "Smooth" because of overt soap opera effect (SOE) and interpolation artefacts.
From our testing, what LG's engineers did was to halve the intensity of the [De-Judder] control in the [TruMotion] "User" submenu, essentially providing finer, half-step adjustments on the OLED55B6V. This can prove useful for owners who are sensitive to the judder inherent in 24p film and would like to smooth it out without incurring too much SOE or interpolation artefacts.
Vs OLED55E6V
A question that will play on the minds of prospective LG B6 buyers is whether to fork out extra money for the more expensive E6 model: is there any actual difference in picture quality, putting aside the lack of 3D, integrated soundbar and "OLED-on-Glass" design?
Fundamentally, the LG OLED55B6 and OLED55E6 use different chipsets: the former carries one from Realtek (RTD2999); whereas the latter features LG's own in-house solution, as you can see from the sets' respective service menus:
| | |
| --- | --- |
| | |
| LG B6 service menu | LG E6 service menu |
Subjectively, the OLED55B6V's calibration controls behaved more like a late 2015 EF950V/ EG960V, though it's still possible to obtain a very accurate greyscale. That said, the B6V's less refined [Brightness] slider meant that it's easy to float/ crush blacks unless extreme care was taken during calibration.
Greyscale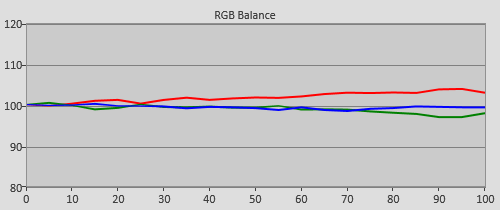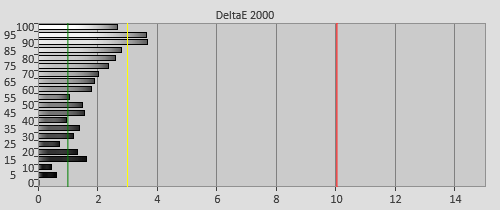 Pre-calibration [ISF Expert] RGB tracking and delta errors (dEs)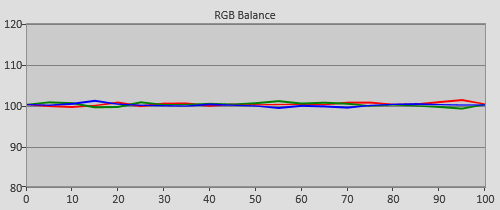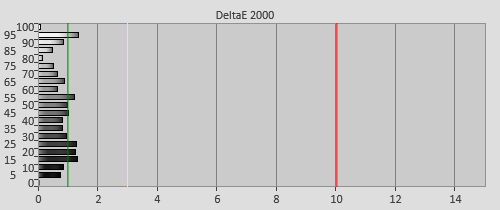 RGB tracking and dEs after 2p & 20p [White Balance] calibration in [ISF Expert] mode
Gamma
| | |
| --- | --- |
| | |
| Pre-calibration gamma tracking (2.39) | Post-calibration gamma tracking (2.38) |
Colour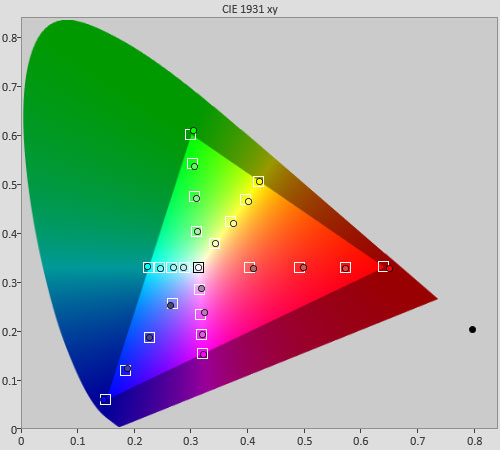 Post-cal colour saturation tracking against Rec.709 standard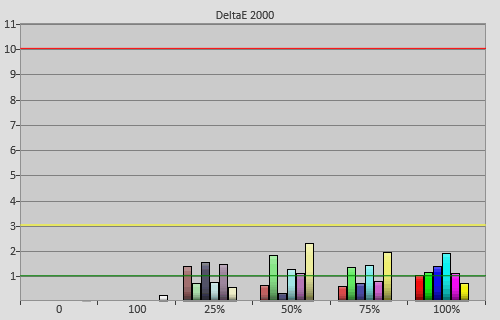 Post-calibration colour errors (<3 not appreciable to the eye)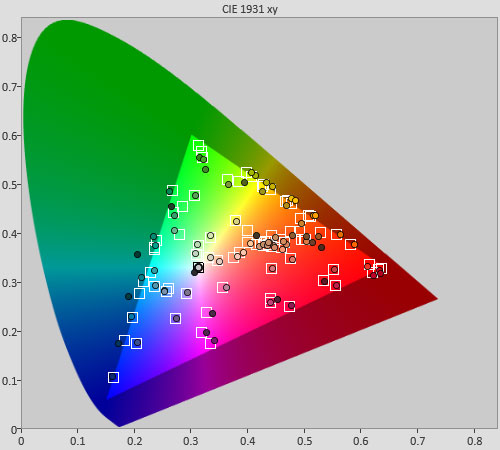 Post-calibration Colour Checker SG test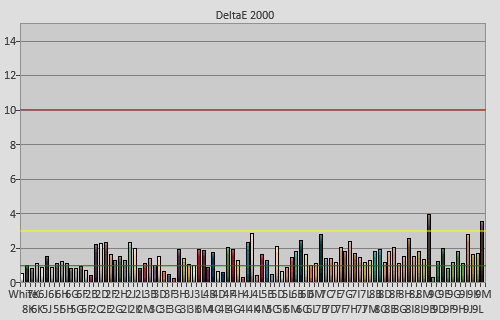 Post-calibration Colour Checker SG errors (<3 not appreciable to the eye)
Our LG OLED55B6 review sample exhibited very good near-black uniformity with no sign of vignetting or brightening along the sides even on a 1% above-black full-field raster, but we've observed some B6 units in the wild with brightened sides possibly due to overcompensation by the manufacturer to tackle vignetting.
Benchmark Test Results
| | |
| --- | --- |
| Dead pixels | None |
| Screen uniformity | No vignetting or brightening; near-black thin streaks |
| Overscanning on HDMI | 0% with [Just Scan] enabled |
| Blacker than black | Passed |
| Calibrated black level (black screen) | 0 cd/m2 |
| Calibrated black level (4×4 ANSI) | 0 cd/m2 |
| Black level retention | Blacks occasionally float |
| Primary chromaticity | Good |
| Scaling | Very good for HD |
| Video mode deinterlacing | Effective jaggies reduction |
| Film mode deinterlacing | Passed 3:2/480i+1080i & 2:2/576i cadence tests |
| Viewing angle (cone) | 166° |
| Motion resolution | 650 with [TruMotion] engaged; 300 otherwise |
| Digital noise reduction | Optional; effective when engaged |
| Sharpness | Very mild undefeatable edge enhancement |
| Luma/Chroma bandwidth (2D Blu-ray) | Full Luma; Chroma horizontally blurred |
| 1080p/24 capability | No judder |
| 2160p/24 capability | No judder |
| Measured panel refresh rate | 120Hz |
| Measured peak brightness | 633 cd/m2 10% window; 122 cd/m2 full-field |
| Measured DCI-P3 coverage | 98% |
| Leo Bodnar input lag tester | 44ms in [Game] mode; 55ms-71ms in HDR mode |
| Full 4:4:4 reproduction (PC) | Yes for both 1920×1080 and 3840×2160@60Hz |
Power Consumption
| | |
| --- | --- |
| Default [Eco] mode | 138 watts |
| Calibrated [ISF Expert] mode | 95 watts |
| [HDR Standard] mode | 188 watts |
| Standby | <1 watt |
Miscellaneous Data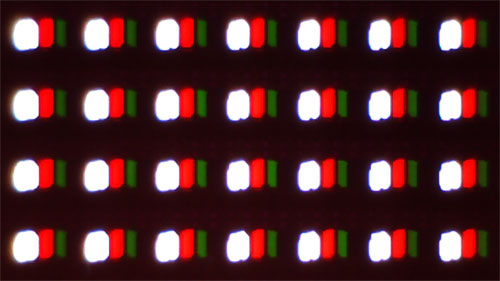 Macro photo of subpixel configuration verifying LG Display's WRGB OLED layout
Horizontal viewing angle of LG OLED55B6V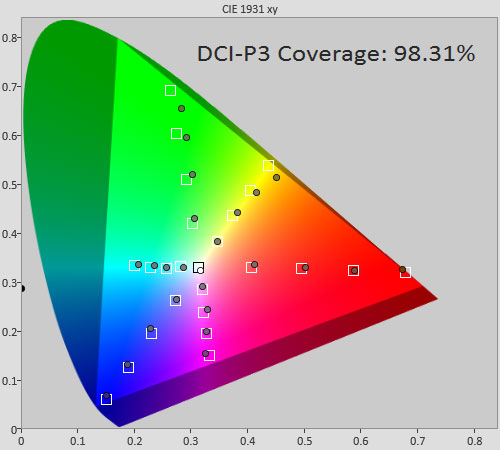 Percentage of DCI-P3 colour gamut coverage according to UHDA methodology
| | |
| --- | --- |
| | |
| Input lag in [Game] mode | Input lag in [HDR Standard] mode |
Unlike a growing number of TV brands who have started offering gamer-friendly HDR mode, LG only provides the existing three HDR presets on their 2016 televisions once HDR metadata was detected (including for HDR games such as Gears of War 4 and Forza Horizon 3). With [TruMotion] disabled, the LG 55B6 returned a lag figure of between 55ms and 71ms in [HDR Standard] mode: it would start off at 71ms, drop slowly to 55ms before jumping back up to 71ms, after which the cycle would repeat.
Verdict
Being a self-emissive display, the LG OLED55B6V already delivers some of the best SDR (standard dynamic range) images on the market thanks to true blacks, vibrant colours and wide viewing angles. But the latest firmware upgrade has truly enhanced the set's HDR performance: PQ EOTF tracking was more accurate; shadow and highlight details were better preserved (once the correct settings were applied); and 24fps frame skipping from 4K Blu-ray playback had been fixed.
While some issues remain, these improvements now make LG's 2016 OLEDs a very credible alternative to flagship FALD (full-array local dimming) LED LCDs for HDR viewing, especially when you take into account OLED's ultra-precise pixel-level illumination which is completely devoid of haloing/ blooming artefacts, and the B6's Dolby Vision compatibility.
Above all, this firmware release showed that LG is not resting on its laurels despite owning the best commercially viable large-sized display technology today – the company's engineers are constantly working on improving picture quality based on constructive feedback from technical reviews and shootout events. Following a recent price drop to below £2000, the LG 55B6V represents incredible value for money given its superb image quality.