As the primary advocate of TV-sized OLED display technology since 2013, it's hardly surprising to find that LG Electronics still offers the widest range of OLED televisions this year. The LG C7 sits alongside the B7 as the company's entry-level/ most affordable model, but prospective buyers will be pleased to know that its picture quality should be very similar to the step-up E7, G7 and W7 SIGNATURE series of Wallpaper TV, since all of them use the same WRGB OLED panel and SoC (system on chip).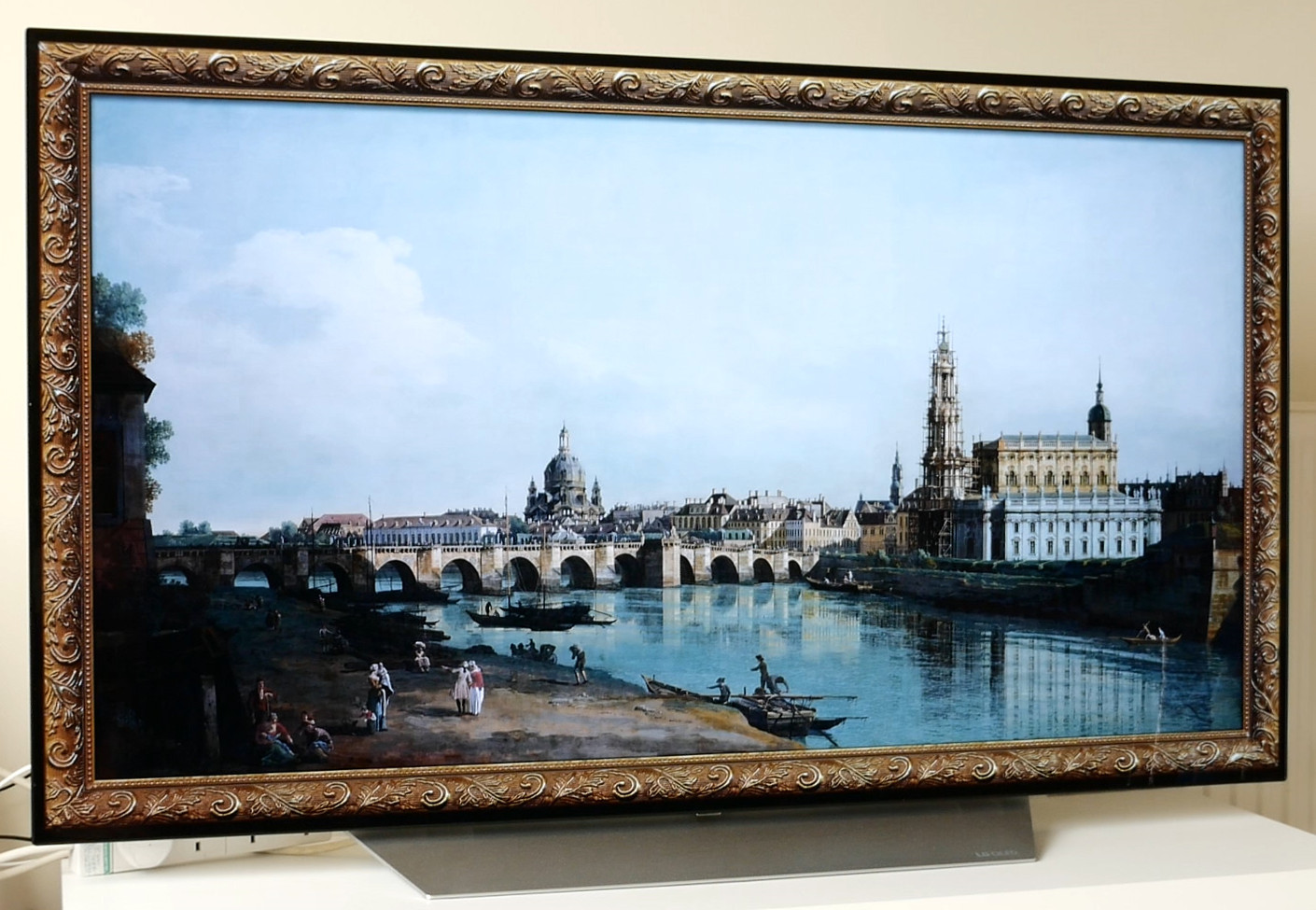 Two screen sizes are available, namely the 55-inch LG OLED55C7V (which we tested), and the 65-inch OLED65C7V. In the United Kingdom, the C7V is advertised for sale exclusively by Currys/ PC World at this time of publication (June 2017).
If you've been following the evolution of LG's OLEDs over the years, the C7 is actually quite a bit different from its predecessor, the 2016 C6 series. Whereas the latter featured a curved screen and 3D support, the OLED55C7 and OLED65C7 have neither. Also, this year's model provides four HDMI inputs (the C6 had three).
Design
Overall, we slightly preferred the styling of the LG OLED 55C7V over the OLED55B7V we reviewed last month for two reasons. First, its all-black bezel blends better into a darkened home theatre room, while the B7 still carries a hint of silver along its outer trim.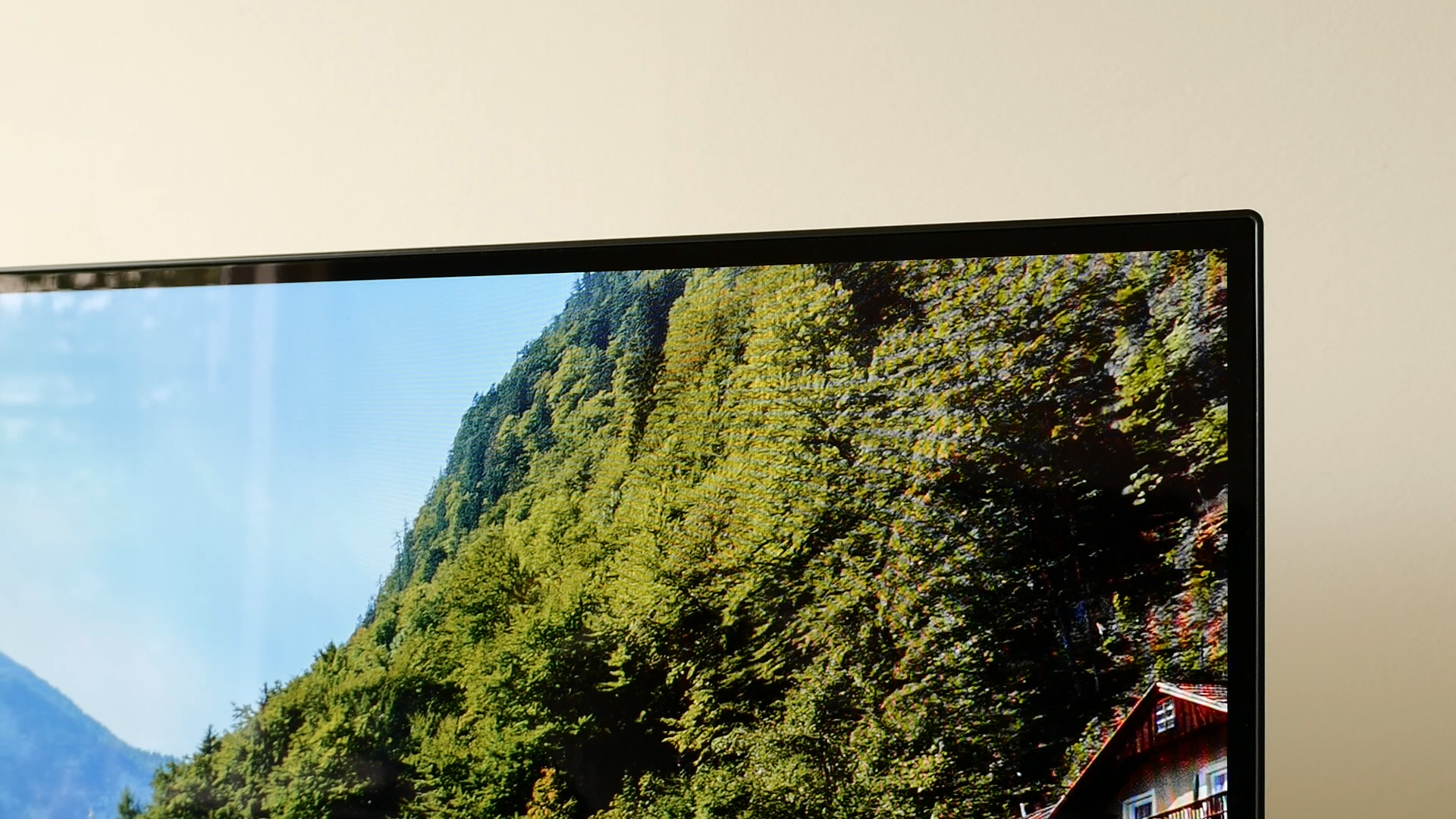 Also, we found the C7's somewhat sloped, rectangular table-top stand to be more stable than the crescent stand of the B7.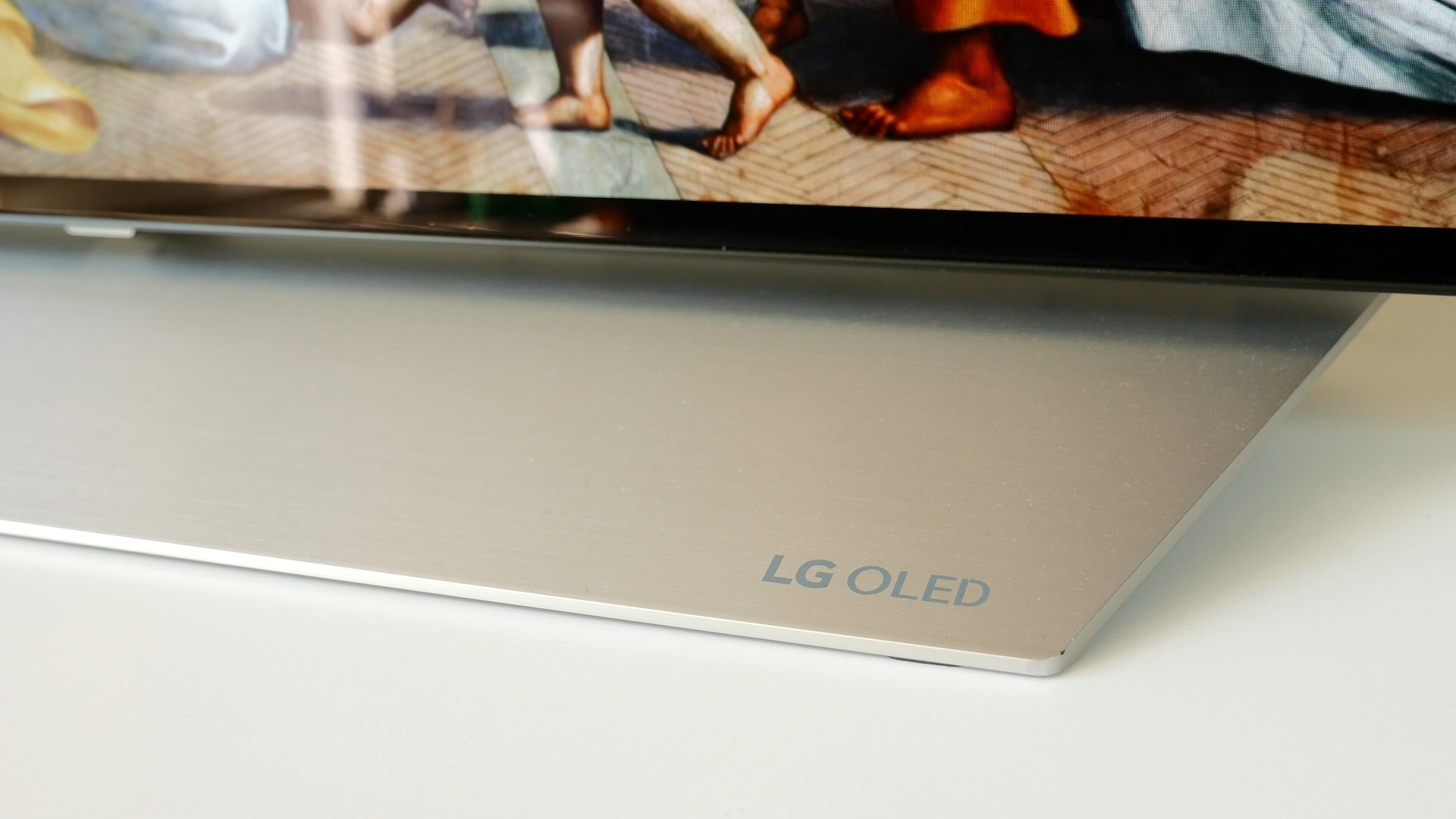 The chassis of the LG 55C7 sports a "two-thickness" approach used by many OLED televisions these days. The top half (silver) is extremely thin since no backlight is required, although the bottom half (white) expands out of necessity to house the TV's internal components such as processing chipsets and power supply. Build quality is high.
Connections
LG is the only OLED brand to furnish its displays (including the OLED55C7V) with four full-bandwidth HDMI 2.0b ports with HDCP 2.2 compliance, making it easier for owners to connect multiple UHD (ultra high-definition) HDR sources without having to route cables through a receiver or switcher.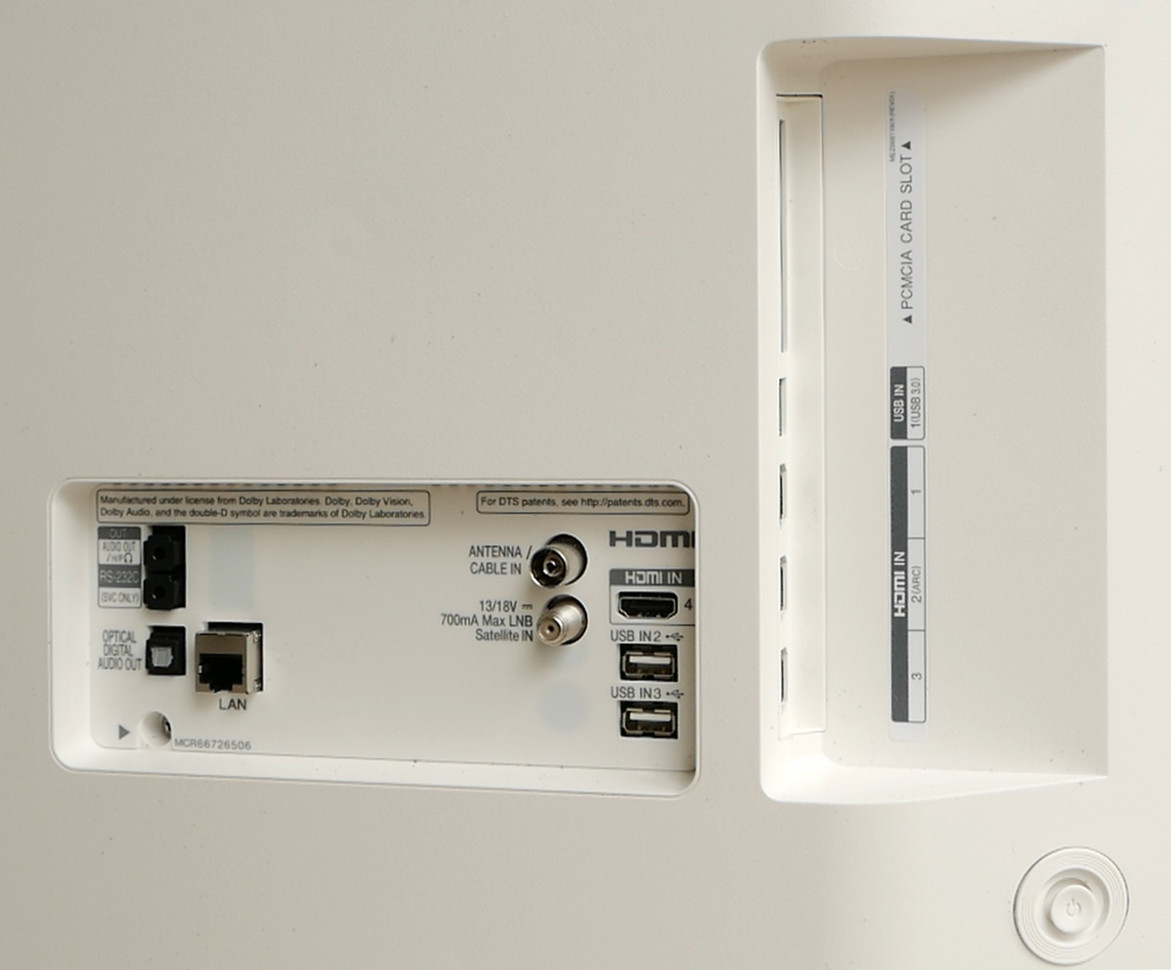 Pros
Improved Near-Black Performance
LG engineers have worked hard to improve the near-black handling across the company's 2017 OLED TV lineup, and we're happy to report that it's noticeably superior to 2016 models, even though most mainstream, less videophile-centric publications were oblivious to the improvements. Gradations and brightness control in the area just above black were finer on the LG C7, resulting in visibly less macroblocking, noise and pixellation compared with last year's B6, C6, E6 and G6. Viewers can now watch even heavily compressed, bit-starved dark scenes such as those in certain episodes of Games of Thrones without being distracted by posterisation and fizzy artefacts.
Reduced ABL (Automatic Brightness Limiter)
Automatic Brightness Limiter is a necessary evil on self-emissive displays such as CRT, plasma and OLED to prevent the power surge demanded by high-APL (Average Picture Level) video frames from overloading the pixels and components.

Right: LG OLED55C7V (both TVs' peak white matched to 200 cd/m2 on 10% window)
The OLED55C7 joins an impressive breed of self-illuminating televisions from LG which are less hampered by ABL than ever before, even compared with 2017 OLEDs from Panasonic and Sony. The South Korean manufacturer has modified the ABL algorithm on its 2017 OLED models to be less aggressive, contributing to brighter whites in high-APL scenes such as the snow mountains in Planet Earth II, or advertisements with white backgrounds. PC users and ice hockey fans will be particularly pleased too – no longer will whites look grey due to overwhelming ABL restrictions.
Low Input Lag
LG is a company who has listened intently to the needs of gamers over the past couple of years, and the 55C7V reflects this. Measured using a Leo Bodnar tester, input lag came in at a crazy-fast 21ms in both 1080p SDR and 4K HDR modes, instantly propelling the C7V to the top of our latency ranking table among 2017 televisions.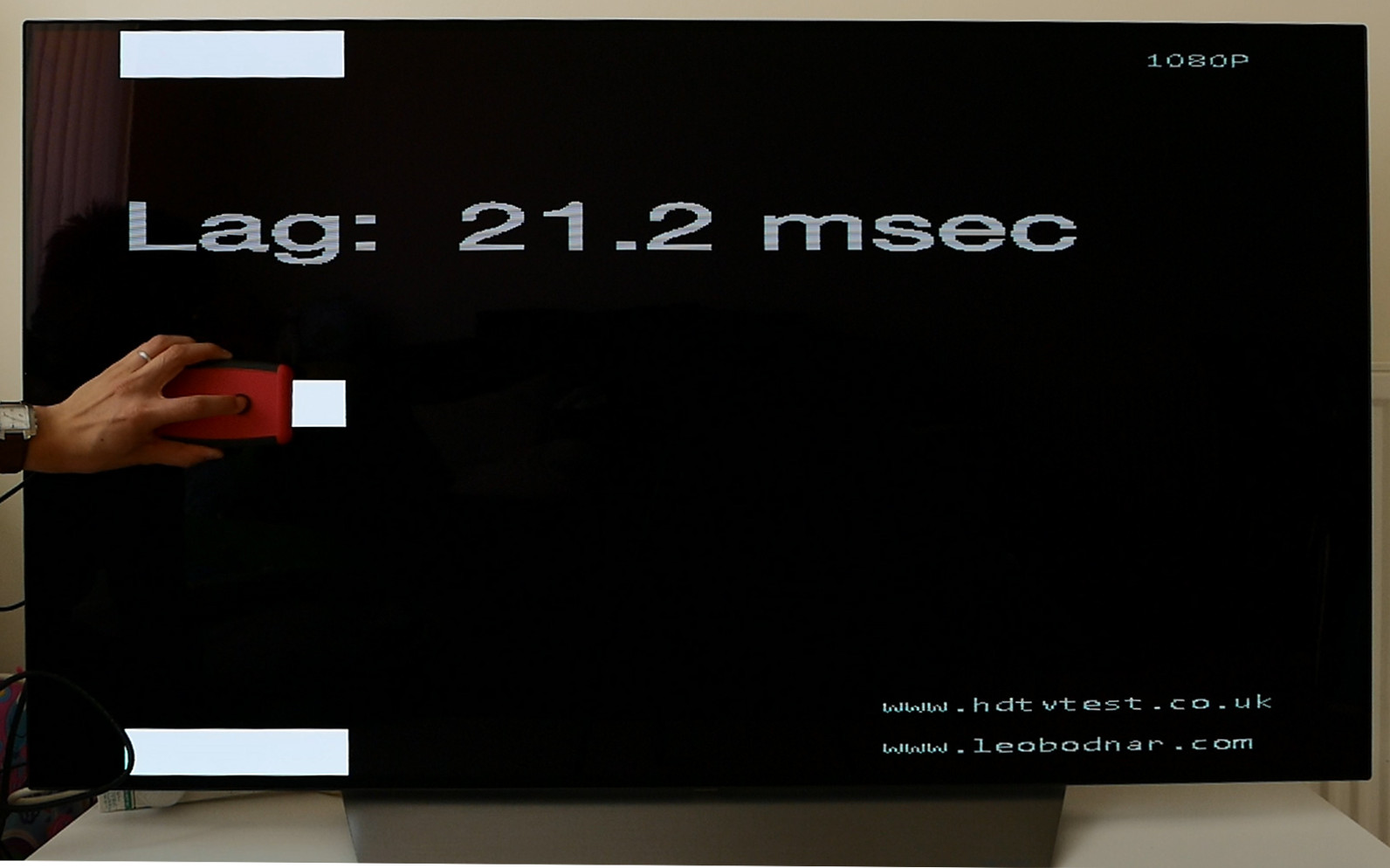 Although there exist LED LCDs that could reach or perhaps exceed this level of responsiveness, OLED holds the upper hand in maintaining inky blacks and high contrast even during the stresses of HDR games owing to the display technology's self-emissive properties. In addition, OLED's near-instantaneous pixel response time means that there won't be any dark smearing or trailing that affects some VA-type LCD panels when you spin around quickly in video games.
Specular Highlight Preservation in HDR
LG's tone-mapping for HDR10 Ultra HD Blu-rays favours preserving highlight detail over overall brightness of the HDR image. In other words, even in 4K Blu-ray movies that are mastered to 4000 nits, all the specular highlights will be intact without being blown out, though the overall picture can look a bit darker than the competition.

Bubbles & clouds in Pan were less blown out on LG OLED55C7 (TV on the right)
Fortunately, the South Korean brand has implemented a dynamic tone-mapping from static metadata technology (dubbed "Active HDR") which restores the overall luminance in the majority of scenes quite effectively.
Cons
Near-Black Uniformity
We've listed this as a con, but to be honest all current OLED TVs suffer from near-black uniformity issues in one form or another, be it vignetting (the sides appearing darker than the middle), reverse vignetting (the sides looking brighter than the centre, an overcompensation phenomenon) or thin vertical streaks in very dark scenes. Some panels are better than others (it's a bit of a lottery); some viewers notice it more than others; and putting on some ambient lighting generally helps mitigate the problem. In any case, we didn't find this to be bothersome on our LG OLED55C7V review unit… we're only mentioning it for the sake of completeness.
Occasional Combing with Interlaced 50Hz Video
Like the B7, the LG C7 exhibited rare instances of combing artefacts when we watched 1080i/50Hz football from a Sky+HD box on the television. During certain passages of play at specific speeds, the ball or player would break up, which was fully reproducible once we rewound and replayed the footage. We verified that the artefacts didn't originate from the source by also displaying the video (cleanly) on other TVs side by side, and went away once we sent a progressive signal from the source to the 55C7V. Bottom line is, always try to send a progressive video signal (720p, 1080p, 2160p) to the TV for watching sports in the UK and Europe.
Coarser Gradation in Select HDR Scenes
The LG OLED55C7 wasn't as refined as the Panasonic EZ1002/ EZ1000 or Sony A1/ A1E in its HDR presentation. For example, Leonardo di Caprio's face in The Revenant would fade out to black in a more stairstepped manner, or the extinguishing flame in Mad Max: Fury Road would be rendered with coarser gradations, thus obscuring the surrounding sand detail.

The fire looked less detailed on the LG 55C7 (TV on the right)
Before you write off the LG C7 based on this one photo though, we need to stress that most HDR sequences looked fine – nay, excellent – on the television. It's only in a handful of scenes that rival sets manifested more precise detailing.
Benchmark Test Results
| | |
| --- | --- |
| Dead pixels | None |
| Screen uniformity | No vignetting or brightening; near-black thin streaks |
| Overscanning on HDMI | 0% with [Just Scan] enabled |
| Blacker than black | Passed |
| Calibrated black level (black screen) | 0 cd/m2 |
| Calibrated black level (4×4 ANSI) | 0 cd/m2 |
| Black level retention | More stable than 2016 LG OLEDs |
| Primary chromaticity | Very good |
| Scaling | Improved standard-def upscaling |
| Video-mode deinterlacing | Occasional misapplying of film deinterlacing |
| Film-mode deinterlacing | Passed 3:2 & 2:2 cadence tests in SD & HD |
| Viewing angle (cone) | 166° |
| Motion resolution | 650 with [TruMotion] engaged; 300 otherwise |
| Digital noise reduction | Optional; effective when engaged |
| Sharpness | Defeatable edge enhancement |
| Luma/Chroma bandwidth (2D Blu-ray) | Full Luma; Chroma horizontally blurred |
| 1080p/24 capability | No judder |
| 2160p/24 capability | No judder |
| Measured panel refresh rate | 120Hz |
| Measured peak brightness | 690 cd/m2 10% window; 150 cd/m2 full-field |
| Measured DCI-P3 coverage | 99% |
| Leo Bodnar input lag tester | 21ms in [Game], [PC] & [HDR Game] modes |
| Full 4:4:4 reproduction (PC) | Yes for 1920×1080 & 3840×2160@60Hz in [PC] mode |
Calibration
We calibrated our LG OLED55C7V-ZA review sample using a Klein K10-A colorimeter profiled against a JETI Spectraval 1511 reference-grade spectroradiometer, DVDO AVLab TPG and Murideo Fresco Six-G signal generators, as well as Portrait Displays' CalMAN software.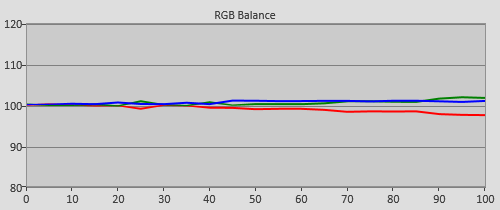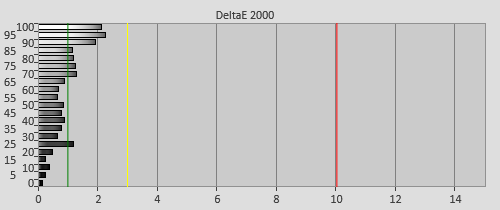 Pre-calibration [ISF Expert] RGB tracking and delta errors (dEs)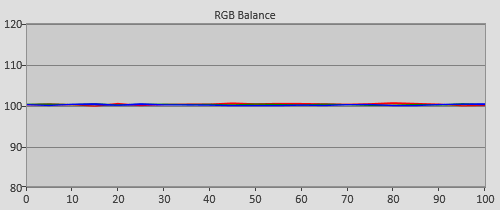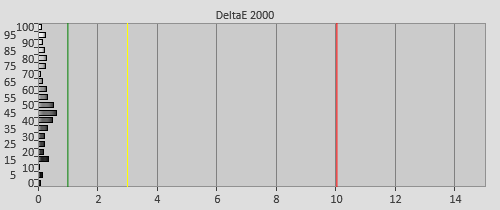 RGB tracking and dEs after 2p & 20p [White Balance] calibration in [ISF Expert] mode
| | |
| --- | --- |
| | |
| Pre-calibration gamma tracking (2.4) | Post-calibration gamma tracking (2.39) |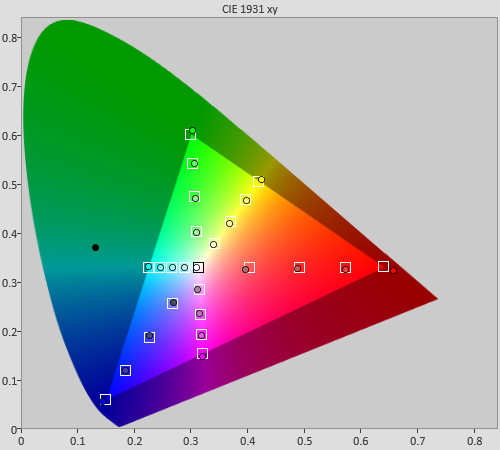 Post-cal colour saturation tracking against Rec.709 standard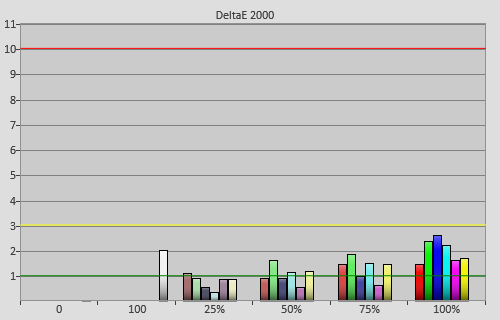 Post-calibration colour errors (<3 not appreciable to the eye)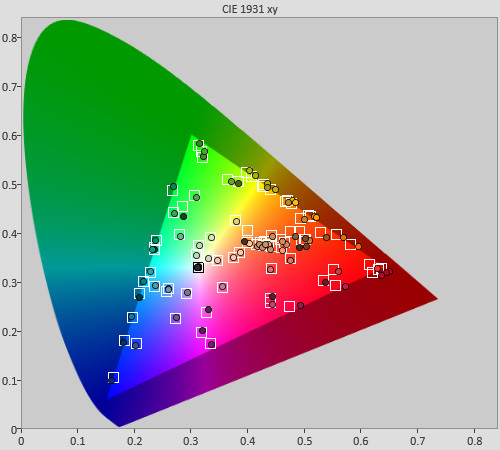 Post-calibration Colour Checker SG test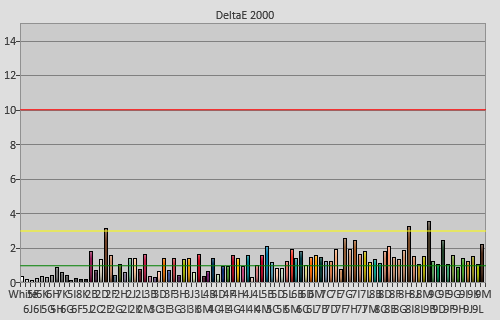 Post-calibra/tion Colour Checker SG errors (<3 not appreciable to the eye)
Miscellaneous Data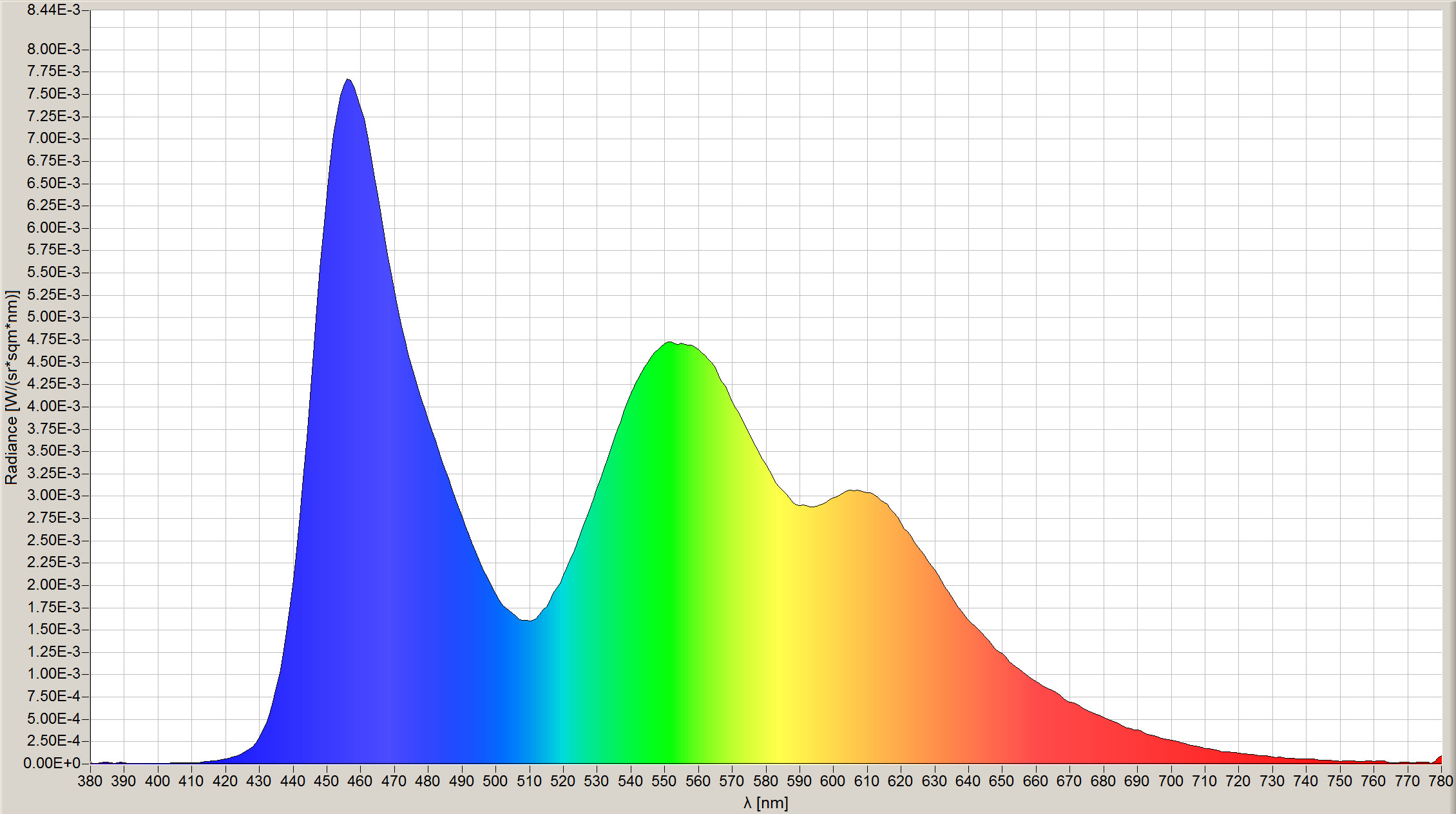 Spectral power of distribution (SPD) captured using a JETI 1511 spectroradiometer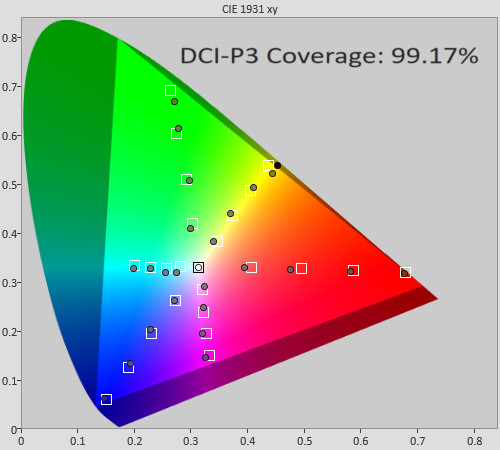 Post-cal colour saturation tracking against DCI-P3 standard in Rec.2020 container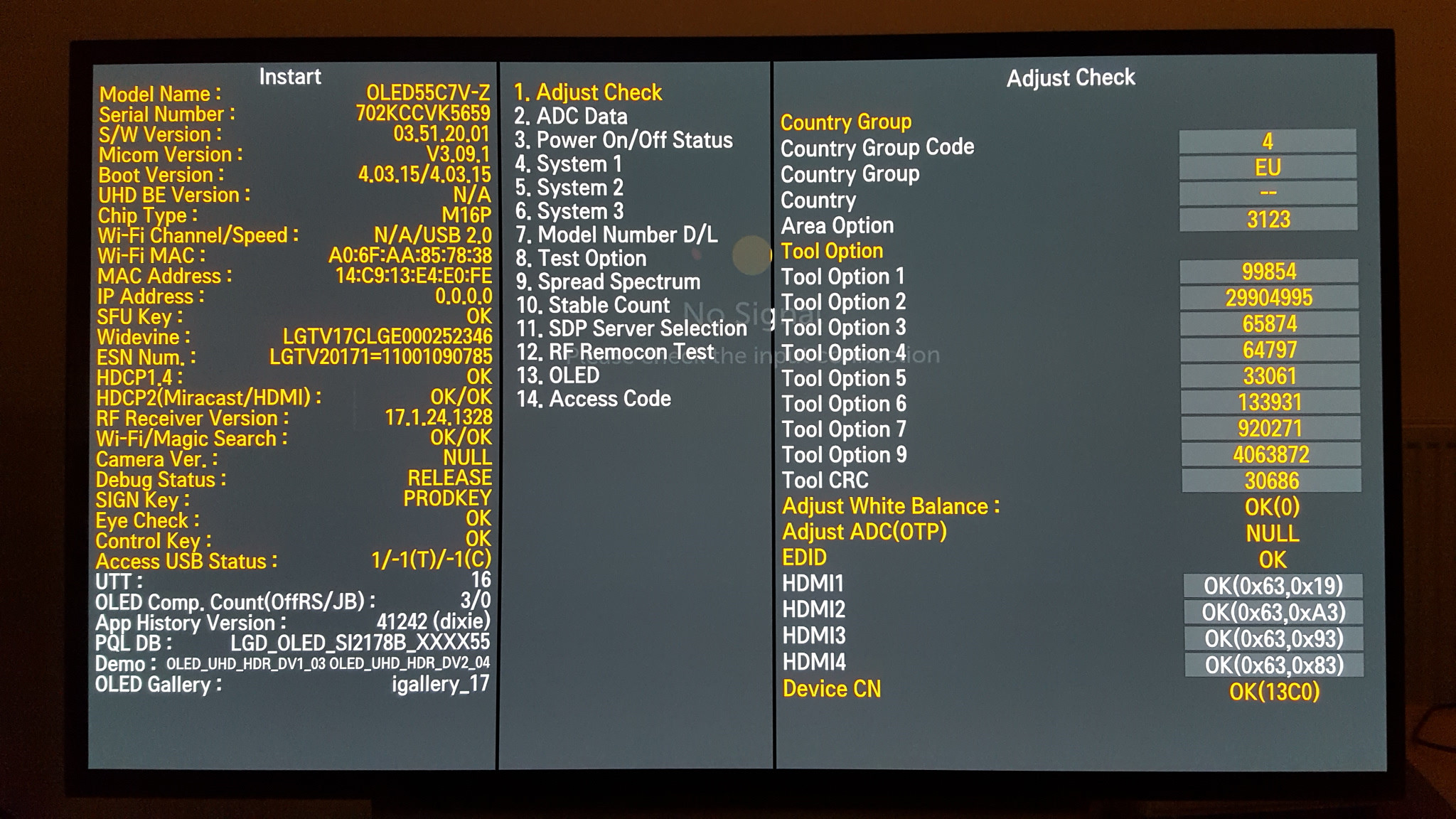 Service menu showing inhouse M16P chipset & OLED compensation cycle info
Verdict
Delivering exceptional contrast, vibrant colours and superb gaming responsiveness, the LG OLED55C7V will likely end up being one of the best televisions you can buy in 2017. That it's the most affordable 2017 OLED TV this year to offer multi-HDR support (HDR10, HLG and Dolby Vision, plus Technicolor following a firmware update) doesn't hurt its cause either.