Even though many other brands have entered the OLED TV market this year, South Korean manufacturer LG Electronics has successfully defended its dominant position, if sales figures are anything to go by. The LG B7 and C7 series of OLED televisions have consistently outsold other OLEDs since launch, and the recent Black Friday price slash to £1500 for the 55-inch versions would have fuelled more purchases.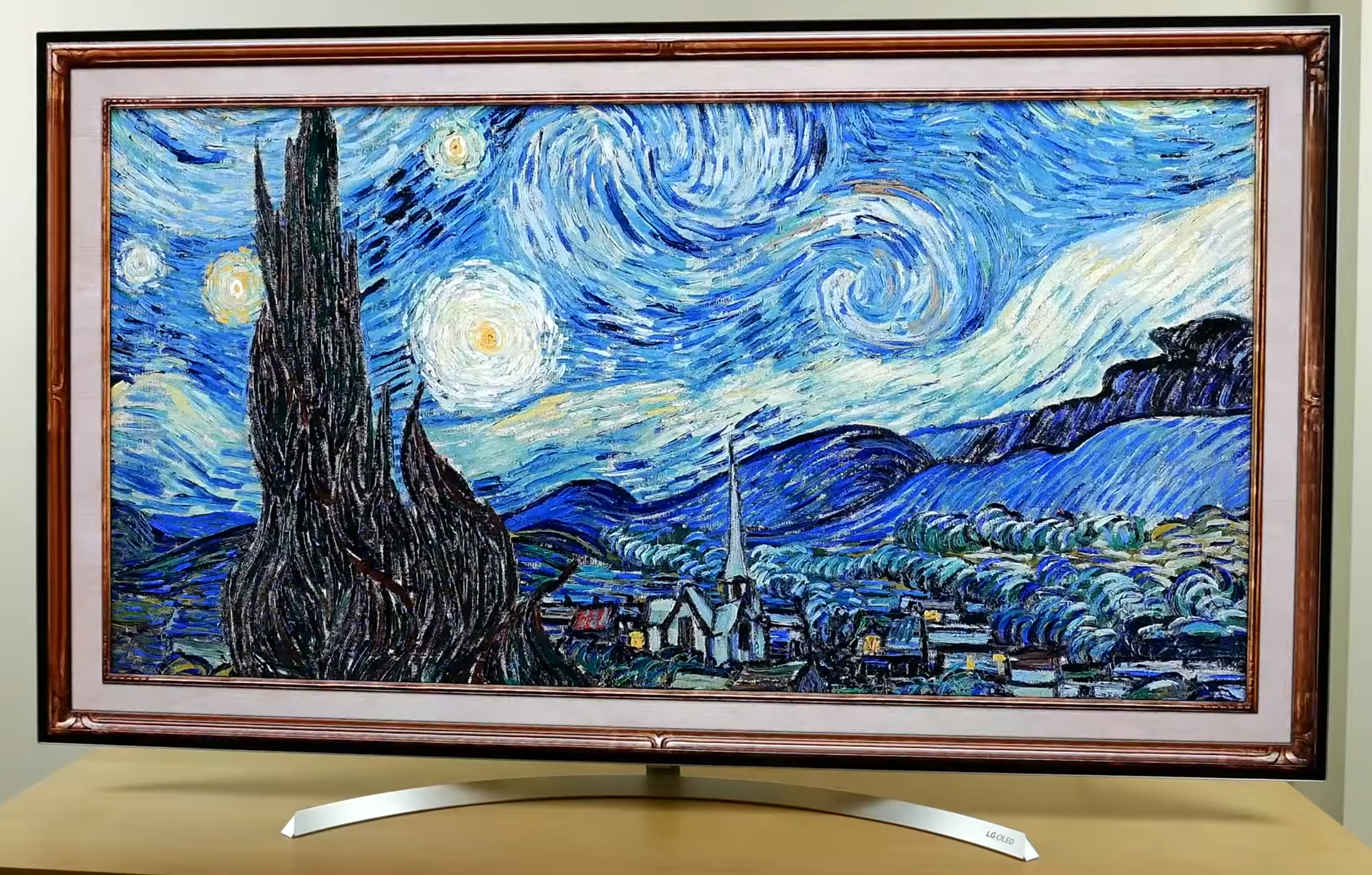 But the popularity of LG's 2017 OLED TVs is not trading on value-on-money alone; in many ways they are genuinely the best TV you can buy today even in the face of strong competition from video processing powerhouses such as Loewe, Panasonic, Philips and Sony, especially after the latest firmware update which improved picture quality in several aspects on the 65-inch LG OLED65B7V we're reviewing today.

Fortuitously, we had two LG 65B7 in our test room at the same time, so we installed the new firmware 04.70.10 (the latest in the UK at this time of writing in November 2017) on one set, and did a side-by-side comparison against the other set which carried an older firmware, version 03.60.09. From the many tests we conducted, we saw three key improvements:
Better Above-Black Handling
LG has optimised near-black gamma to reduce the appearance of coarse gradation just above black, resulting in a cleaner, less noisy presentation in heavily compressed dark scenes.

The fade-to-black sequence in the opening of The Revenant also exhibited significantly less posterisation than what we observed when we first reviewed the 55B7 back in May.
Smoother 24fps Motion
Whereas previously some owners of LG's 2017 OLEDs had to resort to enabling [TruMotion] (with all the side effects it entails) to reduce judder in 24p movies, no such measure was necessary after the latest firmware upgrade. This was most evident in the "Mountains" episode in Planet Earth II where a fox was chasing a baby mountain goat… the firmware-updated LG OLED65B7 looked slightly smoother and sharper than the non-firmware-updated one (on both sets [TruMotion] was disabled).
No More 50Hz Deinterlacing Artefacts
LG has responded to our initial report of intermittent tearing artefacts on 50Hz interlaced broadcast when we reviewed the LG OLED55B7V and OLED55C7V earlier in the year. We saw no such artefacts in many football matches we watched on the 65in B7 that's loaded with the latest firmware, so well done to LG for fixing this issue.
Other features brought about by firmware 04.70.10 on the Korean company's 2017 OLEDs include a Technicolor Expert mode, the addition of a "Copy to All Inputs" function for the onboard colour management system (CMS), as well as Dolby Atmos decoding over HDMI.
Just a quick word on the [Technicolor Expert] picture preset… originally we thought this merely mirrored the ISF Expert presets since it derives its greyscale and colours from the same service menu settings. However, after extensive viewing and additional testing, we found that it seemed to employ some undefeatable edge enhancement visible on a luma zone plate pattern.
Calibration
Our LG OLED65B7V review sample calibrated very well, allowing us to achieve near-reference greyscale and colours. Equipment used included a Klein K10-A meter profiled to a JETI 1511 spectroradiometer, a Murideo Six-G signal generator, and Portrait Display's CalMAN software.
Greyscale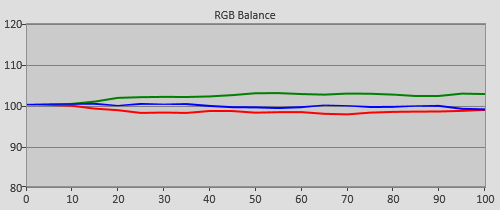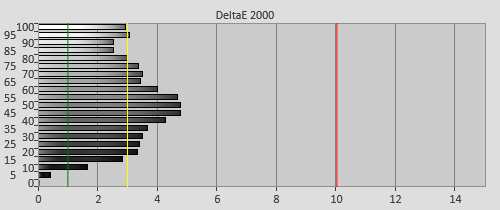 Pre-calibration [ISF Expert] RGB tracking and delta errors (dEs)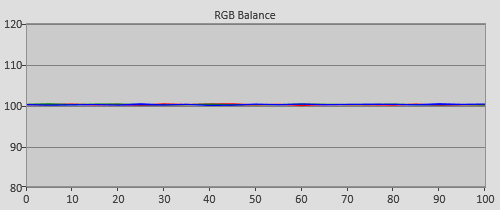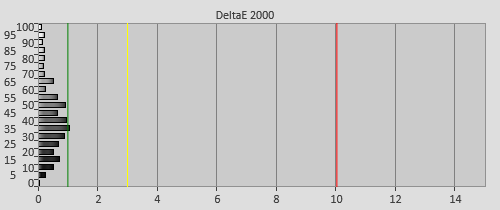 RGB tracking and dEs after 2p & 20p [White Balance] calibration in [ISF Expert] mode
Gamma
| | |
| --- | --- |
| | |
| Pre-calibration gamma tracking (2.43) | Post-calibration gamma tracking (2.4) |
Colour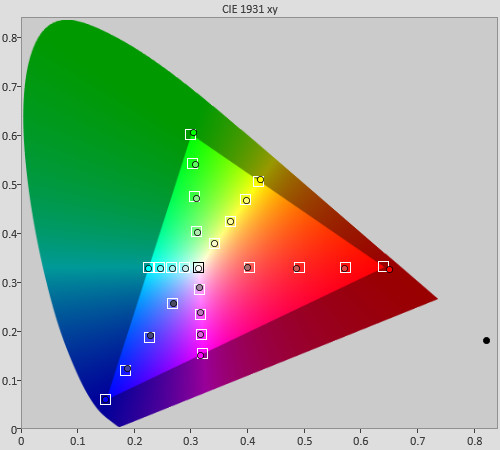 Post-cal colour saturation tracking against Rec.709 standard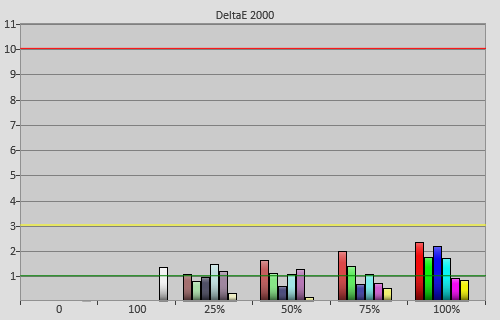 Post-calibration colour errors (<3 not appreciable to the eye)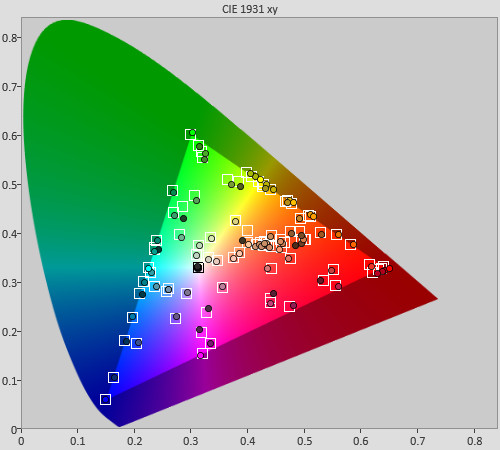 Post-calibration Colour Checker SG test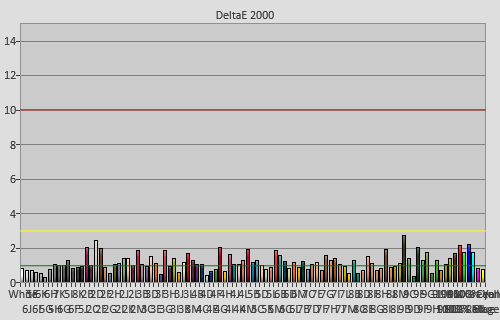 Post-calibration Colour Checker SG errors (<3 not appreciable to the eye)
Benchmark Test Results
| | |
| --- | --- |
| Dead pixels | None |
| Screen uniformity | No vignetting or brightening; near-black thin streaks |
| Overscanning on HDMI | 0% with [Just Scan] enabled |
| Blacker than black | Passed |
| Calibrated black level (black screen) | 0 cd/m2 |
| Calibrated black level (4×4 ANSI) | 0 cd/m2 |
| Black level retention | More stable than 2016 LG OLEDs |
| Primary chromaticity | Very good |
| Scaling | Excellent |
| Video-mode deinterlacing | Effective jaggies suppression |
| Film-mode deinterlacing | Passed 3:2 & 2:2 cadence tests in SD & HD |
| Viewing angle (cone) | 166° |
| Motion resolution | 650 with [TruMotion] engaged; 300 otherwise |
| Digital noise reduction | Optional; effective when engaged |
| Sharpness | Defeatable edge enhancement |
| Luma/Chroma bandwidth (2D Blu-ray) | Full Luma; Chroma horizontally blurred |
| 1080p/24 capability | No judder |
| 2160p/24 capability | No judder |
| Measured panel refresh rate | 120Hz |
| Measured peak brightness | 710 cd/m2 10% window; 156 cd/m2 full-field |
| Measured DCI-P3 coverage | 99% |
| Leo Bodnar input lag tester | 21ms in [Game], [PC] & [HDR Game] modes |
| Full 4:4:4 reproduction (PC) | Yes for 1920×1080 & 3840×2160@60Hz in [PC] mode |
Video Review
Verdict
No TV is perfect, and every OLED television in 2017 has its own strengths and weaknesses, but as an overall package, the LG B7 does many things better than most. Areas where the OLED65B7 excels are:
Less aggressive ABL (Automatic Brightness Limiter) which helps HDR and daytime viewing;
Dynamic tone-mapping technology (marketed as Active HDR by LG) that generates its own metadata on the fly by analysing the incoming HDR video signal;
Dolby Vision support out of the box;
Very low input lag of 21ms in both SDR and HDR [Game] modes; and
Anti-reflective screen filter that minimises magenta tint when hit by sunlight.
That it's the most affordable 2017 OLED TV in its size class is merely icing on the cake.
Note: If you're considering buying this television, please support this website by making your purchase from our sponsor Crampton & Moore – call 0113 2446607 and ask for store manager David Conner (who also organises our annual TV shootout event), quoting HDTVTest for advice, best price and first-rate service.