LG's 2016 lineup of OLED TVs have captured the hearts of video enthusiasts this year not only because of the true blacks, vibrant colours and wide viewing angles afforded by the display technology's self-illuminating characteristic, but also owing to improvements in near-black handling and colour uniformity over the South Korean manufacturer's 2015 models.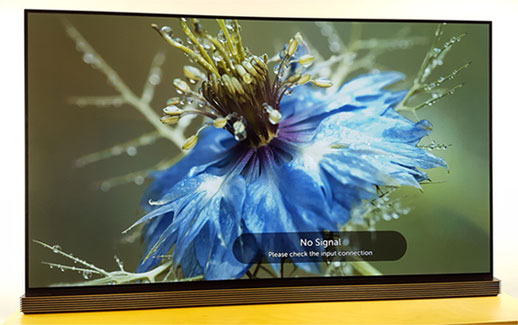 However, a question remains whether there's actually any difference in picture quality between the B6, C6, E6 and G6 series. To find out, we've spent the past few weeks with the LG OLED65G6V, a 65-inch panel from the company's flagship SIGNATURE OLED TV range, to compare against the 65E6 we freshly reviewed.
Design
There have been many outstanding TV designs introduced by various television makers over recent years, but let's face it, none looks as impressive as LG's 2016 OLEDs. Boasting an OLED panel so thin it's almost invisible when viewed sideways, the OLED65G6 carries the same "Picture-on-Glass" styling shared by the step-down E6 model, typified by a classy transparent glass extension beyond the strikingly slim black bezel.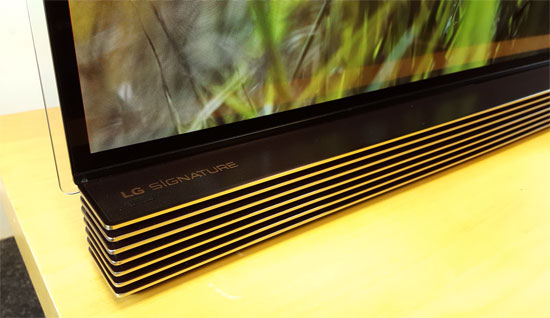 We're not 100% sold by the LG G6V's "foldable soundbar" innovation though. The screen-wide soundbar can be folded backwards for wall-mounting while retaining sonic clarity thanks to cleverly-implemented dual-facing speakers, but this adds unnecessary depth to the installation, preventing the screen from being flush with the wall.
Nevertheless, the LG OLED65G6V's onboard soundbar – developed with help from audio equipment specialist Harman Kardon – sounded hugely enthralling, significantly more so than the faux-soundbar implemented on the OLED65E6V. We accidentally disabled the centre channel dialogue from an Ultra HD Blu-ray for a short period during a side-by-side comparison against another TV, and we were struck by the acoustic resolution, dynamics, ambience and depth presented by the LG G6. Following Sony's decision to drop its "Magnetic Fluid" speakers from Bravia televisions this year, the 65G6 comfortably offers the best-sounding integrated speakers among all TVs we've tested in 2016.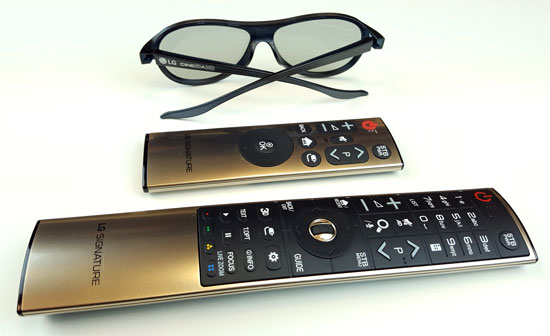 The LG 65G6V ships with two SIGNATURE-branded remote controls finished in champagne gold, as well as two pairs of polarized 3D glasses.
Connections
Unlike other OLED televisions from LG Electronics this year, only two out of the four HDMI inputs on the OLED65G6 can have [HDMI Ultra HD Deep Colour] enabled. Indeed, our Murideo Fresco SIX-G signal generator confirmed that only HDMI1 and HDMI ports successfully accepted and displayed 3840×2160@60Hz/50Hz signal with HDCP 2.2, whereas HDMI3 and HDMI4 topped out at 3840×2160@30Hz on our review sample.

This discrepancy suggests that the LG G6 may be using a different SoC (system-on-a-chip) from the E6 – perhaps the flagship model was developed earlier to make the deadline for CES 2016?
Calibration
In its best picture preset, our LG OLED65G6V review unit delivered more accurate greyscale with less green tinting out of the box than most E6s we've calibrated in the wild. Of course, proper calibration would improve greyscale accuracy to reference levels – we used a profiled Klein K10-A meter and SpectraCal's CalMAN Ultimate software to achieve this.
Greyscale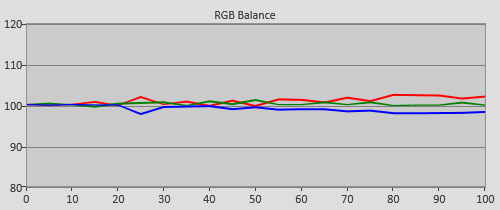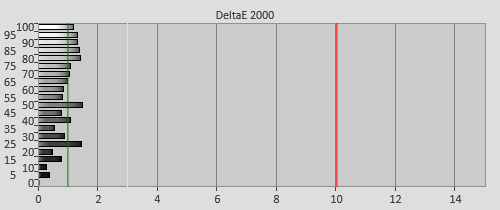 Pre-calibration [ISF Expert] RGB tracking and delta errors (dEs)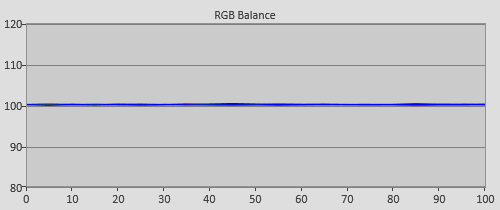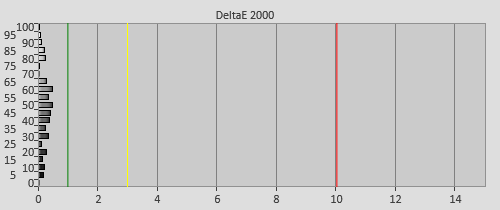 RGB tracking and dEs after 2p & 20p [White Balance] calibration in [ISF Expert] mode
Gamma
| | |
| --- | --- |
| | |
| Pre-calibration gamma tracking (2.42) | Post-calibration gamma tracking (2.4) |
Colour
Post-cal colour saturation tracking against Rec.709 standard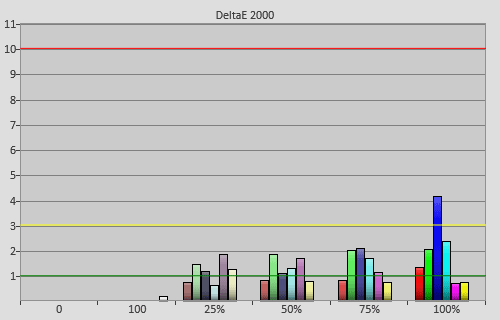 Post-calibration colour errors (<3 not appreciable to the eye)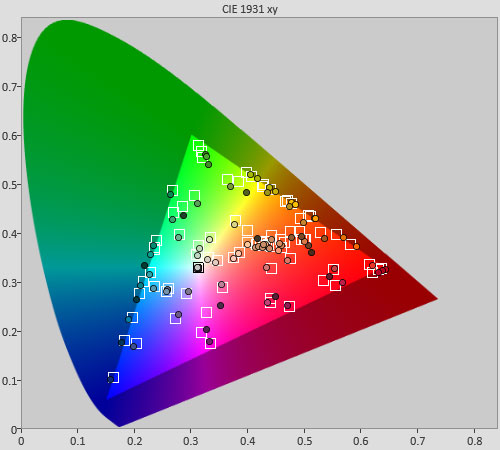 Post-calibration Colour Checker SG test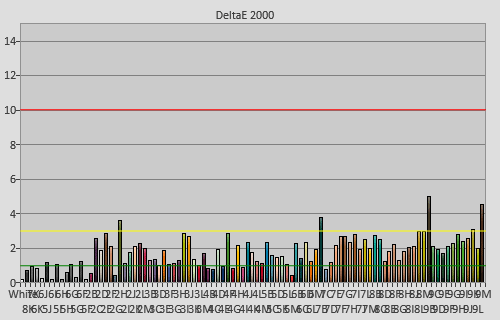 Post-calibration Colour Checker SG errors (<3 not appreciable to the eye)
Benchmark Test Results
| | |
| --- | --- |
| Dead pixels | None |
| Screen uniformity | No vignetting; near-black thin streaks on slides |
| Overscanning on HDMI | 0% with [Just Scan] engaged |
| Blacker than black | Passed |
| Calibrated black level (black screen) | 0 cd/m2 |
| Calibrated black level (4×4 ANSI) | 0 cd/m2 |
| Black level retention | Intermittent raised blacks |
| Primary chromaticity | Very good |
| Scaling | Very good for HD |
| Video mode deinterlacing | Effective jaggies reduction |
| Film mode deinterlacing | Passed 3:2 & 2:2 cadence tests in SD & HD |
| Viewing angle (cone) | 166° |
| Motion resolution | 650 with [TruMotion] engaged; 300 otherwise |
| Digital noise reduction | Optional; effective when engaged |
| Sharpness | Mild undefeatable edge enhancement |
| Luma/Chroma bandwidth (2D Blu-ray) | Full Luma; Chroma horizontally blurred |
| 1080p/24 capability | No judder in 2D or 3D |
| 2160p/24 capability | No judder |
| Measured panel refresh rate | 120Hz |
| Measured peak brightness | 732 cd/m2 |
| Measured DCI-P3 coverage | 96% |
| Leo Bodnar input lag tester | 34ms in [Game] mode; 51ms in HDR mode |
| Full 4:4:4 reproduction (PC) | Yes for both 1920×1080 and 3840×2160@60Hz |
Power Consumption
| | |
| --- | --- |
| Default [Eco] mode | 151 watts |
| Calibrated [ISF Expert] mode | 109 watts |
| [HDR Standard] mode | 228 watts |
| Standby | <1 watt |
Picture Quality
Once calibrated, there wasn't a great deal of difference in image quality between the highest-end LG OLED65G6V and the sub-flagship OLED65E6V. Both featured OLED's legendary 0 cd/2 blacks and supremely rich colours that didn't take any noticeable hit off-axis, not to mention clean (though not the sharpest) motion which exhibited no smearing or trailing that could plague LED LCDs.
Where the 65G6 edged ahead of its 65E6 sibling were in the areas of near-black uniformity, 24p smoothness and HDR peak brightness, at least as far as we could surmise from our review units. Whereas our LG OLED65E6 sample still manifested some mild vignetting along its right screen border, and smaller 55-inch B6 and E6 OLEDs tend to evince some brightening along the sides (LG's method to tackle vignetting), our OLED65G6 sample didn't show any sign of vignetting or brightening on 1%, 2%, 3% or 4% above black full-field slides. There remained some thin streaks of vertical and horizontal bands on 3% and 4% above black slides, but we rarely saw them in real-life content.
The LG G6 also displayed slow panning shots in 24fps material in a smoother fashion than the 65in E6 (motion interpolation turned off in both cases). There's a smidgen of edge enhancement running at all times on our LG 65G6V even with [Sharpness] set to "0" and [Super Resolution]/ [Edge Enhancer] disabled, causing film grain to look marginally noisier than expected.

Our own custom-authored test pattern to assess film grain integrity (screen on right = LG G6)
Higher peak brightness in HDR mode was where we felt the OLED65G6V justified its price premium over the step-down 65E6V – our review unit reached 732 cd/m2 (measured using UHDA-ratified window sizes) with both [OLED Light] and [Contrast] left at their default maximum value of "100" in the [HDR Standard] preset. We've tested/ calibrated 3 other LG 65G6 OLEDs, and all had no trouble exceeding 700 nits when it came to HDR peak luminance. On the other hand, most 65″ E6 we've calibrated usually settled between 630 to 680 nits, with only one single unit managing to close in on 700 nits. We believe this is more than mere coincidence.
Of course, since the LG OLED65G6 was brightening APL (Average Picture Level) in HDR video content improperly against the ST2084 standard, [OLED Light] and/or [Contrast] needed to be decreased to produce accurate PQ (perceptual quantisation) EOTF (electro-optical transfer function) tracking. The OLED G6's higher brightness potential (relative to the E6) meant that we still attained a peak brightness of 610 nits after the requisite adjustments (the 65E6's corresponding figure was 485 nits). As a result of inbuilt ABL (Automatic Brightness Limiter) circuitry, full-field peak white came in at 140 cd/m2 in HDR mode.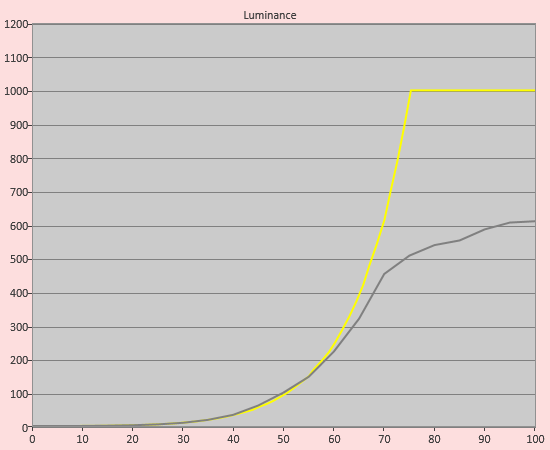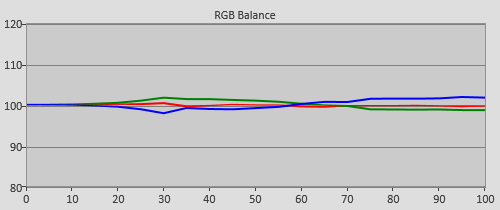 Post-calibration RGB tracking and dEs in HDR mode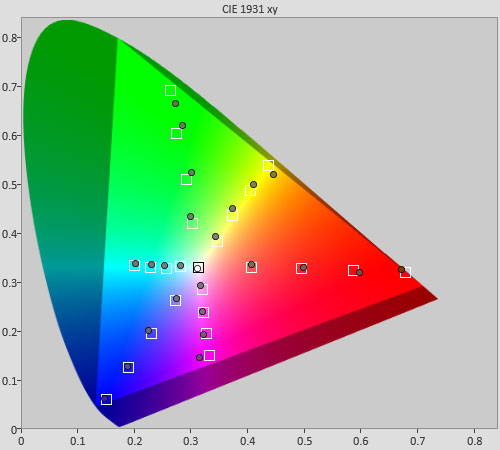 Post-calibration saturation tracking with reference to DCI-P3 inside Rec.2020 container
Helped by higher peak brightness and our newly-improved calibration workflow, the 65G6V allowed for less-blown-out expression of white highlight details compared with the 65E6V we reviewed 3 weeks ago. Here's a side-by-side comparison versus a 1000+-nit LED LCD TV of the sun in Chapter 18 of Kingsman: The Secret Service 4K Blu-ray driven from a Samsung UBD-K8500 player and HD Fury Integral combo:

(Photo exposure intentionally lowered to fully capture highlight detail from HDR UHD BD)
Unfortunately even our best efforts couldn't restore the clipping of bright coloured highlights, particularly red-hued ones. On the LG OLED65G6V, the explosions during the storm sequence in Mad Max: Fury Road (timecode 00:28:29) evidently contained less detail than on a rival Ultra HD Premium LED television:

(photo exposure lowered; shadow detail fully present on both TVs in actual viewing)
Although the 65G6 OLED also had a propensity to exhibit more noise and posterisation at certain luminance levels, the TV's per-pixel light control and complete absence of haloing/ blooming artefacts made for utterly captivating HDR viewing. The OLED65G6's self-emissive properties helped the TV retain all of its colour vibrancy without being washed out by the high backlight demands of HDR, a curse that affects even the best FALD (full-array local dimming) LCD-based displays.
| | |
| --- | --- |
| | |
| Lag in [Game] mode | Lag in [HDR] mode |
The 65G6V's input lag in [Game] mode came in at a responsive 34ms according to our Leo Bodnar tester. Unlike other TV brands such as Panasonic and Philips, LG hasn't started offering gamer-friendly HDR presets, so we're stuck with the usual [HDR Vivid], [HDR Bright] and [HDR Standard] modes for playing HDR games. As long as [TruMotion] was not engaged, input lag in HDR mode measured a not-unplayable 51ms on our LG G6 sample.
Verdict
Suboptimal HDR10 presentation notwithstanding, LG's 2016 OLED TVs are the best displays on the market today in terms of overall picture quality, and the top-tier OLED65G6V is the cream of the crop due to its higher peak luminance and slightly more polished video processing. Had this model in this iteration made it to our HDR TV shootout event in place of the OLED65E6V, the result might have been very different indeed.