The Vienna State Opera is about to stream what it claims will be the first live production in 4K Ultra HD resolution to Samsung ultra high-definition (UHD) TVs, using the newly developed HEVC codec.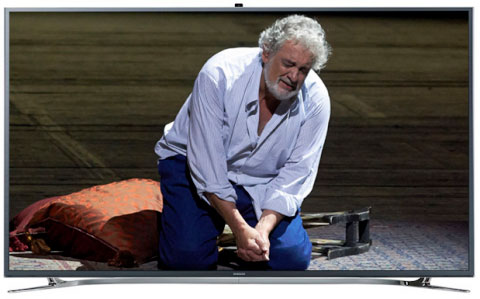 Opera fans will be able to see the 4K rendition of Verdi's Nabucco starring Plácido Domingo tomorrow the 7th of May at 7pm, so long as they have a Samsung UHDTV handy with the necessary Wiener Staatsoper Smart TV app installed. In addition, the performance will also be streamed to a 65-inch Samsung Ultra HD Smart television housed in the Vienna opera house itself.
Delivered over MPEG-DASH, the broadcast will make use of video-processing software from Elemental Technologies, the same company which helps to support the Vienna State Opera's full HD live streaming service. The production team plans to use a Sony PMW-F55 CineAlta 4K camera to record the show, with delivery of the 4K streaming managed by Ooyala to enable global viewing via Samsung's Smart UHDTVs.
As exciting as this development is, we're somewhat sceptical over the claims that it's the "world's first live 4K web broadcast". There's already been a number of successful trials involving 4K streaming, beginning with Sony's test broadcast of the Wimbledon tennis championship last June. More recently, in March, the UK's National Theatre Live teamed up with Sony to stream a production of the award-winning play War Horse in ultra high-def 4K to a number of select cinemas around the world. In total, the play was seen by an audience of more than 155,000 people, including 120,000 in the UK.
There's been plenty of other 4K broadcasts too. Sky TV has been playing with 4K for quite some time, carrying out a successful broadcast via satellite last September, whilst just last month Sky Deutschland achieved a similar feat, beaming the match between Bayern Munich and Werder Bremen over satellite back to its headquarters in Unterföhring near Munich.
Nevertheless, the live 4K stream of Verdi's Nabucco does seem to be the first that's available to such a wide audience. So long as you have access to a Samsung Ultra HD television, there's no restrictions on who can watch the show – whereas all previous 4K streams have been either closed tests or made available to select audiences only.
Source: Vienna State Opera