Turn back the clock five years previously, and Oppo was the brand of choice for anyone looking to buy a DVD player, with its DV-981HD model generally considered to be one of the best in the business. Then along came Blu-ray players, and Oppo continued to be one of the most revered names around, with many rival manufacturers ditching premium quality players for cheaper, plastic-build models.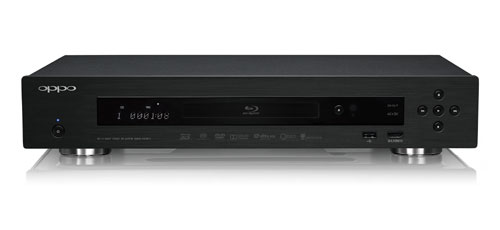 Oppo BDP-103 4K upscaling Blu-ray player to hit UK soon
But Oppo has ruthlessly stuck to its guns, both design-wise and philosophy-wise, and has finally unveiled its third generation of Blu-ray players – the Oppo BDP-103 and BDP-105. Just as before, the company has made its new BD players universal, which means they're capable of playing pretty much anything but Laser disc, while they also offer the ability to stream dozens of common file types, such as MP3s, FLACs, WAVs etc.
Something else that hasn't altered is the price tag – the lower spec BDP-103EU retails at £499.00, whilst the upgraded BDP-105EU will set you back a cool £999.00.
Obviously, with the vast majority of Blu-ray players being available at a considerable discount, the Oppos will need some pretty outstanding features to persuade consumers to part with their cash, but that's exactly where they come out tops.
4K is the latest buzzword at the moment, and Oppo's BDP-103 and BDP-105 can upscale full HD 1080p Blu-rays to the new, higher resolution (four times that of "regular" HDTV), whilst incorporating a great deal of picture processing power with their latest Marvell Qdeo video processor and custom dual-core SoC. Other features include Smart TV streaming, with access to a wide range of on-demand services including Netflix, Film Fresh, Vudu, YouTube and Pandora, plus many more services to come.
Oppo has always focused on producing the best quality video and audio around, and that hasn't changed with their latest machines. The BDP-103 comes with a 7.1 channel analog output, a feature that's fairly uncommon on BD players these days. Meanwhile the BDP-105 far outdoes this, sporting new Torodial linear power supply, two ESS Sabre32 Reference DACs, dedicated stereo outputs with XLR and RCA balance connections, and a headphone amplifier that directly connects to the DAC. These features allow the Oppo BDP-105 to be used as both an asynchronous USB input and an external DAC with two HDMI inputs. The BDP-103 also comes with its own dual-HDMI inputs, and if your phone has a Mobile High-definition Link, or if you have the new Roku Stick, these can also be connected to either player, via the front-mounted HDMI port.
Oppo says that the BDP-103EU will be the first machine to hit UK stores later this month; meanwhile, the BDP-105EU is expected to arrive before the end of this year.