Optoma has announced that it will unveil its new HD25 projector, a full HD 1080p 3D DLP device, at the Sound & Vision Bristol Show 2013 which kicks off tomorrow. Suggested retail price is £799.99, which includes a pair of Optoma ZF2100 active-shutter 3D glasses.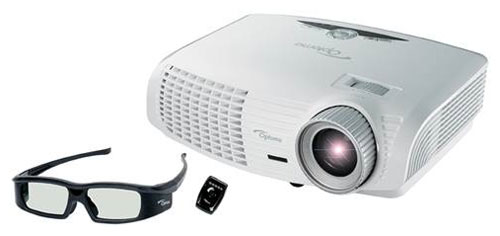 Optoma launches HD25 full HD 3D DLP projector
Single-chip DLP technology is typically known for its outstanding sharpness when compared to the majority of home cinema projectors on the market, which are typically 3-chip LCD or LCOS designs (the three panels, while a plus for contrast quality, inevitably result in some loss of sharpness due to misalignment).
Interestingly, the HD25 is pitched as being an "all-in-one" solution, and features built-in speakers, so says Optoma, "eliminating the need for external audio or adapters".
The company promises 2000 lumen light output (although calibration will almost certainly reduce that figure), a high contrast ratio, and Dynamic Black technology which is said to adjust lamp output on the fly. While unconfirmed, the Optoma HD25 may be the closest follow-up to the ever-so-popular HD33 model that was released back in 2011.
Connections include 2 HDMI inputs, 2 VGA inputs, and ports for Component and Composite video. Since we started reviewing projectors late last year, we haven't actually tested any DLP projectors yet, with everything so far being on the liquid crystal side, so we look forward to having a good look at what this budget 1-chip projector can do.