Focusing heavily on 3D TV technology for the year ahead, Panasonic is taking measures to increase the availability of 3D content, as well as standardise its 3D glasses with other manufacturers in order to stimulate 3DTV adoption, the Japanese TV manufacturer has announced at its press conference at the Consumer Electronics Show (CES) 2011 in Las Vegas today.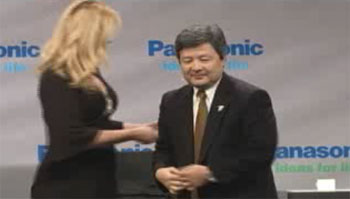 Clearly aware of the importance of 3D content availability to the acceptance of 3D TV technology among the public, Panasonic revealed that it is setting up a 3D Innovation Centre within its highly-revered Panasonic Hollywood Laboratory, with the intention of educating filmmakers in the shooting and production of 3D movies. And because consumers in the Asian countries of Japan, Korea and China have thus far exhibited a high level of interest in 3D technology, Panasonic is keen to get more directors from these regions on board to produce more local 3D content to satisfy demand.
The company also said that it is working with other manufacturers to achieve a common standard for 3D eyewear, in the hope that consumers will be more receptive towards 3D glasses if there exists widespread compatibility between different brands. With an eye towards eco-friendliness, Panasonic also indicated that its development team is constantly striving to lower power consumption on Panasonic Viera HDTV displays generation after generation.
Looking forward, Panasonic expects the 3D bandwagon to gather more steam in 2011, as more 3D content becomes available to consumers, such that in 3 years' time (2014), 3D TV sets will account for 32% of global television sales.
In line with its end-to-end approach towards promoting 3D (i.e. encouraging consumers to create 3D content themselves), Panasonic will release no less than five new models of 3D camcorders – including the HDC-SD90, HDC-TM90, HDC-TM900, HDC-HS900 and HDC-SD800 – to add to last year's Panasonic HDC-SDT750, then touted as the world's first consumer 3D camcorder.