Japanese consumer electronics giant Panasonic is set to extend its 3D TV coverage of the US Open 2011 tennis tournament, as CBS Sports' matches taking place at Louis Armstrong Stadium will also be broadcast in 3D this year. It has been confirmed this week that Panasonic will be working with CBS Sports and the USTA (United States Tennis Association) to provide its Emmy-award-winning coverage in the third dimension for the second consecutive year.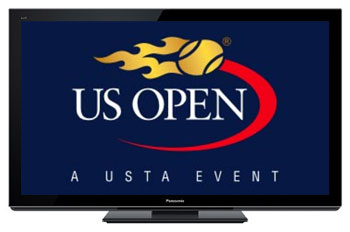 Panasonic extends 3D TV coverage at US Open 2011
3D coverage for the USTA and Panasonic will come through CBS sports, the host broadcaster who has been charged with this responsibility. CBS will also be producing the tri-dimensional versions of the tennis matches on Arthur Ashe Stadium, which are usually broadcast in high definition. The 3D production of last year's US Open 2010 tennis championships – purportedly the first global 3D broadcast of a major tennis event – received an Emmy Award for technical achievement.
The expanded coverage that will be brought to viewers this year by CBS, Panasonic and USTA will include the best 3-dimensional perspectives and 3D-specific positions for the ultimate 3DTV coverage and viewing. There will be ten 3D broadcast cameras as well as a high speed 3D replay system that will be used as part of the expanded coverage. The 3D telecasts will benefit from match and grounds coverage provided through a pre-production model of the new 3DP1 handheld Full HD 3D professional camcorder from Panasonic. The 3D broadcast camera shadow rigs designed by the Cameron Pace Group, which were used last year, will provide overall court coverage.
USTA's chief business and communications officer Harlan Stone said that tennis fans would once again be able to enjoy a breathtaking viewing experience on their 3D-capable HDTV sets thanks to its partnership with CBS Sports and Panasonic for the US Open 2011. He added that the expansion in distribution and the inclusion of the Louis Armstrong Stadium matches meant that more people than ever could now enjoy this innovative and award-winning broadcast.