Panasonic is harbouring plans to launch the 65-inch curved 4K OLED TV it's exhibiting at the Consumer Electronics Show (CES) 2015 in Las Vegas, following on from a prototype unveiled at the IFA trade show in Berlin last year. The company also intends to release its first curved LED LCD TVs this year, which will probably make an appearance at its European Convention next month.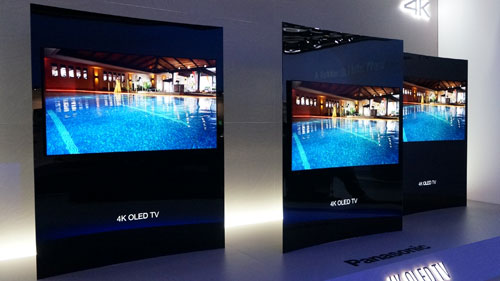 Back in September 2014, the Japanese manufacturer showcased such an ultra high-definition (UHD) OLED prototype at its IFA booth, but wanted more market feedback before committing to a retail model. It appears that Panasonic has taken on board the overwhelmingly positive response (at least among HDTVTest readers), culminating in plans to make it a reality.
The company first showed off a 56in 4K OLED panel which was co-developed with fellow Japanese heavyweight TV manufacturer Sony at CES 2013, but that product never came to market, and both parties decided not to renew their OLED television partnership, opting to focus on UHD LED LCDs instead. The curved 4K Ultra HD OLED prototype on display at Panasonic's CES 2015 booth is the same as those seen at IFA 2014, which uses LG Display's WRGB OLED panel judging from the faint FPR scanlines observed up-close.
Panasonic shuttered its plasma display panel (PDP) manufacturing business towards the end of 2013, and although the Osaka-headquartered TV maker attempted to emulate plasma's picture quality with an LED LCD television featuring 128-zone full-array local dimming (FALD) technology, ultimately the Viera AX900/ AX902 failed to hit the heights of the firm's final generation of plasmas particularly when it comes to black-level performance. Of course, OLED display technology is not lacking in this department, so the prospect of Panasonic bringing its video processing know-how to the table to complement OLED's true blacks is a mouth-watering one to say the least.
The Panasonic 4K curved OLED TV is slated for an autumn debut, probably at IFA 2015, though we hope to get a more definitive launch timeline and pricing (and also of the company's forthcoming Ultra HD Blu-ray player) at the Panasonic Convention 2015 which will take place in Frankfurt in February.