Panasonic is showing off its new 2013 range of flat-screen TVs here at the International CES in Las Vegas. We paid a visit to its show booth, and walked away very impressed with yet another strong lineup of high-definition and ultra HD displays released by the Japanese TV manufacturer.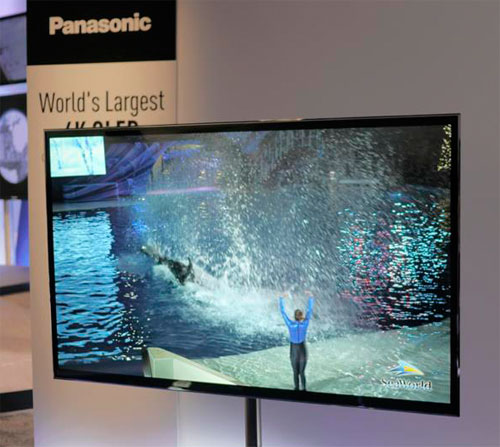 Panasonic's world's largest 56-inch 4K OLED TV created by printing technology
Catching attention at the very front of Panasonic's hall space is the 56″ 4K OLED TV that the company unveiled as a surprise at this morning's opening keynote – although don't buy lottery tickets just yet, because this is still in prototype form. The picture quality is exactly as what you would expect from both ultra high-def and OLED display technologies, so we'll spare you the superlatives. Panasonic prominently mentioned the fact that they are printing the panels – we assume together with their new OLED partners at Sony – which results in higher yields, and hopefully cheaper prices.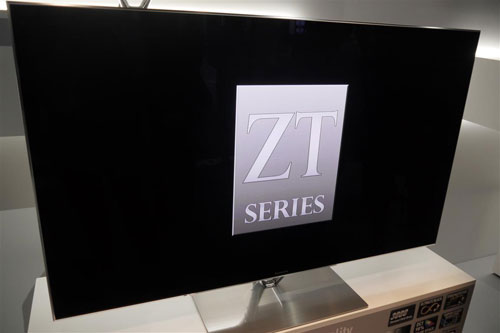 Staying in the present, however, we had a look at the US versions of the new Viera plasma TV lineup. The new flagship model is the Panasonic ZT60 series, which features a few improvements on last year's VT60:
The red phosphor has been reformulated. That allows the ZT60 to saturate almost all of (98% of) the DCI colour gamut which manufacturers are enamoured with. Normally we'd point out that this is of little interest to home cinema enthusiasts who want accurate colour (which last year's Panasonic plasmas had no trouble in providing), although here at the show we've seen some indication from Sony that it's beginning to release "4K Mastered" Blu-ray Discs that we understand are mastered for use on a wide colour gamut display.
The panel is now bonded to the front glass, reducing internal reflections that could arise from the one-sheet-of-glass design.
Better gradation performance: Panasonic now promises 30720 steps.
Motion performance seems to have been improved, as Panasonic are now promoting "3000 Focused Field Drive". Notice that the word "Hz" has gone – what this means for real world performance, we're not sure.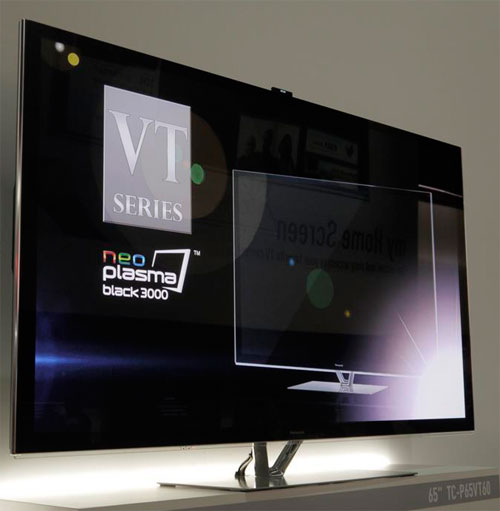 The Viera VT60 series now takes the place in the second-from-top position in Panasonic's lineup. The new design is sleek and elegant. Picture quality seems to be much the same as last year, with the only improvement we're aware of this time being an upping of the motion performance – now rated at "3000 FFD" rather than last year's 2500. Of course, there are usability improvements such as Panasonic's new voice interaction, Swipe and Share 2.0, and the new "My Home Screen" which is a tremendous improvement on the outgoing VIERA Connect interface.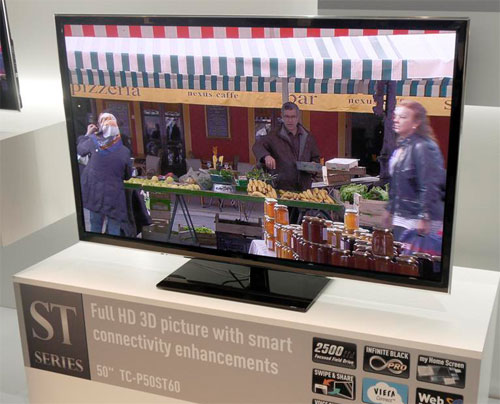 Stepping down again to the Panasonic ST60 series, our first impression is that the design has been scaled back radically compared to last year's ST50. The plasma television is styled in a fairly plain gloss black which doesn't seem as luxurious as last year's "Crystal Design". A deliberate move to push people towards the higher ranges? Picture quality seems again unchanged from last year: motion is still rated at 2500 FFD (note that the American model of the ST50 was rated at 2500 FFD whereas the European versions were at 2000 – whether or not this will continue in Europe with the ST60 is unknown). The new Smart TV features are also on board.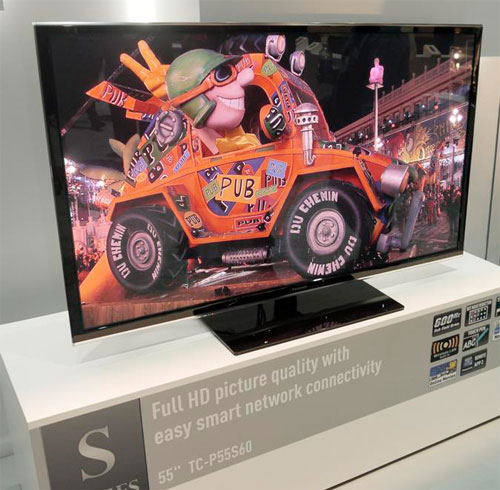 Lastly, the S60 series is Panasonic's 2D-only 1080p plasma TV. This uses the 600hz Subfield Drive system, and is styled in much the same way as the ST60.
We'll find out how Panasonic's marketing terms translate into real-world performance when we get review samples of the UK versions – due to be unveiled at the Panasonic European Convention in February – over the next few months.