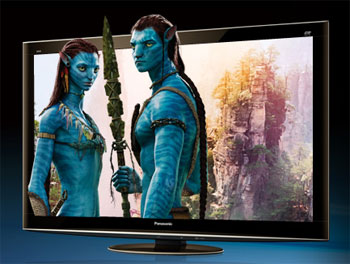 Panasonic has confirmed that the exclusive global distribution rights it holds on the Avatar 3D Blu-ray disc will run until February 2012, dealing a massive blow to owners of other 3D TV brands who had hoped to get their hands on a standalone retail copy as early as next year. Released on the 1st of December, the Avatar Blu-ray 3D movie is currently available only to Panasonic customers who have bought the company's 3D products.

The news first broke on the AV Zombie website which houses the personal blog of Steve May, an experienced UK audio-visual journalist who has over the years accumulated a number of influential contacts in the home entertainment industry. Apparently while reviewing the Avatar 3D Blu-ray disc, he was informed by Panasonic UK's spokeswoman Sara Barrett that the 3D title will remain exclusively bundled with certain Panasonic 3D wares up until February 2012.
It was initially expected that the exclusivity deal Panasonic signed with 20th Century Fox on the selling rights of the Avatar 3D Blu-ray disc would expire as early as the end of January 2011. Wary that the newly revealed, a-year-later date might simply be a slip of the tongue, some British AV publications have sought clarification from Panasonic UK who subsequently confirmed that Feb 2012 is indeed when the company's exclusive selling rights will run out.
While securing the rights to what is undoubtedly the genre-defining, must-have 3D film will help Panasonic shift more of its 3D TVs, 3D Blu-ray players and 3D Blu-ray home theatre systems, industry analysts fear that the move will hurt the so far unpromising 3D technology adoption rate even further, not to mention extend the lucrative second-hand prices fetched on online auction sites like eBay for a good while longer.
Source: AV Zombie