At the IFA 2014 consumer electronics trade show that took place in Berlin this month, Panasonic revealed more technical details about its upcoming Viera AX900 series (marketed as the AX902 in the UK), which highlighted the potential for this highly-anticipated set to become the best 4K LED LCD TV to date in terms of picture quality. Here's why.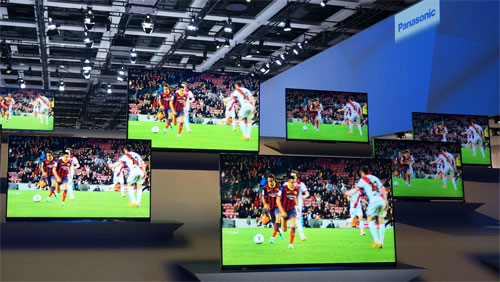 Full-Array Local Dimming
Unlike most LED-lit LCD televisions on the market which have their LEDs mounted along the edges, the Panasonic AX900/ AX902 features direct LED backlight with full-array local dimming (FALD) technology, where individual dimmable zones on the screen can be darkened independently from other zones displaying brighter elements, contributing to better black level and contrast performance. Here's our primer on the image quality superiority of FALD LED TVs versus edge-lit variants.
Panasonic told HDTVTest at its annual European Convention back in March that the AX900 will be blessed with 128 dimming zones (16 horizontal; 8 vertical) operating under the moniker of "Local Dimming Ultra", and this key specification remains unchanged. However, the largest 85-incher, originally part of the AX900 range, has now been hived off as the Panasonic X940/ X942 series, presumably due to the reduced number of dimmable zones (32) and LCD panel type (VA).
In other words, the Viera AX902/ AX900 will come in two screen sizes, namely the 55-inch Panasonic TX-55AX900 and the 65-inch TX-65AX900 (British model numbers TX-55AX902B and TX-65AX902B respectively). While North American buyers have more choices from the likes of Sony and Vizio when it comes to full-array local dimming LED display, this means that the Panasonic TX55AX900 and TX65AX900 will be the most affordable and living-room-friendly FALD television in the United Kingdom and Europe at launch.
Blooming Reduction
Because the number of dimmable zones is invariably lower than the number of pixels, local dimming LED LCD TVs are prone to a phenomenon called blooming, where bright objects (which are smaller in size than each locally-dimmed zone) overlaying a dark background exhibit circumferential halos around them.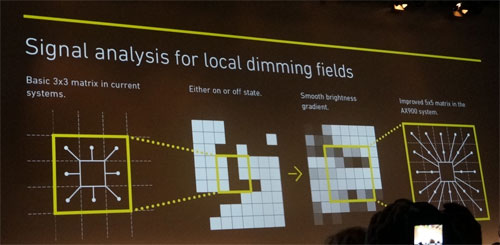 Panasonic said that it has developed an advanced signal analysis algorithm specifically to combat this undesirable side effect. Whereas traditional local dimming sets use a 3×3 matrix which is mostly on/off in nature, Panasonic's engineers are calling upon an improved 5×5 matrix whose brightness can be controlled in a more refined and graduated manner according to the incoming video signal. A concept demo at the show certainly looked impressive.
Supremely Accurate Colours
The Japanese manufacturer has also drawn upon the expertise of its Panasonic Hollywood Laboratory (PHL) authoring facility to equip the AX900/ AX902 with an 8000-point 3D LUT (lookup table) that's hitherto only used on professional studio monitors, so that colours remain accurate and well-saturated even in darker portions of the image.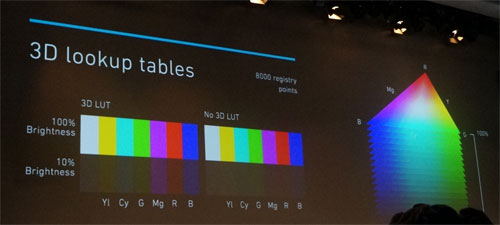 We've already seen some benefits of this technology on the step-down Panasonic AX802 during low-light scenes and especially in 3D, whetting our appetite even further for the TX55AX902B and TX65AX902B.
Other features on the AX902 include a quad-core Pro5 image processing engine, HDMI 2.0, HDCP 2.2, integrated HEVC decoder capable of Netflix 4K streaming (and later UHD Amazon Instant Video), dual Freeview and Freesat HD tuners, as well as built-in Freetime.
Our Reservations
The Panasonic AX900 will be using IPS-type LCD panel which increases the propensity for blooming, since the discrepancy between the screen's native black level and dimmed state is greater. All the IPS-based LED LCD televisions we've tested in 2014 have been disappointing, not only due to IPS's well-known Achilles' Heel of subpar blacks and compressed dynamic range, but also because the oft-quoted pro-IPS argument of wide viewing angles didn't really hold true this year – black level brightened up significantly when viewed off-axis. We certainly hope that Panasonic will use a higher-grade IPS panel, with most of these issues being taken care of by the company's FALD system with advanced 5×5-matrix signal analysis.
At IFA, Panasonic also touted a technology that ties the AX900's video processing to the amount of ambient lighting in the room. While the Japanese TV maker may achieve a breakthrough in this area, our longstanding experience of light sensor systems on modern TVs suggests that they can't get it right 100% of the time, resulting in visible luminance fluctuations, or pictures that are too dim. Although it's interesting and potentially useful, we pray that there's an off switch for this feature.
Availability
The Panasonic TX-55AX902B and TX-65AX902B ultra high-definition (UHD) TVs are scheduled for a November release. Prices remain unknown, but to maintain sales, they cannot be too close to the 4K curved OLED televisions from LG or indeed, Panasonic itself (should the Osaka-based corporation decides to launch this self-emissive display).
Updated 3 October 2014: The UK recommended retail price (RRP) for the Panasonic AX902 has been announced. The 55in TX55AX902B will be £3,499.99; whereas the 65in TX65AX902B will be £4,999.99.