At the Panasonic Convention 2013 in Nice, France, the Japanese manufacturer demonstrated various aspects of its new Smart VIERA Plasma and LED LCD TVs.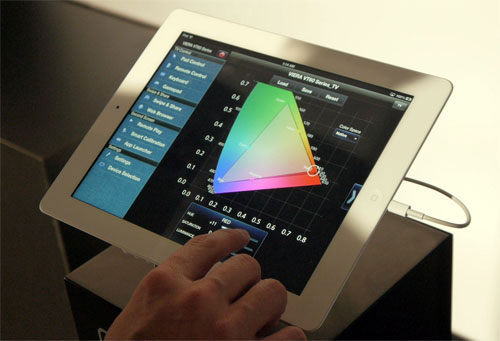 Panasonic updates Viera Remote app for second-screen calibration
In addition to the picture quality and eco features, Panasonic is of course keen to expand the "second screen" experience. Accordingly, the company will be updating its VIERA Remote app, available on both Android and IOS platforms, with a range of new features.
Usefully for enthusiast users and calibrators is the Smart Calibration feature of VIERA Remote 2 application. This isn't a fully automated tablet-based calibration system – you'll still need software such as CalMan or ChromaPure to measure the various grey levels and colours from the TV screen, and of course a probe to interface with your computer – but it is a new way to remotely control the calibration features on a VIERA HDTV without using the traditional remote control.
The advantage of this is that with all the menus displayed on the tablet or smartphone device (Panasonic demonstrated it running on an Apple iPad), the television screen itself won't be cluttered up with on-screen displays to get in the way of the area of the screen being analysed. What's more, a tablet, with its larger touchscreen, allows calibrators to see more features at once without having to navigate menus with various button presses. After all, less time remote surfing is more time perfecting what matters most – picture quality.
Prior to getting stuck in, we were a little concerned, seeing as the adjustments are operated by way of touch-based sliders, rather than – and + buttons. We thought that these might lack the level of precision necessary during calibration. We hope to find out more when we review the 2013 VIERA products, but for now, we're glad to report that our fears were abated: the UI (user interface) of Panasonic's revamped VIERA Remote app allows for a very high level of precision.
The calibration app allows for control over basic picture settings (such as Brightness, Contrast, and Sharpness), access to the VIERA displays' three-axis colour management tool (complete with a visual representation of the target gamut), 10-point RGB greyscale adjustment, and 10-point gamma control. We look forward to using it on Panasonic's 2013 plasma and LED LCD televisions!