Panasonic has launched its first curved LED LCD TV at its annual European Convention in Frankfurt this week, following in the footsteps of Samsung and Sony. Designated the Viera CR850 series (or CR852 in the UK), these flagship curved displays will feature an ultra high-definition (UHD) resolution of 3840×2160, 10-bit LCD driving, wide colour phosphor and native HDR playback support.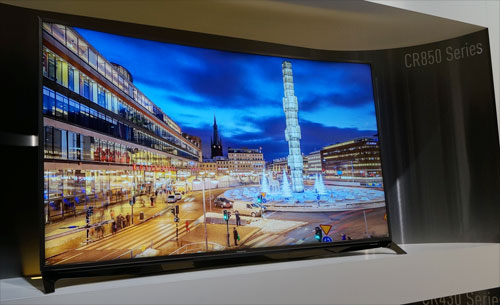 Despite splitting the opinions of video enthusiasts, curved TVs have proven extremely successful for the format's main proponent Samsung, who claims that more than half of its 4K televisions sold in 2014 are of the bendy variety such as the HU8500 and HU8200. Sony followed suit with the release of its Bravia S90 series at last year's IFA, and now it's Panasonic's turn.
The Panasonic CR852 range will come in two screen sizes of 55 and 65 inches (model number TX-55CR852B and TX-65CR852B respectively). Both will feature direct LED backlighting with local dimming (hopefully the full-array variant). A new Wide Colour Phosphor technology that combines advanced LED backlight with a newly developed colour filter system purports to deliver 98% of DCI-P3 colour space, which the Japanese manufacturer claims is larger than the 92% coverage offered by competitors' quantum dot technology.
In line with the transition from more pixels (4K resolution) to better pixels (high dynamic range, wide colour gamut, high frame rate) in the next stage of Ultra HD evolution, the Panasonic TX55CR852B and TX65CR852B will also support high dynamic range (HDR) content natively, helped by a super-bright panel containing highly transmissive cells (improving energy efficiency by a quoted 47%), together with 10-bit driving of an 8-bit LCD panel. Panasonic's new proprietary 4K Studio Master Processor whose key features include professional-grade colour accuracy afforded by an 8000-point 3D LUT (lookup table) ties all these innovations together to provide an image that's faithful to the director's vision.
All these improvements fall under Panasonic's new-for-2015 "4K Pro" branding. Other specifications include 1600Hz BMR (Backlight Motion Rate), HDMI 2.0, HEVC and VP9 support, HDCP 2.2 compatibility, as well as a revamped My Home Screen 2.0 Smart TV platform powered by Firefox OS. It's important to note that owing to the design of the stand, you'll need an AV rack at least as wide as the screen if you're not going to wall-mount the television.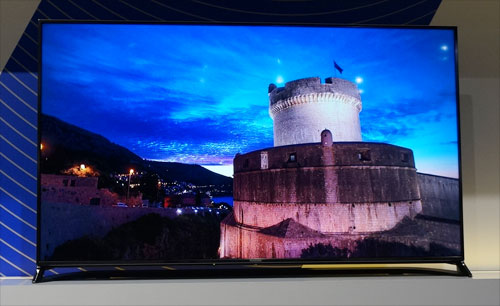 For those who prefer flat panels, similar image quality should be found on the top-tier Viera CX802 series (marketed as the Panasonic CX800 elsewhere outside of United Kingdom) which will be available as the 40in TX-40CX802B, the 50in TX-50CX802B, the 55in TX-55CX802B and the 65in TX-65CX802B. The smallest 40-incher will feature edge LED backlighting (rather than direct LED), and cover only 90% (instead of 98%) of DCI-P3 colour gamut.
One rung below the Panasonic CR850/ CR852 and CX800/ CX802 series are the Viera CX750 (flat) and CR730 (curved) which won't be released in the UK due to the use of IPS-type LCD panel. IPS LCD TVs have received a distinctly negative backlash among the British press over the course of 2014, which culminated in this sensible decision.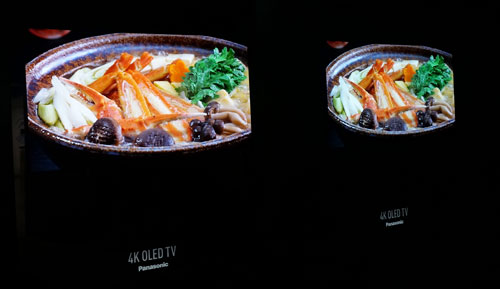 The company also showed off a pair of curved 4K OLED TV prototypes (probably the same ones seen at IFA 2014 and CES 2015) at the event. In spite of the high interest among videophiles, Panasonic maintains that this display "is a work in progress", though hasn't ruled out an IFA launch later this year.
The 65″ Viera TX65CX802B is tipped to retail at £3,500, making it extremely competitive against Samsung's flagship UE65JS9500 SUHD TV whose RRP (recommended retail price) is expected to be set at £5,999, especially if Panasonic's picture quality claims hold true. The curved Viera TX-65CR852B will command a £200 price premium over its flat-screen counterpart, coming at at around £3,700. These high-end 2015 Panasonic 4K Ultra HD TVs are scheduled to hit UK shops in June/ July this year.