The end of an era could well be nigh for fans of plasma TV, with reports claiming that Panasonic is giving serious thought to getting out of the business.
The Japanese TV maker is said to be contemplating whether or not to stop making plasma TVs altogether, according to a report in Nikkei that was picked up by Reuters earlier today. Panasonic, which has been hampered by serious financial problems over the last few years, reportedly wants to reduce its dependence on its TV manufacturing business and venture into other products.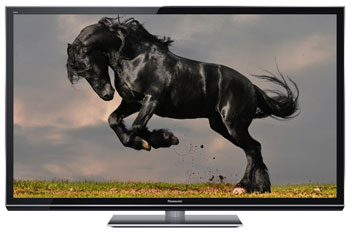 Panasonic considers ditching plasma TVs for good
Not so long ago Panasonic's TV business was the company's biggest success story, raking in more than £6.9 billion in the fiscal year ending 2010. Unlike South Korean firms like LG and Samsung, which focused on producing LCD TVs, Panasonic's strategy has been geared on its line of high-end plasma screen devices. It did so in the belief that it's products would appeal to purists – those who appreciate its deeper blacks and superior image quality on large screen TVs – but while this may have been the case at one time, in recent years plasma has become something of a luxury product as consumers opt for more durable and affordable LCDs. Now, with the popularity of plasma TVs on the wane, Panasonic feels that the technology is no longer a viable option.
Speaking to Nikkei, a Panasonic official said that the company hadn't ruled out ceasing production of plasma, although he said that no decision had been taken just yet.
Should Panasonic decide to pull the curtains on its plasma business, this would come as a serious blow to thousands of consumers that consider LCD to be inferior. While brands like Samsung will continue to produce plasma, Panasonic's TVs are widely seen as some of the best available, especially since Pioneer decided to quit its own plasma operations.
Problem is though, no matter how superior its products might be, Panasonic is clearly in some serious financial straits. The company is reported to be losing billions of pounds each year as it struggles in the wake of the global economic downturn and a strong yen. Last year the company laid off some 36,000 employees in a desperate bid to stem its losses, and this was followed by the announcement of a further 10,000 job cuts to come this spring.
By cutting back on investment in its TV arm, Panasonic believes it will be able to channel its resources into less competitive industries and return to profitability within the next couple of years. The move might well save the company from going under, but it will be a sad day for thousands of plasma-screen devotees across the world.
Source: Reuters