Panasonic – who holds the exclusive worldwide distribution rights to the Avatar 3D Blu-ray disc until February 2012 – has once again extended its offer to give away a free copy of the much-desired item with each new purchase of the company's 3D TV or related hardware in the United Kingdom. This is the second time in as many months the promotional period has been revised to continue beyond the previous expiry date.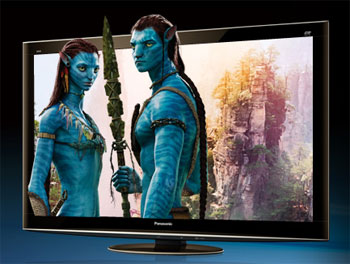 Last year, Panasonic announced that it has signed an exclusivity agreement with American movie studio 20th Century Fox, with whom the Japanese HDTV manufacturer had previously collaborated on the Blu-ray authoring of Avatar (both in 2D and 3D) through its cutting-edge Panasonic Hollywood Laboratory Advanced Authoring Centre. When the blockbuster movie was released on Blu-ray 3D disc on the 1st of December 2010, it was only available as a mail-in rebate to customers who had purchased a qualifying Panasonic 3D product between the 30th of October 2010 and 31st of January 2011 inclusive. At that time, to successfully redeem a copy of the Avatar 3D Blu-ray disc, the claim form needed to be sent in (together with the necessary proof of purchase) to Panasonic UK before the 28th of February 2011.
When the end of January rolled around, Panasonic UK – unsurprisingly – extended its Avatar 3D BD promotion: the qualifying purchase period and the claim deadline were prolonged to the 28th of February 2011 and the 31st of March 2011 respectively. And from the look of things, the offer is set to continue throughout March too, as Panasonic has updated its webpage to reflect the new closing dates of 31st March 2011 (for the purchase) and 30th April 2011 (for the claim).
Because Panasonic's exclusive selling rights will only run out in Feb 2012, this month-by-month extension of the Avatar Blu-ray 3D disc redeemable offer may become a regular occurrence. All new Viera 3D TVs (for example the TX-P50GT30B, TX-P42VT30B and TX-P50VT30B), full HD 3D Blu-ray players (such as the DMP-BDT110 and DMP-BDT310) and home cinema systems launched by Osaka-headquartered corporation are expected to be included as eligible models for the promotion.