At its press conference at the IFA 2012 consumer electronics trade show in Berlin today, Panasonic has unveiled the world's largest glasses-free 3D TV, which measures a whopping 103 inches in screen size, comfortably claiming the crown (at least at this time of writing) from the 55-inch Toshiba 55ZL2.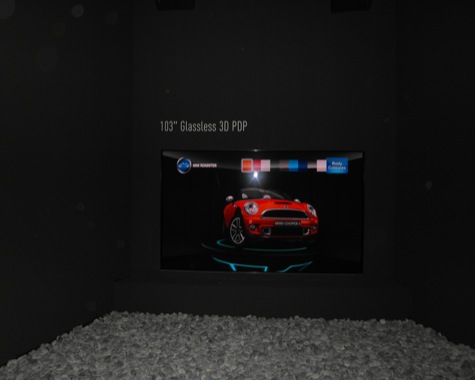 Panasonic unveil 103″ glasses-free 3D plasma TV at IFA 2012
Although the overall theme of the Japanese manufacturer's press event was heavily slanted towards eco-friendly (think LED LCD TVs) and "Smart" internet-connected products, this "glassless" – as dubbed by the company, which is ironic considering that it's implementing a "Metal and Glass" design across its flat-screen HDTV range – 3D television is built upon Panasonic's critically acclaimed plasma display panel (PDP) technology.
Panasonic's latest venture into glasses-free 3DTV territory makes sense: numerous consumer surveys have indicated that extra-dimensional eyewear remains a significant obstacle in the takeup of 3D technology among the general public. However, recent glasses-free displays – ranging from the Nintendo 3DS to the Toshiba ZL2 – have not been as well-received as hoped.
One of the main issue is how difficult it is to generate a convincing 3-dimensional images without the use of either active-shutter or polarized 3D glasses. Glasses-free 3D (also known technically as autostereoscopic) technology generally works by using a lenticular filter implemented on screen to deliver slightly offset images to the viewer's left and right eyes. As can be imagined, the user usually have to sit/stand in specific positions to appreciate the 3D effect, resulting in a narrow sweet spot.
And the problem is compounded further if the screen is larger, since 3D images from more areas need to be delivered with greater precision to make sure that viewers experience the intended 3-D effect. From what we've seen briefly of the Panasonic 103-incher, it does suffer from limited viewing angle: tilt or move your head slightly and the image would be blurred. Still, the blacks never fail to impress us, as we've come to expect from Panasonic plasmas.