At its press conference at 2014's International CES, Panasonic raised eyebrows when they stated that their engineers had achieved plasma-grade picture quality using LED LCD technology. The claim was so bold that Panasonic deemed it necessary to repeat it twice.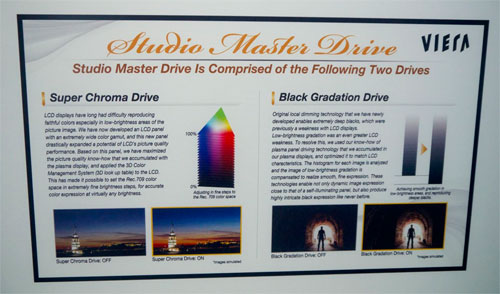 In a darkened room at the Panasonic stand in the Las Vegas Convention Center (LVCC), there is a prototype LED LCD display which shows real promise in making good on this statement. The 4K ultra high-definition (UHD) screen features full-array local-dimming direct LED backlighting, as well as two new Panasonic technologies which together have been given a moniker of "Studio Master Drive".
Intended to address key weaknesses in liquid crystal displays, the two components are called "Super Chroma Drive" and "Black Gradation Drive" respectively. From what we can ascertain at this stage, these are two signal compensation technologies which address the LCD problems of lessened saturation in dark areas (when backlight dimming is used), and the problem of details becoming lost near black. The promotional material on exhibit describes "dynamic image expression close to that of a self-illuminating panel".
Super Chroma Drive makes use of "an LCD panel with an extremely wide color gamut" and a 3D LUT (look-up table) to present a normal Rec.709 HDTV image correctly even when areas of the screen are dimmed. The excess saturation levels afforded by the wide gamut panel make it possible to retain proper saturation levels when a normal Rec.709 HDTV image is shown with the LEDs dimmed, as would be the case in darkened areas of the locally-dimmed screen.
The darkened demonstration setup included a Panasonic ZT60 plasma (named ZT65 in the UK), the unnamed prototype, and the company's current Viera WT600 4K Ultra HD TV (which we felt produced a good image, by LED LCD standards). Showing were two clips from Japanese animation house Studio Ghibli, including dark scenes from Spirited Away and The Secret World of Arrietty (Panasonic's Hollywood Blu-ray mastering facility has a long-standing partnership with the studio).
The results were very inspiring, and are the first real advancement we've seen to LCD technology in a very long time. The prototype Studio Master Drive LED LCD display produced dark-scene quality which was many steps closer to plasma standard, and avoided contaminating dark scenes with the usual purpley-blue "LCD mist" that we've become accustomed to (the latter feat admittedly will have more to do with the local dimming than the new techniques). As a locally-dimmed panel, the Studio Master Drive television will surely be expensive when it's brought to market.
Let's be clear, these compensations are not a magic panacea for every LCD-based problem: the prototype display still showed a small amount of non-uniformity – within tolerable standards, but admittedly still behind the near-perfect surface a Plasma would present – and while we couldn't check out the viewing angle range, we'd be amazed if this matched Plasma's.
We should also point out that, based on close-up visual analysis of the ZT60 plasma in the comparison, it appeared to be operating in the "Low" panel luminance mode, which does not alternate the luminance on every second scanline, and therefore would not be operating at its best black level. If we're correct with this observation, it would naturally paint the two LCDs in a more sympathetic light.
Still, what we saw was an impressive advancement in LCD technology, which in fact reminded us of a 2009 "Neo LCD" prototype which was demonstrated years ago at Panasonic's European Convention in Amsterdam. That product (which also used backlit local dimming) never came to market, and seemed to fall by the wayside once the ultra-slim edge LED LCD craze hit.
Hopefully, this new prototype is a continuation of that concept – and hopefully, unlike Neo LCD, Panasonic's Studio Master Drive 4K UHD TV really does make it to market as planned in the latter part of 2014.