A mouthwatering 4K OLED TV may still be on the cards for ex-plasma maker Panasonic, if a report from reputable financial news provider Bloomberg is to be believed. Earlier this week, the agency cited several unnamed sources as saying Panasonic is in talks to source large-sized OLED panels from LG Display.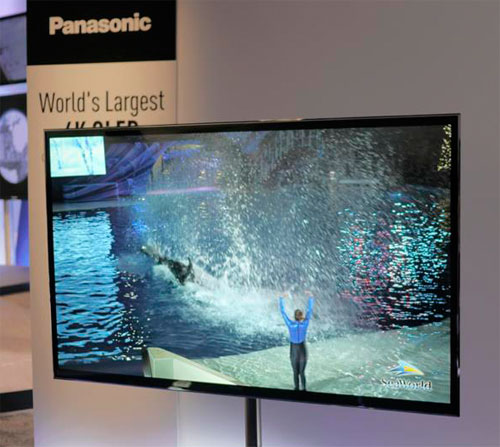 Should this scenario materialises, it will provide a much-needed boost to the languishing OLED television market whose chance of surviving, let alone becoming mainstream is dwindling by the day. Following Samsung's 2014 OLED TV cold feet, South Korean manufacturer LG Electronics is the only major brand pushing ahead with the next-generation display technology this year.
Why would LG help a rival competitor enter the large-screen OLED TV market, and risk destroying its own monopoly in this sector? All signs to date are that LG has been very selective in choosing who to partner on this venture, only supplying its WRGB OLED panels to Chinese manufacturers who have little to no international presence beyond their home country.
Well, having a significant majority of something is better than 100% of nothing. Despite their superior picture quality primarily owing to the self-emissive material that's capable of delivering true blacks, vibrant colours and wide viewing angles, OLED televisions have struggled to gain a foothold in the declining TV market, as consumers are put off by the sets' high prices. Part of the reason Samsung is shelving its OLED TV plans is because the company hasn't succeeded in overcoming the unprofitably low yields using true RGB OLED technology.
Although LG has improved the yield rates from its easier-to-manufacture white-OLED production lines, prices of the Seoul-based conglomerate's OLED TVs remain higher than similarly-specced LED LCD displays. The 55-inch LG curved OLED TV and flat-screen Gallery OLED model are priced at £4000 and £5000 respectively, which represents a significant premium over 4K Ultra HD TVs which can be had for as little as £1500 for a 55in version.
Selling its WRGB OLED panels to Panasonic and perhaps even other TV manufacturers should accelerate the economies of scale in LG's production output, helping bring prices of big-screen OLED TVs down to better compete with the swarm of LED televisions on the market.
Towards the end of last year, Panasonic decided not to renew its OLED TV co-development alliance with Sony. According to Bloomberg, LG Display intends to supply Panasonic with OLED panels that are bigger than 55 inches, suggesting they're 4K Ultra HD versions (LG doesn't make larger-than-55″ full HD 1080p OLEDs). This also ties in with Panasonic's belief that its market-ready OLED TV needs to be 4K.
Source: Bloomberg