Panasonic has expanded its 4K Ultra HD TV lineup at the IFA 2014 consumer electronics trade show which kicked off in Berlin earlier this week. In addition to unveiling its most affordable 4K television model yet in the form of the Viera AX630 series, as well as detailing streamed UHD (ultra high-definition) content compatibility with its upcoming AX902/AX900 and existing AX802/AX800, the Japanese manufacturer also showcased a 65-inch curved 4K OLED TV prototype at its IFA showhall.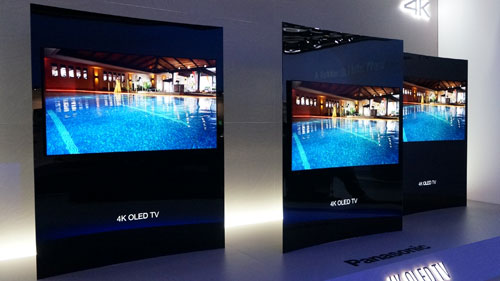 Speaking to HDTVTest, Yuki Kusumi, director of home entertainment business division at Panasonic AVC Networks Company, said that the brand wanted to use the concept models to gauge response and obtain feedback from IFA attendees before deciding whether to release the 65in UHD OLED television onto the retail market. Given that OLED is arguably the only viable display technology that can replace – and potentially surpass – the out-of-production Panasonic plasmas, it's hard to imagine anything other than positive feedback, but Kusumi refused to be drawn on even a potential launch date and price, only saying that the company is "exploring possibilities".
Panasonic's 65″ OLED prototype certainly looked mightily impressive on the showfloor, exhibiting the hypnotic blacks, vibrant colours and wide viewing angles that we've come to expect from this self-emissive display technology. Peering up close, we spotted faint horizontal FPR (film-type patterned retarder) lines, suggesting that the curved 4K OLED panels were sourced from LG Display. While LG are already lining up their own 65″ 4K OLED TV for sale at £6000 next month, the prospect of Panasonic bringing its first-rate video processing to the party is simply mouthwatering for video enthusiasts (especially plasma fans) who are on the lookout for a new set.
Panasonic also announced at its IFA 2014 press conference that its much-anticipated flagship AX900/AX902 series of 4K televisions will not only come equipped with HDMI 2.0 and HDCP 2.2 compliance, but also support popular Ultra HD streaming services such as Netflix 4K & Amazon Instant Video at launch. Furthermore, the Japanese firm is going to enable Netflix 4K streaming support on the Viera AX800/ AX802 range of UHDTVs via a firmware upgrade, much to the delight of existing owners.
Contrary to earlier reports that the issue was hardware and hence not rectifiable, Kusumi explained that Panasonic's TV engineers had designed the AX802/ AX800's hardware components to be compatible with Netflix 4K from the outset, but ran into problems with certification and licensing. Panasonic has worked hard with Netflix to resolve the issue, and AX802 users can expect a firmware update shortly that will bring Netflix 4K support. However, the step-down Panasonic AX630 – available as the 40-inch TX-40AX630, the 48-inch TX-48AX630 and the 55-inch TX-55AX630 – won't be able to stream Netflix 4K due to absence of inbuilt HEVC decoder.