The tide appears to be turning against active-shutter glasses (ASG) display technology, as we've learnt in the run-up to CES that Panasonic will be using passive 3D exclusively in its 2013 lineup of LED LCD televisions, according to industry sources close to the company.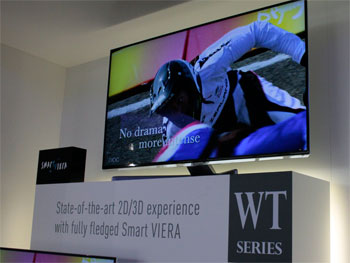 Panasonic to ditch active-shutter for passive 3D on 2013 LED TV range
In the grand scheme of things, this piece of news probably won't cause as much ripple as it would have two years ago, for the general public's interest in 3D as a whole has waned drastically from the heydays when James Cameron's tri-dimensional blockbuster Avatar captured everyone's imagination back in December 2009. Television manufacturers have since turned their attention to other next-gen display technologies like ultra HD 4K and OLED TV instead.
Nevertheless, Panasonic's decision to abandon ASG across this year's LED-based 3DTV range will come as a disappointment not only to the active 3D camp, but also for us who really liked the Japanese brand's 2012 range of active-shutter 3D LED TVs. From our tests, we found them to be capable of delivering some of the most compelling extra-dimensional viewing experience around, thanks to a unique combination of high brightness (to counter the dimming effect of active-shutter 3D glasses), clean motion (which minimises crosstalk), and full HD 3D resolution (unlike Panasonic plasmas that exhibited reduced 3-D resolution at any brightness interval between alternate 100% black and 100% white single-pixel lines).
Having committed to active 3D throughout its first two generations of 3DTVs (both plasma and LED LCD) in 2010 and 2011, Panasonic dipped its toes into passive 3D last year with the release of the Viera ET5 series. The financial numbers (sales, profit margin, etc.) must have worked out well, because this year all new Panasonic 3D LED-based HDTV models – including the flagship WT60 series – will be fitted with an FPR (film-type patterned retarder) IPS panel from LG Display, and ship with at least 2 pairs of polarized 3D eyewear which are lighter, cheaper and more convenient (does not require synchronisation, recharging nor battery) than their active-shutter counterparts, not to mention produce significantly less flicker. As with all passive 3D displays, vertical resolution in the third dimension is effectively halved though.
Panasonic will still be using active-shutter glasses technology on its 2013 range of 3D plasma TVs, although whether or not this year's 1080p models can fully resolve full HD 3D at all luminance remains to be seen. We'll find out more at CES 2013 which kicks off in Las Vegas tomorrow, as well as Panasonic's annual convention in February.