The Smart TV Alliance has hit the headlines this week, swelling its ranks considerably with the addition of five new members including Panasonic and IBM, and the release of an updated Software Development Kit (SDK) at the CES 2013 event in Las Vegas.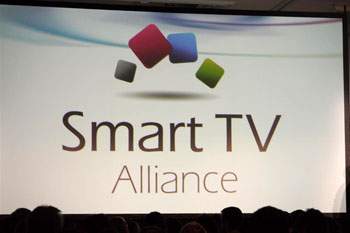 Panasonic joins LG, Philips & Toshiba in Smart TV Alliance with new SDK
Together with Panasonic and Big Blue, device manufacturers TechniSat, ABOX42, and solution provider Specific Media have also hooked up with the Smart TV Alliance.
The Smart TV Alliance is an industry body launched midway through last year by LG Electronics, TP Vision/ Philips, Toshiba, Qualcomm, MStar, Obigo and YuMe. At the time of the organisation's founding, it said that its main aim is to assist app developers in their efforts to create new, platform-independent services by developing a non-proprietary ecosystem.
LG's Richard Choi, acting President of the Smart TV Alliance, said that the organisation is aiming to fix a fragmented market opportunity for television makers and application developers, in order to give consumers the best possible experience.
"App developers will now be free to do what they do best of all – develop innovative new services and applications without needing to chase up the individual requirements and compliance processes of each company," added Mr. Choi.
The group has obviously been busy too, as the release of its latest SDK highlights. According to Choi, the SDK will make it easier than ever for developers of Smart TV apps to create exciting new services compatible with the connected TVs of each member of the alliance. The new SDK allows developers to make use of upgraded HTML5, Javascript and CSS3 specifications, MPEG-DASH Support, 3D video, a common new emulator, updated digital rights management, advanced debug tools and a new application compliance checking tool.
Most notably however is that Samsung – the world's largest telly maker – looks like it will continue to operate outside the alliance for now, as demonstrated by the release of its own SDK this week at CES.