Panasonic and Sony may have given up the ghost as far as OLED TV is concerned, but that doesn't mean they're throwing in the towel completely. While developing TVs to take on Samsung and LG Electronics is well beyond their means at present, the two Japanese firms are looking to step up their involvement in OLED for smartphones and tablet devices, according to the Wall Street Journal.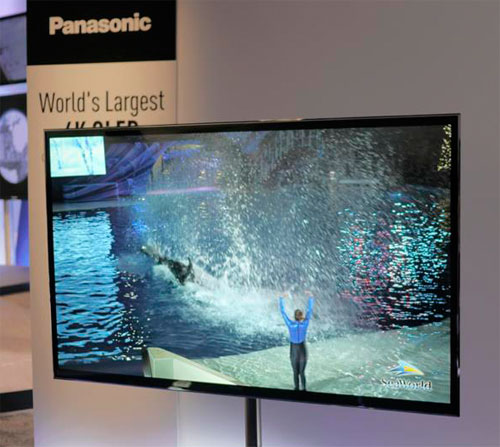 The WSJ notes neither Panasonic nor Sony has been able to find a way to compete with their Korean counterparts in OLED. The display technology is notoriously difficult to manufacture, especially when we're talking about TV-sized panels – that's why two firms recently ended a collaboration that had sought to develop OLED TV tech. However, OLED becomes a lot easier to make when the panels are smaller, hence the firm's reported interest in developing the tech for mobile devices.
The two companies are reportedly in talks with Japan Display Inc., with an eye on developing a joint venture to build smartphone and tablet-sized OLED displays, says the WSJ. The idea is that by forming a three-way tie up, the companies can compete more easily with Samsung and LG in what's currently the most mature market for OLED. Although the WSJ doesn't say, one would think that Panasonic and Sony would look to hone their OLED building methods in the hope they can one day manufacture larger panels too.
We should note that Sony isn't a total novice when it comes to OLED – it actually built the world's first OLED television back in 2007, although this prohibitively expensive model never took off. Meanwhile Samsung and LG started with a focus on OLED displays for mobile phones, later applying that knowledge to televisions.
Japan Display, which was formed out of a merger of Sony, Hitachi Ltd. and Toshiba Corp's LCD units, has also dabbled with OLED recently. The company, which is said to be the world's largest maker of smartphone and tablet displays, reportedly has a pilot project involving OLED, although it apparently believes it can benefit from Sony and Panasonic's additional know-how.
For now though, the companies are choosing not to comment on these reports. Speaking to Japanese media on Monday, all Sony CEO Kazuo Hirai would say on the matter is it makes more sense for his company to focus on 4K Ultra HD technology, as this is much more affordable. However, he said that Sony would continue to build its professional OLED monitors for the broadcasting and film industries.
Then again, Hirai could be keeping quiet because the WSJ's report is totally wrong. The Japan Times reports a different rumour, saying that Panasonic and Sony are in the process of selling their OLED businesses to Japan Display, rather than planning a collaboration.