Although conventional wisdom dictates that 3D content is best experienced on larger screens to maximise immersiveness, some TV manufacturers are taking the bold step of implementing 3D capabilities on HDTV displays as small as 32 inches in screen size. While part of the reasons for doing so is to pique the interest of the gaming community, this may be a sign that 3D technology is here to stay, as the feature eventually finds its way onto midrange TVs under the size of 40 inches.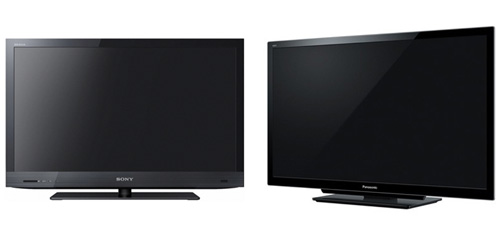 Japanese consumer electronics giants Panasonic and Sony will be strengthening their respective ranges of 3D TV offerings by expanding the number of 3D-ready and 3D-capable models, including introducing sub-40-inch 3D LED LCD TVs for the first time. It's clear that both companies are engaged in a frantic race to bring their new 3D models to the market first – that both have gone for a March launch date is not a coincidence.
The Panasonic DT30 series will be the manufacturer's first non-plasma foray into the three-dimensional arena. Two screen sizes are available: the 32-inch TX-L32DT30 and the 37-inch TX-L37DT30. Both Viera 3D TVs are blessed with IPS-alpha LCD panels (known for their wide viewing angles and good motion handling) which are in turn illuminated by edge-mounted LED backlight.
By modifying the material and thickness of the liquid crystal layer, driving the LCD panels at a higher speed, as well as implementing 200Hz MCFI (motion-compensated frame interpolation) with Motion Picture Pro 5 technology, Panasonic claims that response time is improved even further, resulting in less crosstalk artefact during 3D viewing. The Viera DT30 range is slated for a March release, but we should know more when we attend Panasonic's annual convention in London next week.
Sony will introduce a 32-inch 3D LED-backlit LCD TV in the form of the KDL-32EX723, but so far the company has no plans to release a 37-inch equivalent. Targeted at gamers who wish to play 3D games but may not have room for bigger HDTVs, the Sony KDL32EX723 LCD-based 3D TV will feature edge LED backlighting, 200Hz motion (dubbed "Motionflow XR 200"), and integrated Freeview HD tuner. The 3-dimensional Bravia television set is due to hit UK shops in the middle of March 2011.