Update: Full testing of the Panasonic PZ81 series is now available at our TH50PZ81B review article.
Hot on the heels of the launch of Freesat, a UK free-to-air digital satellite television service featuring high definition channels, Panasonic have introduced their new PZ81 series of plasma HDTVs which sport a true HD native panel resolution of 1920 x 1080, "Intelligent Frame Creation" and "24p Real Cinema" motion-compensated frame interpolation (MCFI) technologies, 100Hz Double Scan, x.v.Colour extra wide colour gamut, and most importantly, inbuilt Freesat HD tuner.

Other special features include an SD card slot which can playback JPEG photos and AVCHD high definition camcorder movies, a tough front glass panel which is highly resistant to impacts and scratches, an ethernet LAN input port to connect to the internet for future service enhancements, and an optical audio output capable of passing Dolby Digital 5.1 surround sound from suitable programmes.
At a press launch event held at the Abbey Road Studio in London yesterday, we had a brief look at the Panasonic TH42PZ81B plasma TV. Appearance-wise, the Panasonic TH42PZ81B closely resembles the PZ80 range with its glossy black bezel and wedge-shaped pedestal stand… the only major difference being that the front protrusion at the bottom of the television is mostly black rather than silver. At the middle of the protrusion lies a plastic flap that flips up to reveal some control buttons and connection inputs (including the third HDMI port).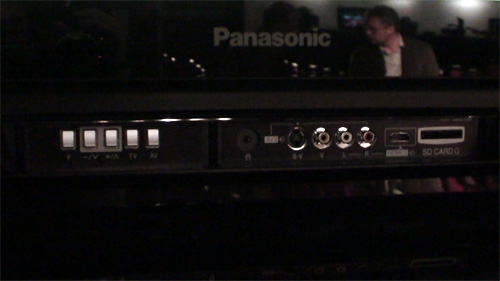 The Panasonic TH42PZ81B's user menu is essentially the same as those implemented across their 2008 range of plasma televisions (there's still no white balance controls available in the [Picture] submenu). In the [Setup] submenu, you can find a list of Freesat services:
| | |
| --- | --- |
| | |
| Setup submenu | Freesat Service List |
Pressing the [Guide] button on the remote control will first bring up a list of available genres, from which you can then access the Freesat EPG:
| | |
| --- | --- |
| | |
| Setup submenu | Freesat Service List |
Although we did not have the time nor the equipments to fully calibrate the Panasonic TH42PZ81B, black level, shadow detail and viewing angle were excellent, as could be expected from a Panasonic plasma. Colours appeared natural, and to our eyes greyscale looked consistent across the luminance range, with [Colour Balance] "Warm" possibly coming closest to the D65 standard.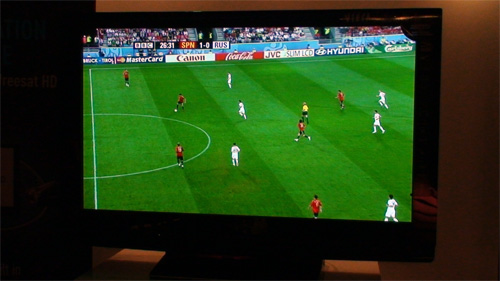 Even with [Intelligent Frame Creation] disabled, motion resolution was superb on the Panasonic TH42PZ81B from what we'd seen during the live BBC HD broadcast of the Euro 2008 football match between Spain and Russia. During medium-fast camera pans, the pitch-side advertisements remained largely legible instead of degrading into a mess of motion blurring witnessed on lesser flat screen HDTVs.
Verdict: Feature-wise a PZ85 plus Freesat HD tuner; performance-wise the TH42PZ81B will probably deliver all the key positive attributes befitting a Panasonic plasma: excellent blacks, revealing shadow detail, natural colours and fluid motion handling.