Panasonic's PZ81 plasma televisions remain – at this time of writing – the only HDTVs offering inbuilt Freesat (UK's free-to-air digital satellite TV service that delivers some high-definition broadcasts) tuners, though we can't see other manufacturers sitting still for much longer. When we attended Panasonic's press launch event for the PZ81 series in London 6 weeks ago, we felt that the TH42PZ81B performed exactly like how a Panasonic plasma should… delivering excellent blacks and shadow detail, natural colours and fluent motion. Now that we've got our hands on a Panasonic TH50PZ81B plasma HDTV, let's see if the initial impression holds up in a controlled testing environment.

Note: The specific plasma model we reviewed was the Panasonic TH50PZ81B (i.e. the 3-pin-plug British version), but if you see the term TH50PZ81 being used in this article, it refers to the same HDTV.
Design
While every plasma television in Panasonic's 2008 range wears a glossy black bezel, the Japanese electronics giant varies the styling at the bottom of the plasma panel to distinguish one range from the other. On the TH50PZ81B this takes the form of a polished black protrusion resembling an upper lip which spans the entire width of the frame. At the middle of protrusion you can find a flip-up door that conceals some control buttons and connection inputs.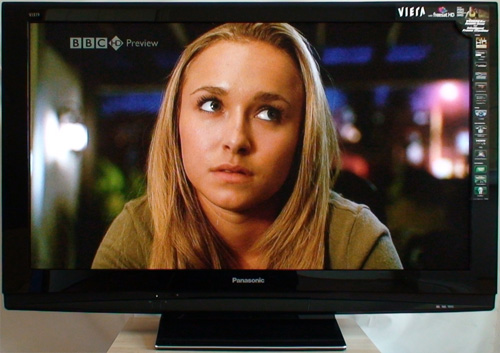 Just like the PZ80 and PZ85 series, the Panasonic TH50PZ81B plasma television features a pair of recessed handgrips and some cooling fans around the back of the panel, and a wedge-shaped pedestal stand that requires assembly. Overall build quality and finishing is very high, no different from that found on their supposedly superior commercial panels.
Connections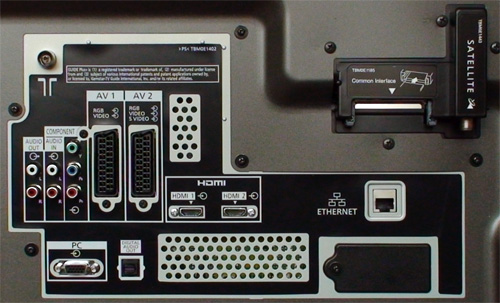 Rear: 2 x HDMI, 2 x Scarts, VGA, component, aerial, satellite, CI, ethernet, audio
In addition to the usual array of connection interfaces, located at the rear of the Panasonic TH50PZ81B HDTV are a female F-type screw-on connection for receiving Freesat from a satellite dish, and an ethernet port (a mandatory specification for Freesat receivers) which is not actually operational as yet, but may support BBC iPlayer functionality in the future.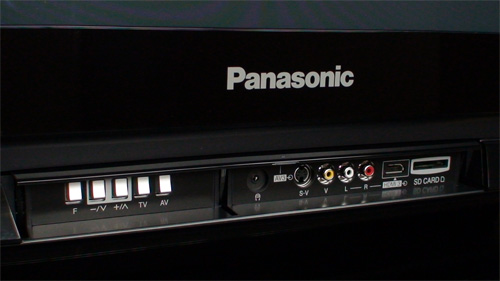 Front: control buttons, headphone, Svideo, composite, HDMI, SD card slot
Rather inconsiderately, the third HDMI port is placed at the front (beneath the central flap) of the Panasonic TH50PZ81B, which may pose a cosmetic problem should you need to use all three HDMI inputs.
Operation
Although the on-screen user menu and infrared remote control are essentially the same as those found on the PZ80 and PZ85 range (the settings can be adjusted separately for each picture mode but not per input), the Panasonic TH50PZ81B plasma boasts a few extra working features. To begin with, the Panasonic TH50PZ81B HD TV offers picture-in-picture (PiP) and picture-and-picture (PaP) functionalities (though the process of changing the subwindow channel or input source can prove awkward). Its front SD card slot is also capable of playing AVCHD high-definition video recorded via camcorders.
| | |
| --- | --- |
| | |
| Picture-and-picture (PaP) | Picture-in-picture (PiP) |
Separate EPGs are presented for Freeview and Freesat respectively on the Panasonic TH50PZ81B plasma TV. Both share similar layouts and functionalities, though the Freeview one rotates some advertisements on the left of the screen, while the Freesat one forces you to click through a service genre selection screen before displaying the programme table.
| | |
| --- | --- |
| | |
| Freesat genre selection screen | Freesat EPG |
Even though there are currently two much-publicised high-definition channels – BBC HD and ITV HD – available on the Freesat platform, the latter is offered as a red-button service: if a HD logo appears when you're watching standard-def broadcast on ITV1 channel, pressing the red button on your remote control would summon the high-definition version.
| | |
| --- | --- |
| | |
| "Jaws" on ITV1 | "Jaws" on ITV HD |
This is the reason why ITV HD is not listed as a separate channel in the Freesat EPG. Unfortunately there's also no indication whatsoever as to which ITV programme is available in HD, which pretty much means that you need to be watching the SD version in the first place just in case the programme is available in HD. Information is sparse on ITV's own website and other TV listings guide as well… at this time of writing the only regular programme that is definitely broadcast in HD is Harley Street, the new ITV medical drama (plus the odd movies should you chance upon them).
The whirring noise of the cooling fans, and power/brightness-related plasma buzzing may disturb viewers with sensitive ears, but assuming you sit farther than 8 feet away from the screen, these background noise should be adequately masked by normal TV volume.
Calibration
Greyscale
Like all Panasonic plasmas we've tested to date, the TH50PZ81B only offers 3 colour temperature presets – [Colour Balance] "Cool", "Normal" and "Warm" – but no white balance control in the user menu for proper greyscale calibration. As expected, [Colour Balance] "Warm" in [Cinema] mode yielded the greyscale closest to D65 standard:

CCT of [Colour Balance] "Warm" in [Cinema] mode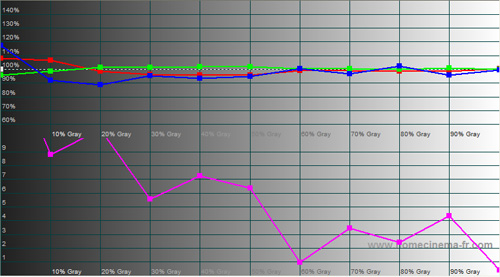 RGB tracking and delta errors (dEs) with [Colour Balance] "Warm"
Although delta errors (dEs) progressively worsened below 60% stimulus, most people probably wouldn't be able to pick them up because overall CCT did not stray too far away from D65. Should you wish to correct this, you (or a professional calibrator) can do so by tweaking the RGB cuts and gains in the service menu though this may void your warranty.
Gamma
| | |
| --- | --- |
| | |
| Gamma tracking in [Cinema] mode | Gamma tracking in [Eco] mode |
[Cinema] mode provided the best (flattest) gamma configuration, likely because it's the only picture preset that doesn't exhibit black level fluctuation/ dynamic dimming. Similar to other Panasonic plasma televisions, overall gamma on our calibrated TH50PZ81B plasma HDTV was closer to 2.0 than the 2.2 ideal, which translates into a picture with brighter (perhaps overly bright) shadow detail and slightly reduced punchiness/ "pop". This could probably have been rectified had Panasonic included some sort of gamma control in the user menu, but to be fair a gamma of 2.0 shouldn't be an issue to most viewers.
Colour
The colour gamut on Panasonic TH50PZ81B mirrored those measured on their 2008 range of plasma HDTVs (PX80, PZ80 and PZ85), with an oversaturated and bluish green primary point, and a slightly oversaturated red. Although [Tint] control is not available unless the Panasonic TH50PZ81B television receives NTSC video signal (the UK uses PAL system), fortunately out of the three secondary colour hues, only magenta was off (deviated towards red).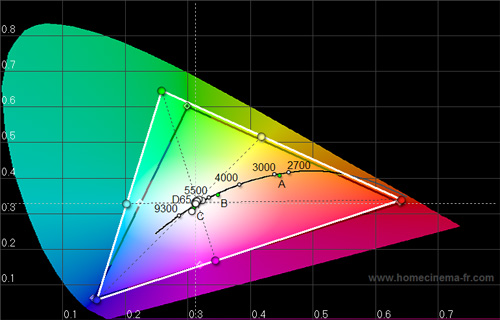 Panasonic TH50PZ81 CIE chart with reference to HD Rec. 709
In terms of colour decoding, a mild red push was present on the Panasonic TH50PZ81B high-definition TV. This could be attenuated somewhat by toning [Colour] down, but because the [Colour] control globally affects the red, green and blue saturation and intensity, total correction was not possible without desaturating the resultant image too much.
Benchmark Test Results
| | |
| --- | --- |
| Dead pixels | None |
| Screen uniformity | Perfect |
| Overscanning on HDMI | 0% with [Picture Overscan] set to "Off" |
| Blacker than black | Passed |
| Black level | Deepest we've measured on a Panasonic plasma |
| Black level retention | Stable in [Cinema] mode |
| Primary chromaticity | Average; green oversaturated and bluish |
| Scaling | Soft |
| Video mode deinterlacing | Good; effective jaggies reduction |
| Film mode deinterlacing | Failed 3:2/ 2:2 cadence in all resolutions |
| Viewing angle | Excellent (> 150°) |
| Motion resolution | 1080 |
| Digital noise reduction | Good at baseline |
| Sharpness | Defeatable edge enhancement |
| Image retention | Least we've seen on a Panasonic plasma |
| Posterization | Mild, though worse with poor source |
| Phosphor trails | Yes; severity depends on individual susceptibility |
| 1080p/24 capability (PS3) | Accepts 1080p/24 video signal; no telecine judder |
| Input lag (rel. to Samsung F96) | 15-30ms faster if [IFC] off; 15ms slower with [IFC] on |
Power Consumption
| | |
| --- | --- |
| Default [Standard] mode | 412 watts |
| Calibrated [Cinema] mode | 301 watts |
| Standby | 1 watt |
Picture Quality
High Definition (Blu-Ray)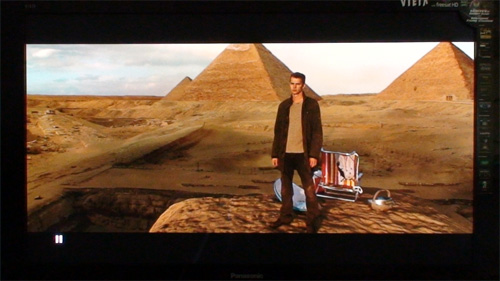 Every Panasonic plasma television we've tested in 2008 has proved capable of handling 1080p/24 video signal faultlessly, and judging from the opening scene of "Jumper" on Blu-ray, the TH50PZ81B was no exception. As the camera zoomed away from David Rice (Hayden Christensen) posing on top of a Sphinx against a backdrop of two pyramids, we detected not a hint of telecine judder on the Panasonic TH50PZ81B HDTV. Engaging [Intelligent Frame Creation] would smoothen the motion even more, but then the movie would lose its film-like fabric, and look instead like a hyper-real amateur video.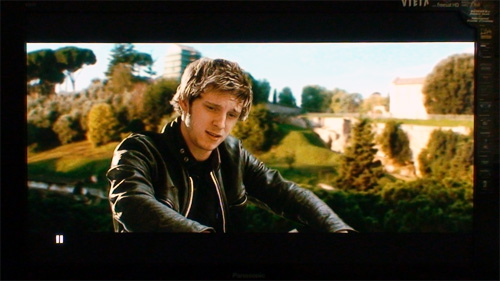 The blacks that the TH50PZ81B churned out were some of the deepest we've seen from a Panasonic plasma yet, rivalling last year's entry-level Kuro PDP-4280XD from Pioneer. While this naturally means that it's not as dark as the current black-level champion Pioneer PDP-LX5090, black-level performance of the Panasonic TH50PZ81B was still exceptional enough to impart a spellbinding degree of 3D depth to the film. And if you're not a demanding videophile, you'll surely appreciate the revealing shadow detail (e.g. how the creases and folds on David's and Griffin's dark jackets were still clearly visible in Griffin's seedy lair) that comes with a circa-2.0 gamma on the Panasonic TH50PZ81B plasma TV.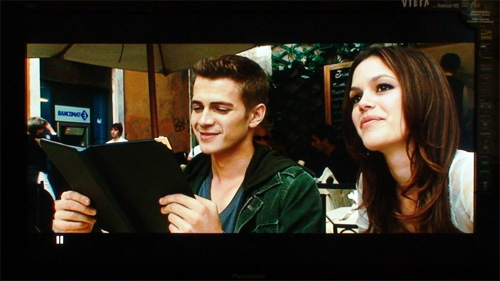 Armed with greyscale that wasn't too far off D65, the Panasonic TH50PZ81B painted the numerous daytime scenes in "Jumper" convincingly, with exterior shots of Rome and the Colosseum being particularly outstanding. Colours (including skin tones) looked natural for the most parts, though astute viewers might notice the mildly inaccurate greens of the jungle foliage in the scene where Roland (Samuel L. Jackson) finishes off a helplessly trapped jumper.
Standard Definition
As a result of subpar scaling/upconversion quality and perhaps a dash of hardcoded MPEG noise reduction, standard-def pictures from both Freesat and Freeview sources on the Panasonic TH50PZ81B looked decidedly softer than the Pioneer PDP-LX5090 and even the Samsung LE52F96BD in our side-by-side comparison, leaving us no choice but to raise the [Sharpness] setting value more than we would have liked. And because the Panasonic TH50PZ81B lacks any worthwhile film mode detection and deinterlacing capabilities, artefacts like moire, jaggies and line twitters would inevitably creep into movie broadcasts from the internal Freeview and Freesat tuners.
It's not all doom and gloom though. If you can look past these deficiencies (one way is to sit farther away from the plasma screen), the Panasonic TH50PZ81B will still reward you with inky blacks, generally well-saturated and natural colours, and almost blur-free motion for standard-definition content.
HD Console Gaming (PS3)
With [Intelligent Frame Creation] disabled, the Panasonic TH50PZ81B plasma television was virtually free of input lag (we measured it to be up to 30ms faster than the Samsung F96 LED-backlit LCD TV) which must surely delight serious gamers who do not wish to be handicapped by slow gaming response. Engaging [Intelligent Frame Creation] however would increase input lag by about 45ms probably due to a hike in video processing requirements.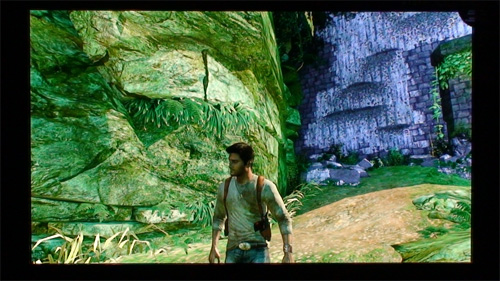 Although it trailed behind top-tier LCD HDTVs from Samsung and Sony in terms of outright, cleanly-rendered sharpness, the Panasonic TH50PZ81B more than compensated for this with its deep blacks, vibrant colour palette and fluid motion to deliver an immersive gaming experience. Image retention was practically non-existent… certainly the least we've witnessed on a Panasonic plasma TV. As with most plasmas, phosphor trails/ green flashes may be visible to a select few viewers with high retinal persistence, but we did not see any.
Conclusion
It's easy to be lulled into thinking that the Panasonic TH50PZ81 is simply a PZ85 augmented by the addition of a Freesat tuner, but the PZ81 boasts a few extra features not found on the PZ85: picture-and-picture (PaP) and picture-in-picture (PiP) functions; AVCHD movie playback through its SD card slot; and an ethernet port which may gain BBC iPlayer/ media streaming support in the future. Even its calibrated black level is the deepest we've witnessed on a Panasonic plasma, though we readily admit that the improvement is marginal and could very well be attributed to sample-to-sample variation.
Although we would have liked to see Panasonic do more to improve its standard-def video processing (scaling and film mode deinterlacing), at the end of the day the TH50PZ81B is yet another solid offering from the Japanese manufacturer, which is no mean feat considering that the company is venturing into uncharted territory by being the first to introduce Freesat-ready HDTVs.