Panasonic announced this week that its "4K Pro" range of EZ1002 and EZ952 OLED televisions have received both Ultra HD Premium and THX 4K certifications, courtesy of the displays' first-rate video processing and OLED panels.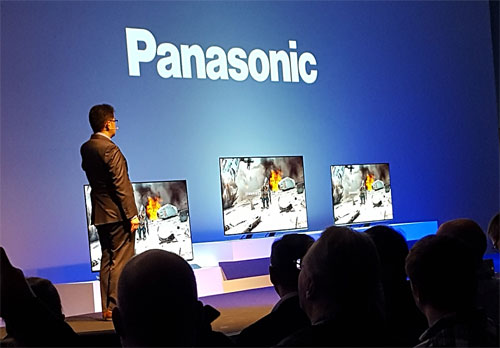 When the Panasonic EZ1002 was first unveiled at CES back in January, with the EZ952 following suit at the Japanese brand's annual European convention in February, both OLED ranges were in the process of being submitted for certification. Given Panasonic's image processing pedigree, there was never any doubt the screens would pass the necessary testing procedures, and we now have confirmation just before the TVs hit retail stores in the UK and Europe next month.
The specific models that have been UHD Premium and THX 4K-certified are the 55-inch Panasonic TX-55EZ952B and 65-inch TX-65EZ952B, as well as the 65in TX-65EZ1002B. The 77-inch EZ1002 will be submitted for certification before launch this Autumn.
Ultra HD Premium is a rubber-stamping scheme developed by the UHDA (Ultra HD Alliance) to guarantee a certain level of HDR performance, although some TV makers – notably Sony – have shunned it for their own reasons. Before receiving an UHD premium badge, a TV needs to fulfill a set of criteria including resolution, peak brightness, colour bit-depth and DCI-P3 gamut coverage, some of which have been updated for 2017 to prevent manufacturers from "cheating" the tests. Panasonic also remains the only major TV brand to continue pursuing certification from THX.
The Panasonic EZ952 and EZ1002 have undergone a stringent tuning process with Hollywood post-production specialist Deluxe to make sure the televisions faithfully reproduce the artistic intent of movies. The EZ1002 has even been approved for use as client reference monitor for colour-grading sessions on blockbuster feature films and television dramas across Deluxe's facilities.
The Panasonic TX-55EZ952, TX-65EZ952 and TX-65EZ1002 have been priced up at various British retailers at £3500, £5000 and £7000 respectively, which means the EZ952 is competing at the same price point as Sony's A1 and LG's E7 OLED series, whilst the EZ1002 is clearly positioned as an aspirational offering. None of Panasonic's 2017 TVs including the "4K Pro" OLEDs will support Dolby Vision (DV), though how much of a difference DV makes to end-users' viewing experience remains to be seen.