Panasonic LCD televisions have always been well-received by majority of consumers for number of reasons, and this year it's no different. The Panasonic TX-L32S10 is an entry-level 1080p HDTV aimed for gamers and casual viewers. So with that in mind, let's move onto the review.

Note: The specific model we reviewed was the Panasonic TX-L32S10B (denoting the 3-pin-plug British version), which may be sold as Panasonic TXL32S10, Panasonic TX-L32S10 or Panasonic TX-L32S10B by high-street stores like John Lewis, Comet and Currys, or online retailers such as Amazon or Dixons. These terms may be used interchangeably throughout this review to refer to the same model.
Design
The appearance of the TX-L32S10 is in keeping with the Panasonic's design model. However, from my personal point of view, I would've chosen a different design flavour or improved upon the elegantly designed TX-32LZD80. The piano finish complements the Panasonic TX-L32S10, but at the cost of visible hairline scratches and fingerprint smudges. Hopefully in the future manufacturers would apply scratch-resistant coating to reduce/ eliminate this problem.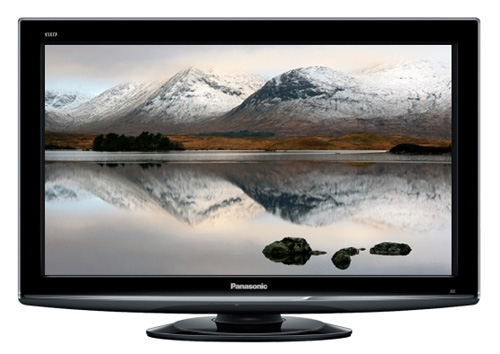 The built quality is well within Panasonic's standards; but there is room for improvements (especially between the LCD module and the surrounding frame). Rear A/V ports are steady and robust. The easily-accessible side HDMI input is an advantage to those who own portable devices with such output.
Connections
3 HDMI, 2 RGB Enabled SCARTs, Headphone Jack (with Independent Volume Control), S-Video, Composite Video, Analogue Audio Out (RCA), Common Interface, Component Video, Digital Audio Out (Optical/Toslink), RF In and D-Sub.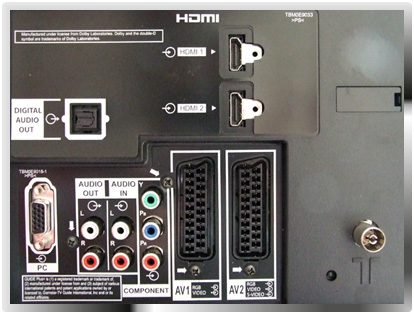 OSD/GUI
Panasonic's GUI has always been simple, highly responsive and fool proof. Thankfully, that hasn't changed. However, it is extremely basic and doesn't offer the option to calibrate the image in detail. The decision taken by Panasonic may favour the broad consumer, but it alienates those who wish to maximise performance.
Hopefully in the future Panasonic will follow Samsung's suit in providing advanced options including dedicated backlight control.
Remote Control

I have always been a fan of Panasonic's remote controls due their excellent ergonomics, responsiveness, button layout and design. The supplied remote was in keep with that design philosophy.
Calibration
Greyscale and Gamma accuracy are vital for maintaining accurate representation of a given image. Therefore, the display must be calibrated to a set of standards used by the industry. In the case of HDTV, the set standard for color space is Rec. 709, (which is similar to sRGB) and both standards share the same white point (D65) and gamma value (2.2).
Greyscale calibration ensures all greys between black and white are free from color dominance, which is achieved by assigning the RGB values to 6500K color temperature. Unfortunately, it's not possible for a display to yield 100% accuracy. So the goal is to maintain errors within acceptable levels.
Greyscale
Due to the simplicity of the Panasonic TX-L32S10, it lacks user configurable greyscale control. Unfortunately, none of the preset modes produced RGB tracking and gamma in accordance with the D65 and 2.2 standards.
It may be possible to rectify this issue via the service menu, but this may void the warranty and therefore not recommended.
Note: The results below were obtained by placing our measurement device at the centre of the screen. It is done to ensure error values are kept to a minimum.

CCT of [Colour Balance] "Warm" in [Cinema] mode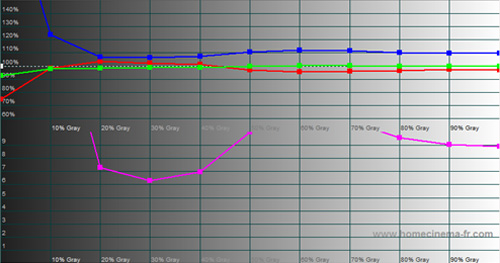 RGB tracking and delta errors (dEs) with [Colour Balance] "Warm"
Gamma

Gamma in [Cinema] mode
Colour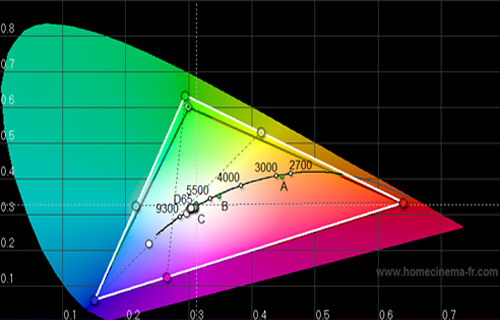 Panasonic TX-L32S10 CIE chart with reference to HD Rec. 709
Benchmark Test Results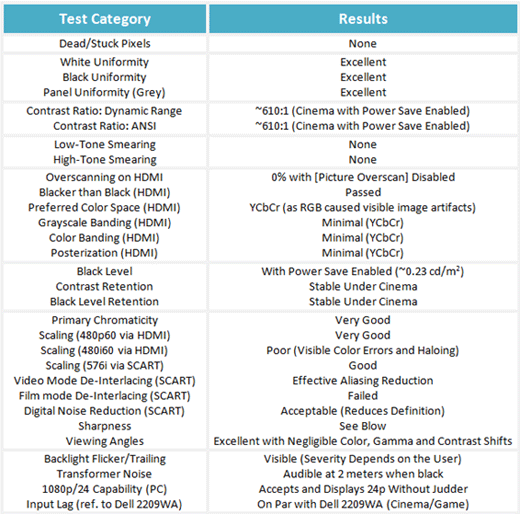 Power Consumption
| | |
| --- | --- |
| Default "Dynamic" [Viewing Mode] | ~110 watts |
| Calibrated "Cinema" [Viewing Mode] | ~65 watts |
| Standby | <1 watt |
Uniformity
Complete uniformity is one of the toughest goals to achieve. Even to this day, there are no known displays with 100% uniformity.
Thankfully, the panel embedded on our Panasonic TX-L32S10 test model yielded excellent black and white uniformity corner to corner. Uneven backlight bleeding was virtually non-existent. And the panel uniformity was typical for a Panasonic LCD, by that I meant there were (virtually) no noticeable defects or imperfections. The end results were truly superior in comparison to the Dell 2209WA, which clearly suffers from mild discolouration (as illustrated by the image below):
| | |
| --- | --- |
| | |
| Panasonic TX-L32S10 uniformity | Dell 2209WA uniformity |
Contrast Ratio
Contrary to popular belief, there is a standardised procedure for measuring contrast ratio known as ANSI. The reason behind its standardisation was simple; it provides values which reflect the real world performance.
ANSI is measured using a 4 x 4 or 8 x 8 check board pattern, which allows us to measure the light emissions of the black and white simultaneously. In addition to ANSI, we also test dynamic range, which allows us to measure the light emissions of black and white independently.
In [Cinema] mode with white level (contrast) set to maximum and [Power Save] enabled, the panel yielded a dynamic range and ANSI of ~610:1, which is typical for an IPS based panel. Black level could be further improved by enabling [Eco Mode] in addition to the [Power Save], but this would decrease the white luminance to around 98 cd/m2 (from 142 cd/m2 with [Power Save] enabled). Therefore, we recommend that you only enable [Power Save] and not both.
Note: The [Power Save] function simply decreases the power output to the backlight. So it doesn't cause any adverse effects. However, [Eco-Mode] adjusts the backlight in accordance with the ambient light. So it's best left disabled.
Motion Performance (Pixel Response)
With my usual tests based on PixPerAn, I was able to detect visible overdrive errors. However, the motion remained smooth and smear-free thanks to the IPS mode, which is ideal for gamers and sports fans.
| | |
| --- | --- |
| | |
| Panasonic TX-L32S10 (IPS-Alpha) | Dell 2209WA (e-IPS) |
Overscanning
Overscan can be configured via the [Picture Overscan] control which is located under the [Setup] submenu. It is not exclusive to 1080p and applies to SCART and DVB-T. It is ideal for keeping scaling errors and loss of detail to a minimum.
Blacker than Black (HDMI)
The Panasonic TX-S32S10 flat screen television accepts both 0-255 and 16-235 formats, so it is compatible with Computer and Consumer Electronic Standards.
Backlight Flicker & Trailing
The Panasonic TX-L32S10 LCD TV suffers from backlight flicker and flicker induced trailing, but thankfully, only trailing is perceivable. In extreme cases, it caused translucent double image to appear during high-speed motion in games (rendered at 60p). However, it doesn't distract the player from the main objective.
One of the known causes of such phenomenon is the CCFLs failing to receive adequate amp/voltage. In the case of the Panasonic TX-L32S10, disabling [Eco Mode] and [Power Save] does help to alleviate the issue by a minuscule amount.
Note: I must stress the artefact in question only affect games rendered at 60p, which are a minority on the Xbox 360 and PS3; and the level of perception is subject to the user.
Viewing Angles
Panasonic LCD televisions are known for their excellent viewing angles thanks to the IPS mode. However, compare to the H-IPS found in monitors, they are slightly inferior, which is to be expected due to the cost of manufacturing. So don't panic if you detect a hint of purple during off-angle viewing.
Note: IPS Alpha, H-IPS, e-IPS and IPS-Pro are of the same line of IPS family. The odd one out is the e-IPS as it's a budget panel with several filters removed. But its performance is simply outstanding when compared to the TN and VA alternatives.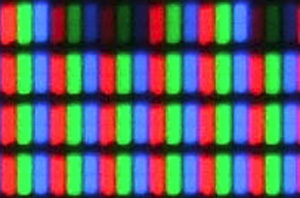 Panasonic TX-L32S10 pixel structure (IPS-Alpha)
Sharpness
The Panasonic TX-L32S10 doesn't fully map the source to the pixels at 1:1 ratio when inputting 1080p source. The image didn't appear to have detectable edge enhancement, instead, it appeared rather soft. It may have been intentional aimed at reducing aliasing in games, which is somewhat effective (see below). Increasing the sharpness simply adds unneeded edge enhancement, so we recommend that you lower it to 0.
However, the lack of true 1:1 mapping is a disadvantage to those who wish to use the Panasonic TX-L32S10 as a monitor for text-based contents.
Transformer Noise: For unknown reasons, the supplied test model emitted audible 'buzzing' at an increasing rate when we displayed images from 40 IRE to 0 IRE in 10 steps. This could be a problem when viewing dark scenes at night. At the moment, there are no known to solutions to combat this issue.
Picture Performance
For evaluating image quality in the real world, we use a series of images known to expose even the most hidden artifact and image inaccuracies.
Note: The following three tests were done under [Cinema] mode.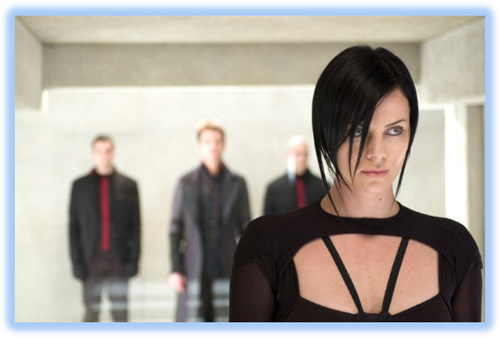 Skin-tones are one of the most important aspects of image quality, which is why we chose this image, and the Panasonic TX-L32S10 rendered it with sufficient accuracy. The variant shades of warm colors that encompass Charlize Theron's face, neck and chest were clearly visible. However, red push was highly evident and the image did appear to be processed to an extent, which may please some users (but not those who seek perfection).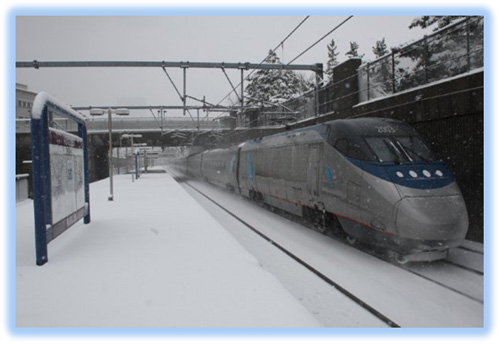 We use the image above to detect inaccuracies in grayscale, gamma and black crush; and the performance of the Panasonic TX-L32S10 was just above acceptable. There wasn't any visible evidence of black crush nor could I detect any errors in gamma. However, there were obvious signs of color dominance (notably red and blue). Having said that, majority of users will not be able to spot the inaccuracy without a reference display.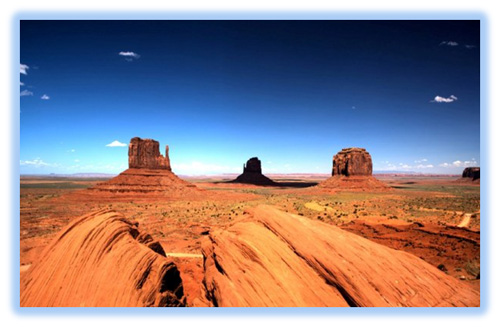 The Panasonic TX-L32S10's blue and red dominance were highly evidence on this image. The variant shades of orange appeared rather saturated under [Colour Balance] "Warm". Switching to "Normal" did help to rectify the issue, but it doesn't fare well with other contents. Again, most people may find the vividness appealing but those who seek perfection should look elsewhere.
On a positive note, under YCbCr the Panasonic TX-L32S10 produced negligible colour banding and posterization.
| | |
| --- | --- |
| | |
| [Colour Balance] "Normal" | [Colour Balance] "Warm" |
High Definition
High-def materials on the Panasonic TX-L32S10 LCD television were as expected. There was nothing extravagant about the image quality, but it was pleasing to watch. The performance of 24p was excellent. Motion appeared smooth and sturdy without detectable motion artefacts.
Had Panasonic offered the option to calibrate greyscale in user menu, the image quality could have been comparable to our Dell 2209WA; sadly that wasn't the case.
Also, most serious viewers would probably be "put-off" by the poor black levels. Unfortunately, that cannot be helped due to the IPS mode.
Standard Definition
The Panasonic TX-L32S10 produced fine results with minimal noise via RGB SCART. There wasn't any excessive color bleed and artifacting remained minimal. However, try not to use 480i or 576i via HDMI due to the reasons below:
Scaling: The scaling algorithm used by Panasonic TX-L32S10 is somewhat on par with the ATI HD4XXX series graphics cards. However, the same cannot be said for scaling 480i and 576i via HDMI. There were serious scaling defects, which seems to affects most of 2009 Panasonic range. Thankfully, the bug doesn't affect SCART and hopefully it'll be addressed in the future via firmware update.
Film and Video Mode De-Interlacing: Panasonic TX-L32S10 did a good job of minimising aliasing during de-interlacing of high-motion contents. However, it failed to detect 2:2 pull-down.
Digital Noise Reduction: Enabling noise reduction caused a drop in overall definition of the image, which was perceivable at average distance of ~1.5m. So it's best to disable noise reduction.
Gaming
Undoubtedly, gaming is the strongest attribute of the Panasonic TX-L32S10 due to its excellent pixel transition times and negligible input lag. Gamers would also enjoy the vividness and the ability to spot an enemy even in the darkest of corners. The lack of full 1:1 mapping paradoxically appeared to favor games too as it seemed to minimise visible aliasing, giving the image a softer "look".
Note: Do not use [Game Mode] as it enables adaptive gamma which leads to black crush and loss of shadow detail. Use [Cinema Mode] instead.
Audio Performance
The audio performance was adequate for a pair of bottom firing speakers, which is suitable for everyday viewing. Due its firing position, it did sound rather damped and closed. If the speakers were front firing, it probably would have produced far better sound quality. For better audio experience, it's better to invest in a sound system or a pair of highly quality active speakers.
Transformer Noise
For unknown reasons, the supplied test model emitted audible 'buzzing' at an increasing rate when we displayed images from 40 IRE to 0 IRE in 10 steps. This could be a problem when viewing dark scenes at night. At the moment, there are no known solutions to combat this issue.
Conclusion
Pros
Minimal Banding and Posterization When using YCbCr Color Space
Excellent Pixel Transition Time
Build Quality
Accepts and Displays 1080p/24 Without any Motion Artefacts
1:1 Pixel Mapping and Aspect Ratio Correction for 720p and SD
Accepts Blacker than Black
Excellent Black and White Uniformity
SD Performance via SCART
Low Power Consumption with Power Save Enabled
Scaling of Progressive Formats and SD via SCART
Primary Chromaticity
Negligible Input Lag
Viewing Angles
Cons
Average black level
No white balance controls in user menu
Inaccurate Overdrive
Backlight Flicker and Trailing
Digital Noise Reduction
Epilogue
The performance of Panasonic TX-L32S10 LCD HDTV was more than acceptable for an entry-level 1080p model. Most consumers and gamers in particular should enjoy the image quality as well as low input lag and motion performance. The biggest disadvantage is its average black level, but there are plenty of alternatives to choose from, such as Panasonic's own G10 plasmas.