Panasonic may be better known for its Plasma displays, but the company, perhaps begrudgingly, has more recently built a presence for itself in the LCD TV market. Sharing the same VIERA brand name, Panasonic manufactures LCD displays up to 42 inches in size using IPS (In-Plane Switching) panels.

In today for analysis is a Panasonic TX-L37S20, a 37″ display from the mid-range S20 series. The S20 series displays have little in the way of additional value-added options (such as USB inputs and internet connectivity), and "only" feature 100hz Intelligent Frame Creation Pro compared to the 200hz of higher-up models. Of course, this means little if the Panasonic TX-L37S20 HDTV can produce a great image at a great price. Let's see what it can do.
Note: The specific model we tested was the Panasonic TX-L37S20B (which denotes the 3-pin-plug British version), but the terms Panasonic TX-L37S20, Panasonic TXL37S20 and Panasonic TX-L37S20B will be used interchangeably throughout this review to refer to the same LCD television. While we did not test the 32-inch Panasonic TX-L32S20 or TX-L32S20B, we do not expect any drastic difference in picture performance.
Design
After looking at Panasonic Plasmas for so long, it's actually a little surreal at first to see an LCD panel framed by the company's familiar bezel design and logo. Like the rest of their products, the Panasonic TX-L37S20 has a no-nonsense, functional design. New for 2010 is a notched/ grooved texture, which lends the TV a slightly industrialised look up close (and incidentally, is nice to touch). The fact that the surface is not simply bare gloss black means that it should, in theory, be more resistant to scratches. There is also a subtle blue accent near the bottom of the frame.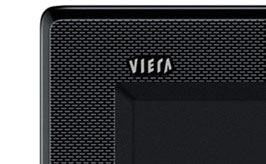 The Panasonic TX-L37S20 LCD HDTV comes packaged with a pedestal stand, which swivels from left to right with ease, and shares the "notched" design. Like most modern displays, the stand does not come attached to the TV, so a little bit of assembly is necessary after unboxing. The grooves on the bottom of the TX-L37S20 are somewhat thin, though, so slotting the TV onto the stand may take longer than you think. We suggest lying the display flat on a soft surface and slotting the stand in, rather than trying to lower the TV onto the stand.
The build quality is generally excellent — it's often possible to lift an LCD TV and observe that the panel itself feels creaky or loose inside the cabinet, but that is not the case here.
Connections
In total, the Panasonic TX-L37S20 features 3 HDMI inputs. Two of these are on the back of the display, and one is on the side. An SD card input slot is also provided, as is an RF aerial input. There is no satellite tuner to be had here, which is a shame, but given that HD channels can now be received over Freeview, this functionality will perhaps not be too sorely missed.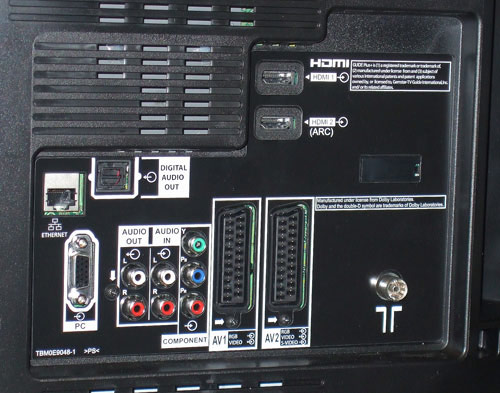 Rear: 2 x HDMI, VGA, Component, 2 x Scart, aerial, ethernet & audio outs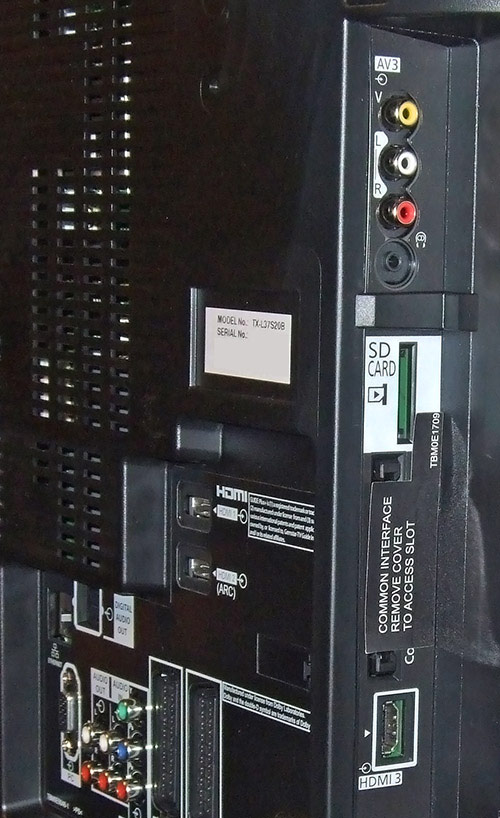 Side: Composite video input, headphone jack, SD card input, CI Interface, HDMI input
Operation
The TX-L37S20 LCD features Panasonic's new menu design for 2010, which is subtly different to the outgoing 2009 models. Interestingly, on the UK model, there are no on-screen numbers indicating the current value of a selected menu item, so if you're making adjustments to picture settings, you'll have to go by the position of the graphical sliders. This is a small annoyance, though, as the menus are easy to navigate and responsive, and setup only needs to be done once (provided you are calibrating the TV for accurate picture quality). There is also a refreshing lack of unnecessary video processing gimmicks, although the [Vivid Colour] option does make an appearance (enabling it offsets the hue of Yellow and makes other minor and unnecessary changes to the brightness of certain colours).
| | |
| --- | --- |
| | |
| [Picture] menu | [Sound] menu |
For the most part, there are 4 memory presets available: the eye-scorching "Dynamic", "Normal", "Cinema", and "True Cinema". Unlike some of the higher end Panasonic VIERA displays, the Panasonic TX-L37S20 does not feature any Imaging Science Foundation (ISFccc) controls, nor does it feature THX Display Certification. Instead, the "True Cinema" mode appears to have been designed for the same purpose (that is, reproducing accurate Greyscale and Colour characteristics), albeit perhaps not to the same exacting standards as the THX-certified displays. However, the lack of Greyscale, Gamma, and individual Colour controls as seen on higher-up Panasonic models does not necessarily mean that high picture quality will be unattainable. The presence of the [True Cinema] mode shows a commitment from Panasonic to cater to enthusiasts who want to see accurate images, even on less prestigious (read: expensive!) ranges.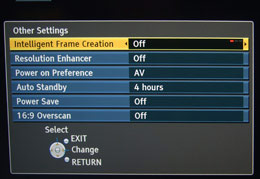 [Other Settings] menu
Tucked away in the [Setup] > [Other Settings] menu are some other controls, which are important to image quality. [Intelligent Frame Creation] (which is relabeled as [24p Smooth Film] when a 24fps signal is input) can be set to "Minimum", "Maximum", or "Off" here. In the past, Panasonic's 100hz LCD displays have forced the user to watch TV with some mild frame interpolation enabled at all times, so it's absolutely excellent to see more control given here. Frame interpolation on an LCD display can bring a positive increase in motion clarity, but these systems can be fooled by complicated motion (such as a snowstorm, excessively shaky camera movement, etc.) and can have a negative impact on the motion characteristics of films. It is for this reason that we are delighted to see control over it.
To address complaints regarding the 2009 models' standard definition capability, Panasonic have also added a [Resolution Enhancer] control which adds some additional sharpening to SD images. It too has Min, Max, and Off settings. Lastly, and crucially, is the [16:9 Overscan] function, which can be turned off to allow 1:1 pixel mapping (for maximum clarity) from 1080-line HD sources.
Calibration
Greyscale
After initial setup, the [True Cinema] preset delivered the most accurate White Balance. The recorded measurements are below: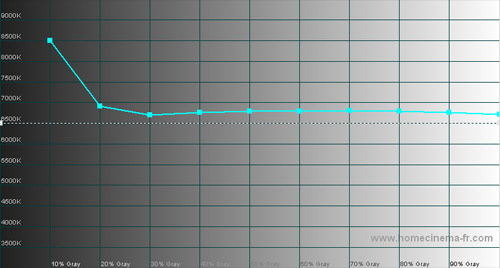 Pre-calibration CCT in [True Cinema] mode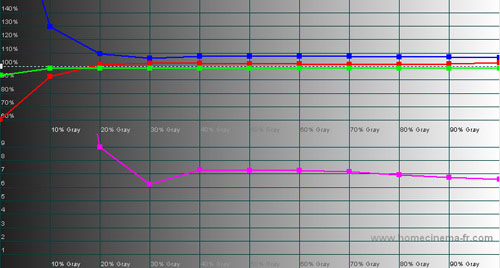 Pre-calibration RGB tracking and delta errors (dEs)
In its out-of-the-box state, the colour of White measured as being slightly too blue. Since the Panasonic TX-L37S20B HDTV does not feature user-adjustable control over White Balance, we had to enter the hidden service menu to improve this aspect of the image. This process is usually harmless enough, however, users should be warned that there are settings in this engineers' menu which can render the TV useless and in need of repair, should they be accidentally activated.
After some brief adjustments, Greyscale tracking was improved, gifting the on-screen images added realism and depth. Delta errors (dEs) were reduced to miniscule levels at almost all stimuli.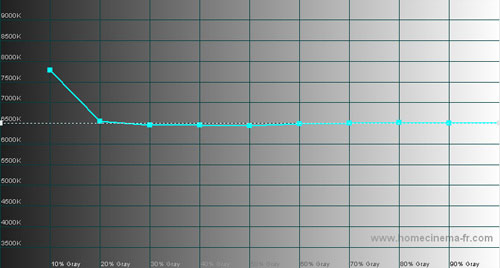 Post-calibration CCT in [True Cinema] mode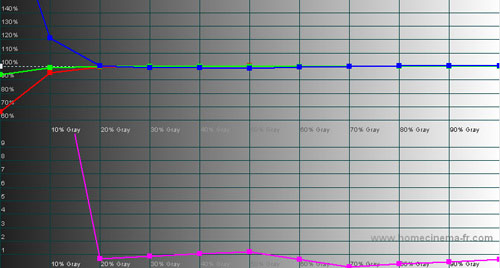 Post-calibration RGB tracking and dEs in [True Cinema] mode
Gamma was just a little too low overall, coming in closer to 2.1 rather than the desired 2.2. (Interestingly, this mirrors the Gamma performance as seen on the 2010 Panasonic G20 Plasma displays). In terms of real-world performance, this translates into slightly less "punchy" looking images, but you would likely need a reference display sitting beside this one to clearly spot the inaccuracy. In any case, there is no Gamma control on this TV, so this minor imperfection is here to stay.
| | |
| --- | --- |
| | |
| Gamma curve in [True Cinema] mode | Corresponding gamma tracking |
Colour
As the Panasonic TX-L37S20 LCD television does not feature a Colour Management System — only a single, global [Colour] control to make adjustments with — refining colour quality to any huge extent was not possible. Fortunately, this is not a devastating loss, because the [True Cinema] preset already does a good job of delivering accurate, realistic colours.
I noted that all of the colours contained minor hue errors. Even an active [Tint] control may have helped improve these, but the TX-L37S20B only allows adjustment of Tint when an NTSC signal source is being input. (For those wondering, there is a [TINT] control in the Service Menu, but it acts in the same way being inactive with most signal types).
Overall, the Panasonic TX-L37S20's colour performance is very good and whilst not entirely accurate, the on-screen colours never looked overbearing or unrealistic.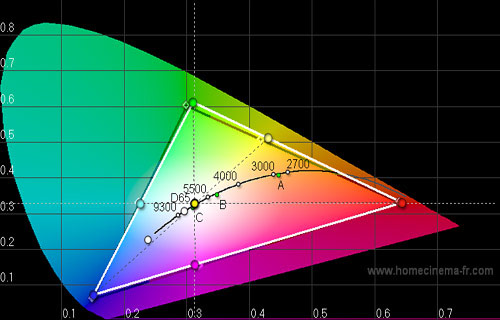 Post-calibration CIE chart with reference to HD Rec.709
Benchmark Test Results
| | |
| --- | --- |
| Dead pixels | None |
| Screen uniformity | Excellent |
| Overscanning on HDMI | 0% with [16:9 Overscan] set to "Off" |
| Blacker than black | Passed |
| Calibrated black level | 0.17 cd/m2 usable (varies according to Backlight setting: 0.04 cd/m2 with [Contrast] at 0; and 0.29 cd/m2 at full) |
| Black level retention | Stable in [True Cinema] and [Game] modes |
| Primary chromaticity | Very Good in [True Cinema] mode |
| Scaling | Excellent |
| Video mode deinterlacing | Good – 2 out of 3 bars smooth on HQV test |
| Film mode deinterlacing | Failed 3:2/ 2:2 cadences in all resolutions |
| Viewing angle | Excellent for an LCD TV |
| Motion resolution | [Intelligent Frame Creation] "Mid" or "High": 800; "Off": 300 |
| Digital noise reduction | [P-NR] now offers temporal smoothing to reduce background noise |
| Sharpness | Defeatable edge enhancement; full detail from HD source with no Luma or Chroma bandwidth limitation |
| 1080p/24 capability | Accepts 1080p/24 video signal; no telecine judder |
| Input lag | 34ms in all modes, compared to a lag-free CRT |
Power Consumption
| | |
| --- | --- |
| Default [Normal] mode | 108 watts |
| Calibrated [True Cinema] mode | 92 watts |
| Standby | 1 watt |
Picture Performance
Viewing Angle
Panasonic is not shy about promoting the advantages of the IPS-type LCD panels that it procures for use in some of its LCD TV displays. Compared to traditional VA-type LCD, IPS (which was originally developed by Hitachi) excels with its wider viewing angle: when the Panasonic TX-L37S20 is viewed off-centre, colours retain much of their richness. This contrasts with the VA panels used in the majority of LCD TVs, which exhibit quite severe colour wash-out from off-axis positions. However, I do feel that the viewing angle advantages of IPS panels are slightly overrated, because blacks on the Panasonic TX-L37S20 still take on a greyish look when viewed from the sides, perhaps indicating that a premium quality polarizer has been left out of the LCD panel to save money. As with any LCD TV, the best image quality is still to be had when viewing the TV straight on, and this is still especially true in dark scenes.
Black Level
The black level of the Panasonic TX-L37S20 is very good, for an LCD television. Although by far behind Panasonic's Plasma displays, dark scenes do not appear overly grey or washed-out (when the panel is viewed straight-on). This is a significant improvement over the last Panasonic IPS-based LCD TV that we tested.
The Panasonic TX-L37S20 LCD features standard CCFL backlighting. In most of the picture modes, the intensity of the backlight lamps is raised or lowered depending on the on-screen content, in order to maximise the TV's quotable contrast ratio. However, in the [True Cinema] and [Game] modes, the lamps emit light at a constant level. Enthusiasts are generally irritated by the light output fluctuation of such "Dynamic Backlight" systems, and it would make sense that analysing picture content will add to processing time, which explains why this behaviour is disabled in the Game mode. Although Dynamic Backlight systems can produce richer blacks in dark scenes, this is achieved by lowering the overall light output of the television, meaning that small details become harder to see, and that any bright areas in these scenes are significantly dulled. In any case, the Panasonic TX-L37S20 leaves the choice (somewhat) up to the viewer.
Panasonic have provided manual control over the Backlight intensity, too. Unlike on most televisions where the [Contrast] control is an adjustment for White Level, the [Contrast] control on the TX-L37S20 controls the Backlight illumination. This is excellent, and it means that users can raise or lower the TV's light output to better match their viewing environment (Panasonic also provides an on/off switch labelled [C.A.T.S.] to do this automatically). It's also relevant to black level, because too high a Backlight setting in too dark a room will produce visibly washed-out blacks. Users need not worry about Panasonic's omission of a white level control, because in our test setup, the TV was not discolouring whites near the 90-100% range. In other words, we didn't care about not having a White Level control, because we wouldn't have used it, anyway.
Standard Definition
Previous Panasonic displays have performed additional processing on broadcast TV images from the TV's own digital tuner. This processing was apparently designed to reduce the appearance of MPEG compression artefacts, but did little to solve the underlying problem. 2010's TX-L37S20 presents over-compressed Digital TV broadcasts in all their glory (!) rather than trying to reduce compression artefacts, which is generally preferable given the difficulty of repairing such arefacts. Fortunately, the LCD TV's scaling of standard definition content is generally excellent, so SD sources look just about as good as possible. SD images are scaled to the 1920×1080 panel with excellent clarity, and the process adds almost no ringing.
The Panasonic TX-L37S20's built-in video processor does a good job of smoothing jaggedness in interlaced video footage. Jaggies were not concealed quite as effectively as on top-end AV hardware, but I had no complaints with real-world performance. Unfortunately, like almost all Panasonic displays, the TX-L37S20 features no Film Cadence Recovery at all, which means that Film-sourced content played from a standard definition source will display with subtle jaggies and reduced vertical detail. The effects of this are generally difficult to spot in digital TV content given its relative softness, though.
For the most part, SD images on the TX-L37S20 looked excellent due to the panel's many favourable attributes. Users who want to ensure the best possible performance from their SD content are advised to connect a well-designed upscaling DVD player to the TV to bypass its Film Mode deficiencies.
High Definition
Especially after calibration, the images put out by the Panasonic TX-L37S20 in High Definition typically looked excellent. The mostly-accurate Gamma, Colour, and superbly accurate Greyscale properties of the image imbued it with a sense of realism and depth. The LCD panel's inherent motion resolution limitations were visible with high-speed video material, but tolerable for most video-based content, and certainly no worse than other LCD displays. Likewise, viewing dark content in a pitch-black room reminded us that Plasma displays still have the definite edge in this area. However, we noted that the blacks on the TX-L37S20 were, at worst, grey, rather than becoming blueish or purplish, as is the case on some poorer quality LCD screens.
The motion resolution of this LCD panel is at the better end of the LCD scale. In our typical motion resolution test, the Panasonic TX-L37S20 displayed about 300 discernible lines of resolution with the [Intelligent Frame Creation] mode turned entirely off, and around 800 on the Minimum and Maximum settings. Unlike some other LCD TVs, the TX-L37S20 did not have any specific motion problems: motion blur, when present, affects the image equally, rather than manifesting itself in certain tones or brightness levels. This makes the effect much easier to tolerate, but if motion clarity is your primary concern, you would be better served by a Plasma display.
Whether or not you will want to enable [Intelligent Frame Creation] depends on the type of content being watched. If the material you're watching has video-like movement already, then enabling the IFC system results in greater motion clarity, particularly on fast camera pans, without adversely affecting the look of the programme — essentially a win-win situation. However, we would not recommend using it for film material. Although to a lesser extent than some other displays, the interpolation algorithm affected the filmic look of such material, making motion look slightly artificial. This is convenient, because 24fps film material generally does not move at a fast enough speed to reveal the motion resolution limitations of LCD technology, anyway. In other words, an ideal situation would be to enable the IFC system with video material and to leave it disabled for film content. Of course, changing this control to suit the content would soon become tedious, especially during channel-surfing sessions, so I personally left it off to mirror my film-centric viewing habits.
It's also worth noting that the Panasonic TX-L37S20 features a DVB-T2 capable tuner, which means that it can receive the Freeview HD service. Unlike some Panasonic displays, it does not feature a satellite tuner ("Freesat" branding for the UK market), which is a pity, but less of an issue now that we can receive HDTV channels via terrestrial reception.
Console Gaming
The Panasonic TX-L37S20 lagged by about 35ms (compared to a lag-free CRT monitor) in all picture modes. The [Game] mode, which is available when the TV is displaying video from one of the AV inputs, does not change this figure. This is a standard figure for an LCD TV, but whilst playing games I was intimately familiar with, it was noticeably slower than my own Plasma display. This is probably due to the fact that an LCD TV's video processor will be performing response time compensation to combat LCD panel blur. This did make aiming more difficult in first-person shooter games, but this television is still faster than several other LCD displays.
Conclusion
The Panasonic TX-L37S20 is one of the best LCD-based HDTVs we've seen lately. Our biggest criticisms of previous Panasonic LCD TVs (which, for the record, included overly greyish blacks with no Backlight control to possibly rectify them, undefeatable motion interpolation, undefeatable sharpening, undefeatable noise reduction, inaccurate gamma, and overblown colours) have almost entirely been obliterated. The only remaining criticism of note is some minor colour inaccuracy, which would likely be correctable had Panasonic equipped the S20 LCD TV range with the same Colour Management System present on some of its higher-end models.
The end result of Panasonic's ongoing product improvements is a sight to behold. Whilst the performance overall is not as good as Panasonic's NeoPDP TVs such as the recently reviewed TX-P42G20 (hardly surprising given the status of those displays, and a fact that Panasonic themselves would probably be willing to admit), there are some rare instances where LCD can be a better choice than Plasma — for example, if the TV is to be installed in a light-filled environment such as a sunny conservatory room.
Highly sensitive hardcore gamers and users who like to watch TV in the dark are the only audiences who would be best advised to look into alternative display technologies, but for all other uses, the Panasonic TX-L37S20 produces great picture quality that's surprisingly close to the company's best. Panasonic's LCD HDTVs have truly come of age, and the TX-L37S20 comes recommended.