The subject of today's review is the TX-L37V20B, a slim-line edge LED LCD offering from Panasonic. The Panasonic TXL37V20B is a feature-rich flagship model catered for the rich to be used as a secondary display. So without further ado, let's move on to our Panasonic TX-L37V20B review.

Note: The specific model we tested was the Panasonic TX-L37V20B which is the 3-pin-plug British version, although retailers may advertise the LED TV as Panasonic TX-L37V20, Panasonic TXL37V20B or Panasonic TXL37V20. These terms are used interchangeably throughout this review article to refer to the same HDTV.
Design
In recent years, Panasonic adopted a rather interesting choice of designs that received mixed views from the masses. Thankfully, the chosen design of Panasonic TXL37V20B is outstanding, and will no doubt complement most interiors. However, the overall presentation is slightly tarnished by use of plastic finish – it would have been better to offer full metallic casing given its cost, status and target audience. Hopefully Panasonic will return the days of old and adopt designs that were iconic and instantly recognisable.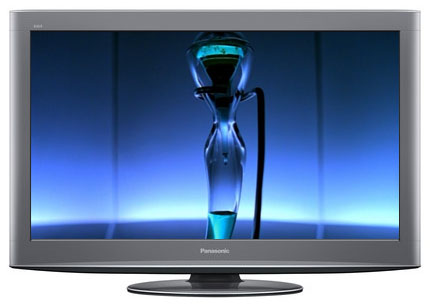 Assembling the Panasonic TX-L37V20 panel to its pedestal stand is quite easy and straight forward. It is ideal to have a partner to help, but it can be assembled alone provided the person possesses both strength and balance.
For the green-minded, the Panasonic TXL37V20B features a hard power switch on the right, which can be used to fully shut down the display.
Connections
The location of the AV ports and the build quality are in keeping with Panasonic's standards. The PSU is located on the right and the main board (which contains the processing elements) is located on the left.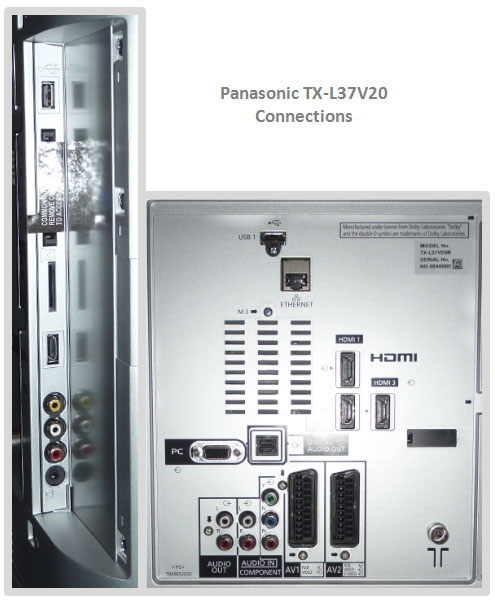 Operation
The Panasonic TXL37V20B features the classic Panasonic GUI with one exception, [isfccc], which allows users to configure greyscale and colour via 2D RGB-CMS. The ability to finetune gamma is still absent, making it difficult to obtain flat 2.2. Navigating through various layers of the menu is effortless thanks to the clean layout and rapid responsiveness. However, Panasonic still hasn't added numerical values, which can prove frustrating during calibration. It is also worth noting that the image reset option doesn't provide confirmation warning, so settings can be lost quite easily.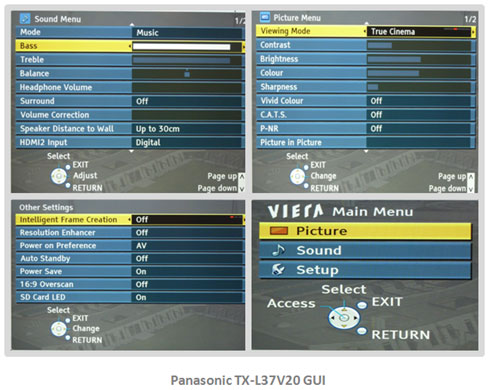 Like competing models, the Panasonic TX-L37V20B also features independent source customisation, but only in the Professional Modes.
Remote

I've always been a fan of Panasonic's remote controls due their excellent ergonomics, responsiveness, button layout and design. The supplied remote was in keeping with that design philosophy with minor modifications to accommodate the new features.
Calibration (Greyscale, Gamma & Colour)
Greyscale and Gamma accuracy are vital for portraying a given image correctly. Therefore, the display must be calibrated to a set of standards used by the industry. In the case of HDTV, the set standard for colour space is Rec. 709 (which is similar to sRGB, sharing an identical white point of D65), and we chose the gamma value of 2.2.
Greyscale calibration ensures all greys between black and white are free from colour dominance, which is achieved by assigning the RGB values to 6500K Correlated Colour Temperature (CCT). Regrettably, it's not possible for any HDTV display to yield 100% accuracy. So the goal is to maintain errors within acceptable levels, which are indicated by Delta E (dE) values.
After some basic calibration, our Panasonic TXL37V20B review sample yielded excellent RGB Levels in both Professional [1] and True Cinema modes. Sadly the CMS (which is active only in Professional Mode) implemented on the Panasonic TX-L37V20B is flawed. Prior to calibration, I normally evaluate the HDTV's processing of YCbCr and RGB by using a test pattern designed to highlight visible banding/ posterization, which helps me ascertain the appropriate format to use for a particular TV as some process RGB better than others, and vice versa. Upon testing I discovered that in Professional Mode [1] and [2], the Panasonic TX-L37V20 failed to display the colour transitions correctly. The same artefact occurred when Vivid Colour is enabled in non-professional modes. Therefore, the following assessment is based on the True Cinema Mode as there's no other solution to amend the issue at present.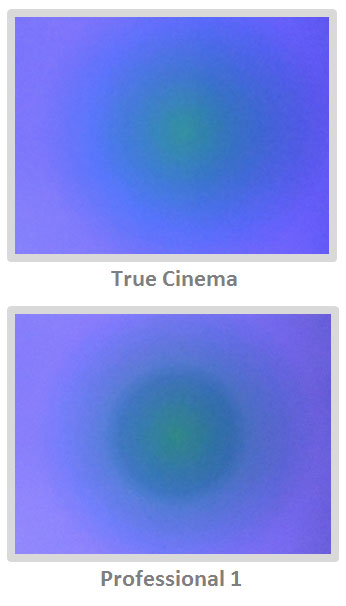 Note: The results below were obtained by placing the colorimeter at the centre of the screen to minimise measuring errors.


Greyscale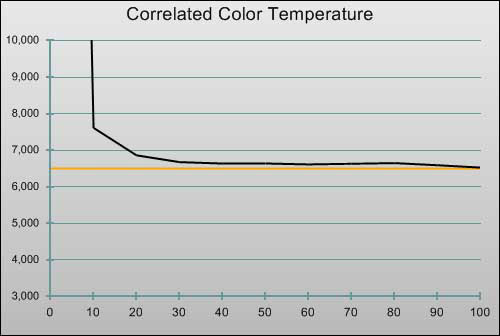 Pre-calibration CCT in [True Cinema] mode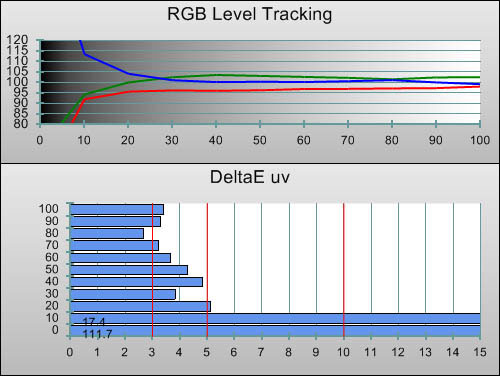 Pre-calibration RGB tracking and delta errors (dEs)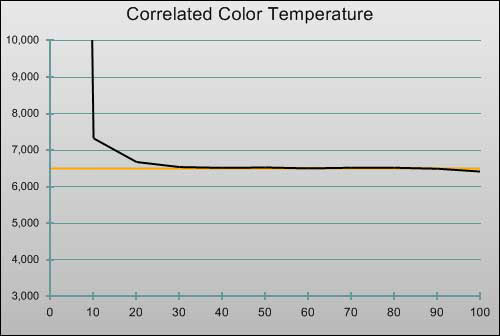 Post-calibration CCT in [True Cinema] mode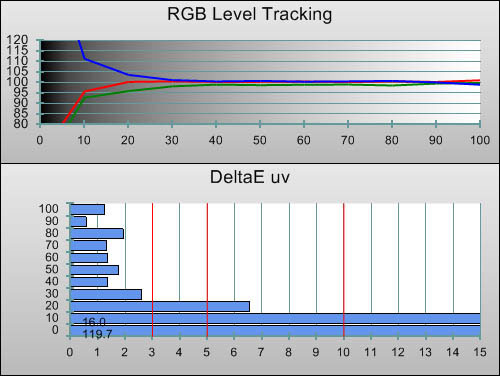 Post-calibration RGB tracking and dEs in [True Cinema] mode
Gamma
| | |
| --- | --- |
| | |
| Gamma curve in [True Cinema] mode | Corresponding gamma tracking |
Colour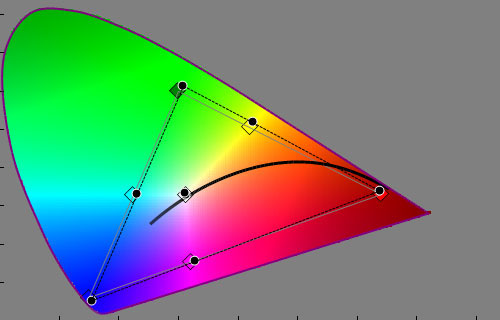 Post-calibration CIE chart with reference to HD Rec.709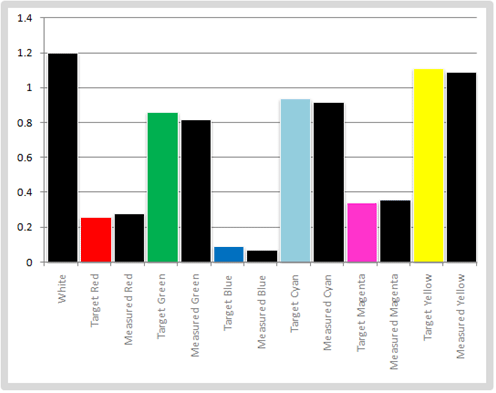 Post-calibration colour luminance (coloured bars = targets; black bars = measured values)
Benchmark Test Results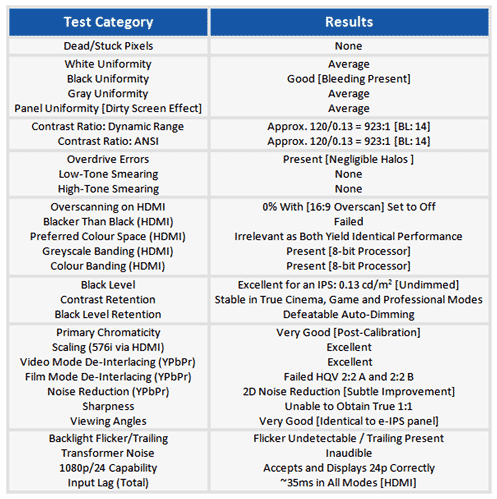 Power Consumption

Uniformity
Our Panasonic TX-L37V20B test unit produced average overall screen uniformity, which is rather bizarre for an IPS-based LCD panel. During the pure white test (100IRE), the classic red and green tinting was visible (but acceptable), and the same applies to backlight bleeding. Thankfully, bleeding was only visible when the screen is virtually devoid of content. Normally IPS-based LCD panels have good to excellent panel uniformity but our Panasonic TXL37V20B review sample had odd smudges that were visible during panning (commonly referred to as dirty screen effect). Such imperfections are nothing drastic or new, but can annoy some users. Considering the price tag of the TX-L37V20, Panasonic should have demanded better quality panel from LG Displays.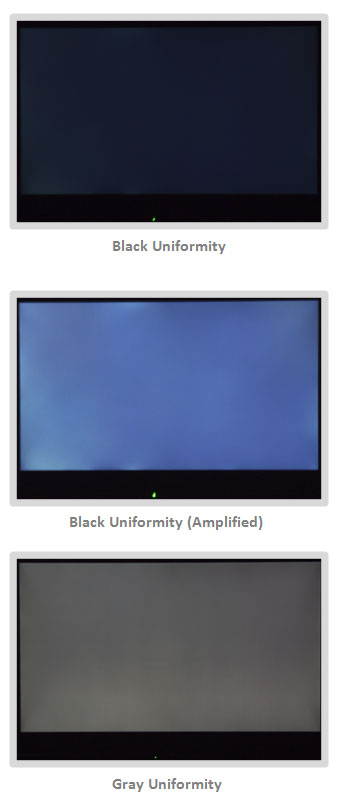 Contrast Ratio
The Panasonic TX-L37V20B in [True Cinema] mode with white level (contrast) set to 14 yielded dynamic range and ANSI contrast ratio of 923:1, which is rather excellent for an IPS-based LCD, but significantly inferior to Vertical Alignment [VA] based LCDs and Plasma Display Panels. For the same price, the plasma version (the Panasonic TX-P42V20) offers black level that is quite a bit darker. Alternatively, the Samsung LE40C650 LCD fitted with SPVA panel is not only vastly cheaper, but also capable of delivering deeper blacks.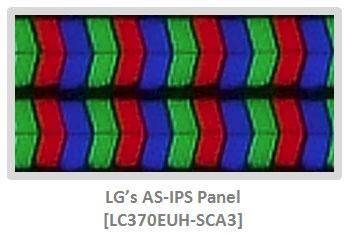 Motion Performance
PixPerAn is an excellent tool designed to evaluate motion artefacts and as expected, the motion rendered by the Panasonic TX-L37V20B was free from artefacts caused by pixel lag. However, like the Samsung UE32C6000 I've reviewed earlier, the Panasonic TX-L37V20 suffers from doubling effect (original image accompanied by two or more distinctive ghost images) during fast motion. To amend the issue, the contrast must be set to maximum and power saving should be disabled, which are of course not recommended. Alternatively, setting Intelligent Frame Creation [IFC] to Mid does significantly improve motion performance.
In addition, just like the Samsung UE32C6000, the effect of doubling on the Panasonic TXL37V20B can only be observed with content that are free from blur or with negligible blur. So it only affects a minority of contents (mainly games and sports). We believe the prime suspect is the pulsing backlight; more accurately, as the power to the LEDs decrease, the latency between each pulse increase, which seems to be out of sync with the LED LCD display. We have no proof of this, just theories.
Panasonic is one of three manufacturers with effective MCFI algorithms at their disposal so it's not surprising to find IFC reducing blur effectively without adding highly visible artefacts to the image. However, there is no option to control the level of frame interpolation as the user is only presented with three simple options of [Off], [Mid] and [Max], which not only applies to high-motion but also to low-motion content. So the user would have to periodically access the set-up menu to manually enable and disable IFC according to the content as it is not possible to customise such option for each input. It is also worth noting that low-motion to high-motion conversion was poor in comparison to Splash Pro and TX-37G20 as the algorithm failed to maintain a stable lock, and artefacts populated certain scenes even when set to Mid. With that in mind, I would advise using IFC only on high-motion content.
Overscanning: It can be disabled via the Setup menu, but is applied to all external inputs by default. So users would have to enter the Setup menu periodically to adjust the option depending on the content.
Blacker than Black (HDMI): The Panasonic TX-L37V20B failed to display 0-255 correctly via HDMI (RGB).
Viewing Angle: Panasonic LCD TVs are known for their excellent viewing angles thanks to the IPS-based panels. However, the viewing angles of Panasonic TXL37V20B were identical to my Dell 2209WA, which initially led me to question the panel type. The LG's AS-IPS panel embedded within the Panasonic TX-L37V20 has excellent horizontal viewing angles, but the black does glow when viewed from above or below the panel. So it's best to position the Panasonic TX-L37V20B to eye level.
Sharpness: The Panasonic TX-L37V20 has an odd bug that somehow links both brightness and sharpness. Setting sharpness to -5 (0 being its default value) softened the image and caused visible moire in the [Eizo Moire Test Pattern 1], and its intensity varied according to the brightness setting. It is something I've never encountered before, and I was forced to compensate by adjusting sharpness to -4, which did add a small degree of visible edge enhancement. So in that sense, I wasn't unable to obtain true error-free 1:1 mapping. Increasing the sharpness value did not completely eliminate moire but it did reduce it to negligible level. It is worth nothing that the effect of moire does not affect daily viewing – it's only a problem when the Panasonic TXL37V20B is used as a monitor.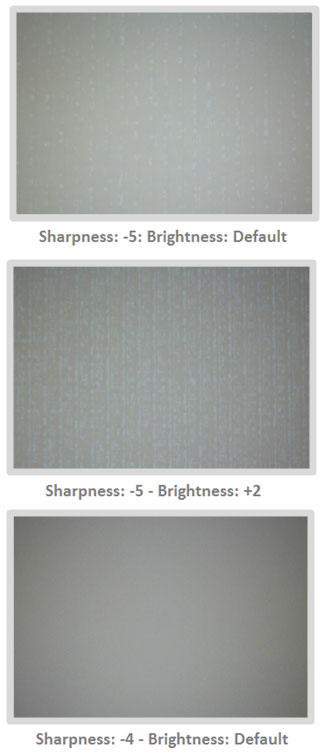 Picture Quality
To evaluate the picture quality rendered by the Panasonic TX-L37V20B, a small number of carefully chosen images are used to detect visible artefacts and errors. The first image Aeon is used to detect errors in skin-tone, luminance and depth, while the second image Acela Express is used to detect greyscale and gamma errors in addition to black crush.
Note: The following tests were conducted under the [True Cinema] mode.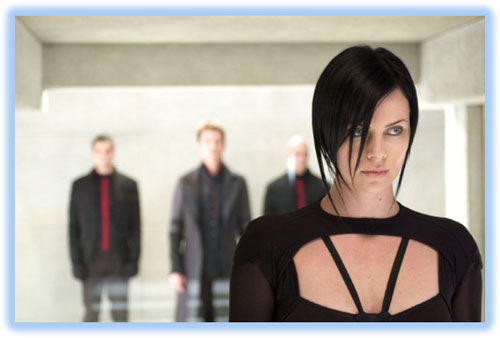 The Panasonic TXL37V20B yielded excellent results following basic calibration in True Cinema mode. The mass shades of warm colours that envelop Charlize Theron's face, neck and chest were clearly visible – very close to a calibrated display. A sense of depth was also present.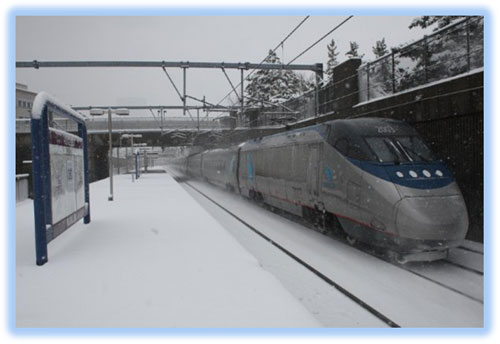 As predicted, the performance of the Panasonic TX-L37V20B was excellent and comparable to the calibrated Dell 2209WA. There was no visible evidence of any serious black crush nor any form of gamma error.
High Definition
The majority of high-definition content on the Panasonic TXL37V20B were beautifully rendered despite the issues mentioned above. Colours, depth and noise were all kept to the standard expected from Panasonic. However, content that rely on deep blacks to convey an immersive and thrilling experience left a lot to be desired. Decreasing the contrast value to minimum did drop the black levels to respectable 0.08 cd/m2 with whites peaking at 80 cd/m2, which is borderline tolerable for certain material such as the Alien Quadrilogy. But, it's not possible to fully defeat the dreaded bluish blacks.
Although the Panasonic TX-L37V20B utilises 8-bit processing, banding was kept to an absolute minimum provided the source is clean. However, considering its price, the Panasonic TX-L37V20 should have the ability to reduce or eliminate banding native to low-bandwidth content. Thankfully, playback of 24p material is faithful to its source as expected from Panasonic. In fact, the motion is comparable to digital cinemas.
In terms of artefacts, it would seem MCFI (motion-compensated frame interpolation) cannot be fully disabled on the Panasonic TXL37V20B except in Game Mode. When I viewed content with short burst of intense whites (e.g. music videos), I started noticing artefacts that often occur when MCFI is enabled. Oddly, the motion didn't appear to be interpolated. On a positive note, Game Mode did eradicate the issue, but it doesn't allow users to select various aspect ratios, and cannot be enabled when using the TV's internal tuner or built-in features.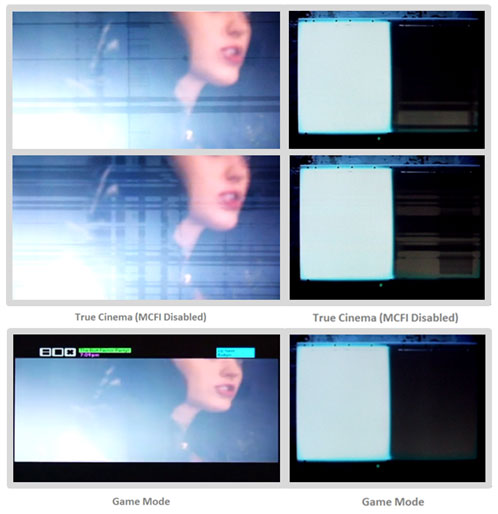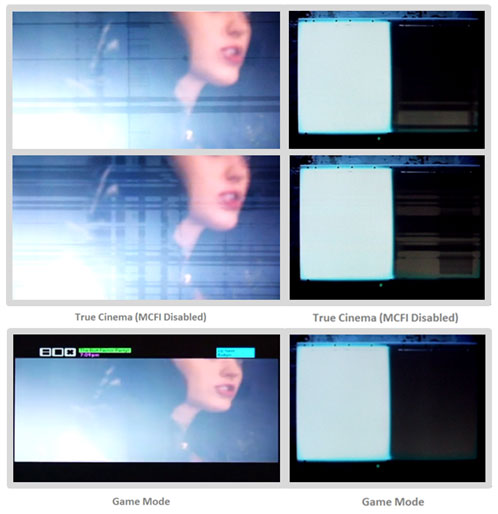 Standard Definition
The Panasonic TX-L37V20B produced excellent results with negligible noise via RGB SCART. Those with standard Sky or retro gaming console will appreciate the quality of colour and detail.
Scaling

:

Upscaling 576i via HDMI and RGB SCART produced excellent results comparable to ATI's UVD 2.2.
Film and Video Mode Deinterlacing

:

The Panasonic TX-L37V20 did an excellent job of reducing aliasing to negligible levels during deinterlacing of high-motion content. However, the Panasonic TXL37V20B failed the PAL 2:2 pulldown test.
Digital Noise Reduction

:

Panasonic's implementation of 2D noise reduction system does reduce noise, but it's not very effective.
Gaming
Panasonic HDTV displays have always been excellent for gaming, so it comes as no surprise when I say the Panasonic TX-L37V20B is an excellent casual gaming display. Oddly enough, the input lag remains at a tolerable level even with MCFI enabled. On the negative side, users may notice ghost images due to the pulsing backlight. Gamers who often play 60p games may want to invest in a Panasonic NeoPDP plasma for smear-free/blur-free motion with ultra-low input lag, but be sure to factor in phosphor trailing as it may exasperate users who are sensitive to uneven phosphor decay.
Audio Performance
The audio performance of the Panasonic TXL37V20B is quite impressive for an LED LCD TV, but this is hardly surprising since the TV has larger speakers. Although the sound is detailed and pleasing in Music Mode, I did detect a gap between low-end and lower mid-range, which could have been improved via the on-screen audio equaliser that is unfortunately inaccessible in Music Mode. Switching to User Mode did allow me configure various frequencies but the audio sounded dull and lifeless. Put simply, Panasonic has embedded quality speakers with average audio signal processing. Hopefully this can be addressed via a firmware update so users can fully utilise the speakers.
Alternatively, it may be better to invest in the Creative GigaWorks T20 Series II, which can be connected to the Panasonic TX-L37V20B's 3.5mm headphone jack. Not only does this pair of external speakers provide detailed highs and mids, it also delivers deep bass equivalent to a 2.1 set-up.
Conclusion
Pros
Excellent HD Performance
Excellent Design and Build Quality
Excellent Performance After Basic Calibration
Very Good Primary Chromaticity and Excellent Greyscale
Inaudible Transformer Noise
Responsive Remote
Good Sound Quality
Superb SD Performance via SCART
Relatively Low Input Lag
Effective Deinterlacing
Effective MCFI (High-Motion to 100/120p Conversion)
Cons
Doesn't Accept Blacker than Black (HDMI-RGB)
Average Overall Uniformity
Average Dynamic Range and ANSI contrast Ratio
Visible Artifacts in all Modes Except Game
Sharpness issue and Moire
Faulty CMS
Visible Ghost Images due to Off-Sync Backlight
Ineffective MCFI (Low-Motion to High-Motion Conversion)
Unified MCFI, Resolution Enhancer and 16:9 Overscan Cannot be Customised Per Input
No Headphone Volume Control on the Remote
Picture Settings Cannot Customize Per Input (Accept in Professional Mode)
Inferior Viewing Angles Compared to IPS Alpha (IPS Provectus)
Failed to Detect Film Cadences
2D Noise Reduction
Summary
Panasonic LCD TVs have always remained in the shadows of their plasma cousins purely due to the lower price-performance ratio, which has yet to change for the better. For £1000 (the current retail value of the Panasonic TX-L37V20B), one can easily opt for the TX-P42V20 plasma (or the upcoming GT series with 3D capability). If plasma is not an option, there are still plenty of LCDs that offer better value for money, which is why I have some reservations in recommending the Panasonic TXL37V20B.