Ultra-slim LCD TVs with LED sidelighting are nothing too new, but the TX-L42D25 is the first one we've reviewed from Panasonic. New for 2010, the D25 series of VIERA LED LCDs features 200hz Intelligent Frame Creation Pro with Backlight Blinking for improved motion resolution, VIERA Cast internet content, and an IPS (In-Plane Switching) type LCD panel, which enables the HDTV to have better-than-average picture quality when viewed from the sides (compared to other LCD TVs).

Like many of the company's higher-end models this year, the Panasonic TX-L42D25 also features ISFccc controls, meaning that picture characteristics such as Greyscale, Colour Saturation and Hue, and Gamma, can be calibrated from within the user menus, which will delight video enthusiasts. Let's see if the Panasonic TX-L42D25 LED TV can deliver a viewing experience that lives up to its slick design…
Note: The specific model we tested was the Panasonic TX-L42D25B which denotes the 3-pin-plug British version. However, high street stores like John Lewis and Comet, and online retailers such as Amazon and Dixons may sell this LED-backlit LCD television as the Panasonic TX-L42D25, Panasonic TXL42D25, Panasonic TX-L42D25B or Panasonic TXL42D25B. All these terms refer to the same TV. Although we did not test the 32-inch Panasonic TX-L32D25 or TX-L32D25B, there shouldn't be any drastic difference in picture performance.
Design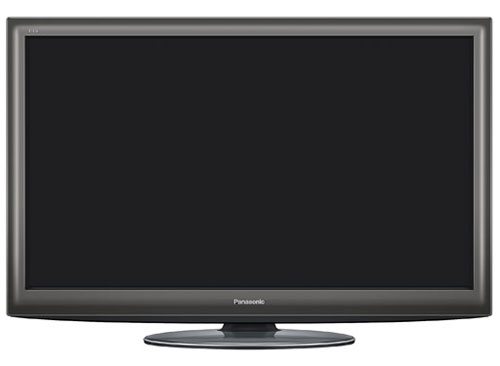 Panasonic seems to be experimenting with the chassis design of its most recent LCD displays, and we quite like the results. Whilst the company gave the recently reviewed S20 LCD series a "grooved" look, the Panasonic TX-L42D25 LED LCD TV features a "ridge" surrounding the image, which almost looks as if the LCD screen is trying to break out of the case. This unique design feature appears to have a real sense of depth, but in reality, it's entirely flat to touch. The chassis is styled in dark silver, which makes a very welcome change to the torrent of glossy black displays on the market.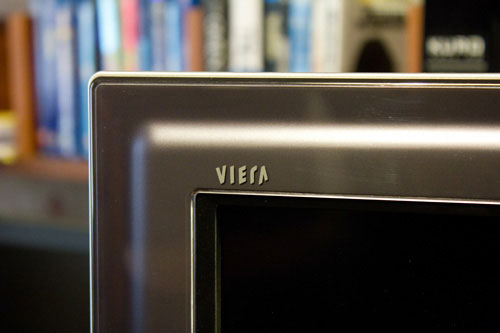 Of course, the standout design feature of the Panasonic TX-L42D25 is its ultra-slim cabinet design, which is made possible by illuminating the LCD panel with LED side-lights, rather than by traditional CCFL backlighting behind the panel. The edge-backlit LED TV is supplied (non-attached) with a circular tabletop stand; basic assembly is required, but this is a very quick and easy process.
Connections
The Panasonic TX-L42D25 HDTV features 4 HDMI inputs, one of which is situated on the side of the TV (if "side" is an appropriate term for a TV this thin). Older analogue AV interfaces are also supported. As for TV reception, the display stands out by including a Satellite tuner, which affords the TV its Freesat HD functionality. There's also a Terrestrial aerial input, which allows the TV to tap into Freeview, and the brand-new Freeview HD broadcasts.
For multimedia features, there are two USB inputs, and an Ethernet (wired networking) connector. The USB inputs can be used with the TV's "HDD PVR" functionality, in which an external hard disk drive can be connected to one of the USB ports and used to record TV programmes. The Ethernet connection enables the Panasonic TX-L42D25 to access VIERA Cast, which is a walled-off online platform.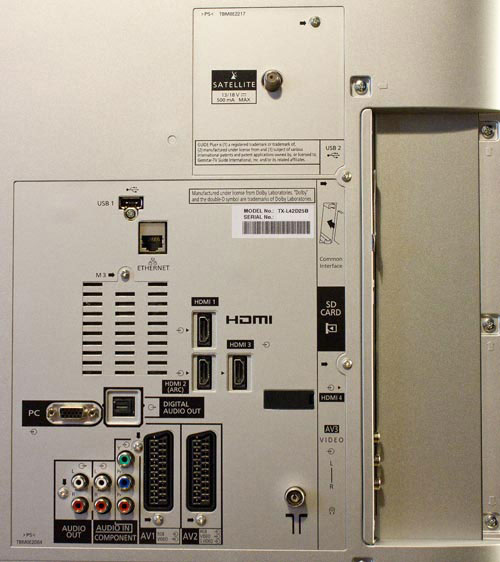 Rear: 3 x HDMI, VGA, component, 2 x SCART, aerial, Freesat, ethernet, USB, & audio outs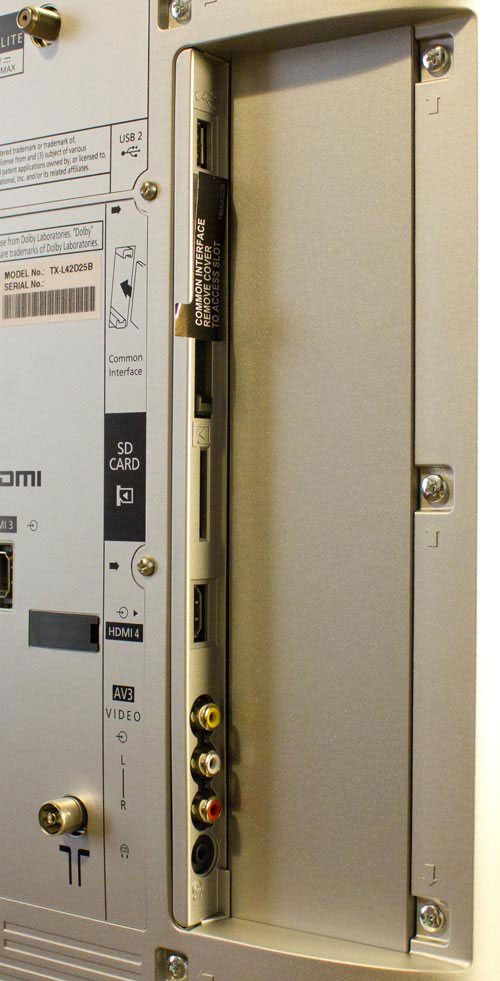 Side: USB, DVB Card, SD Card, HDMI, Composite video, headphones
Unlike the ultra-slim displays from other manufacturers, the connectors on the back of the Panasonic TX-L42D25 stick outwards towards the wall, rather than being placed so that cables can hang down from the back of the display. This means that the minority of users who are wall-mounting the TV will not be able to place it as close to the wall as they might like.
Operation
The Panasonic TX-L42D25 shares the same menu design as other 2010 Panasonic models, with easily readable fonts and fast navigation. Initially, there are four options available in [Viewing Mode], one of which is "True Cinema", which has been adjusted by Panasonic to reproduce accurate Greyscale, Gamma and Colour, allowing users to experience video content as close as possible to how it was mastered at the studio.
| | |
| --- | --- |
| | |
| [Picture] menu | [Other Settings] menu |
A quick visit to the [Setup] menu allows a feature called "Advance(isfccc)" to be turned on, which unlocks two additional viewing modes: "Professional1" and "Professional2". Both of these modes grant access to a full collection of adjustments, including control over the strength of the LED sidelights' brightness (labelled "Contrast"), as well as a "P-NR" noise reduction control. Unlike on the S20 LCD series, the Noise Reduction control on the D25 is a less effective 2D filter, which is more effective against cutting off compression artefacts in digital TV broadcasts than it is smoothing out analogue-centric background noise.
| | |
| --- | --- |
| | |
| [White Balance] menu | [Colour Management] menu |
The [Advanced Settings] menu houses separate menus for White Balance (Greyscale) calibration, Colour Management, and Gamma. The Colour Management system allows for adjustment of Red, Green and Blue saturation and hue; there is no control over Yellow, Cyan and Magenta on the 2010 models.
The [Setup] > [Other Settings] menu houses other controls which govern picture quality. [Intelligent Frame Creation] can be set to "Mid" or "Max" settings, or turned "Off" completely. There is a [Resolution Enhancer] which subtly sharpens SD material when enabled, and lastly, this screen allows us to disable [16:9 Overscan], so that nothing is lost from the extreme edges of the picture. It is necessary to turn [16:9 Overscan] OFF so that 1080i/1080p signals can be 1:1 mapped to the LCD panel, for the crispest possible HD picture.
Calibration
Greyscale
After initial setup and a warm-up period, we ran Greyscale measurements on the Panasonic TX-L42D25 LED-backlit LCD TV in its "True Cinema" picture mode: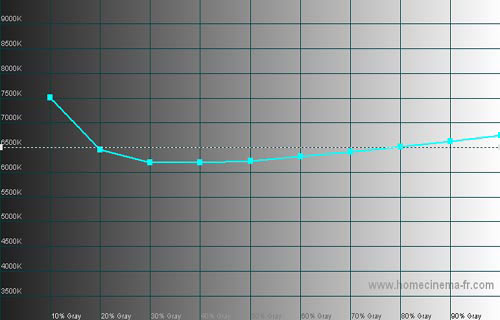 Pre-calibration CCT in [True Cinema] mode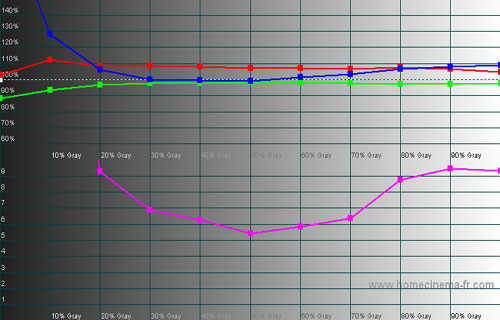 Pre-calibration RGB tracking and delta errors (dEs)
Unusually, the out-of-the-box Greyscale tracking had a bias of Red in it (it is much more common for uncalibrated displays to feature a bias of Blue). The error was only around 10%, so it will be visible to users used to looking at perfectly calibrated screens, but a very minor (non-)issue for most others.
The Panasonic TX-L42D25 features user-accessible Greyscale controls in the [Advanced Settings] menu, so perfecting the TV's performance here was very easy indeed.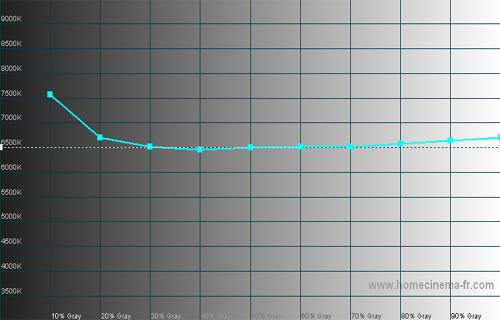 Post-calibration CCT in [Professional] mode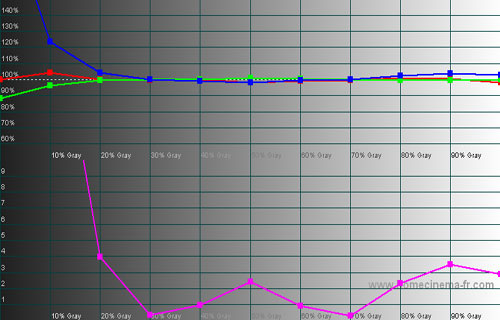 Post-calibration RGB tracking and dEs in [Professional] mode
This process improved Greyscale tracking and reduced errors to negligible levels: typically less than 2 dE. The only exception is the slight peak of Blue at the high end (right on the chart). Normally, we can correct issues like this by adjusting the TV's white level control, which is usually labelled as "Contrast" in the user menu. Panasonic's LCD "Contrast" control is actually an adjustment for backlighting (or in this case, side-lighting) intensity, making it an optical adjustment rather than a video processor control. In any case, we are talking about an error of about 5% here, so it's not really worth worrying about.
Gamma tracking changed subtly following calibration. Before, it measured at around 2.24; after calibration it had raised to 2.27. The Panasonic TX-L42D25 LED LCD TV does feature a "Gamma" section in its Advanced Settings menu, which features five selectable presets. The default 2.2 setting (which yielded the post-calibration result of 2.27) was the most accurate of these, so we didn't change this setting. In any case, a slight Gamma inaccuracy is a fairly hard to spot error.
| | |
| --- | --- |
| | |
| Gamma curve in [Professional] mode | Corresponding gamma tracking |
Colour
As a higher-end model, the TX-L42D25 features Panasonic's new Colour Management System. Tucked away in the "Advanced" screens and available only on the "Professional" viewing modes, it gives control over the Hue and Saturation of red, green and blue.
Prior to calibration, the colour performance of the Panasonic TX-L42D25 was already very good. Cyan, yellow and green were very slightly off-hue, and yellow and green were also very mildly oversaturated. After Greyscale calibration, the secondary colours moved closer to their ideal targets, meaning that the lack of Secondary colour control in the CMS was essentially a non-issue. Using the CMS controls, we were also able to bring Red, Green and Blue closer to their targets. Adjusting the Green Hue control eventually began to simply desaturate instead, suggesting that some component in this LED TV is not capable of 100% accurate reproduction of green (something we confirmed by noting the same behaviour even in "Dynamic" mode even with the colour turned up to full). The end result of configuring the colour management system controls is highly accurate colour with only a few minor inaccuracies: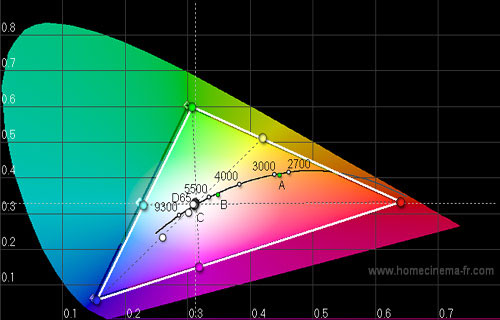 Post-calibration CIE chart with reference to HD Rec.709
Benchmark Test Results
| | |
| --- | --- |
| Dead pixels | None |
| Screen uniformity | Excellent |
| Overscanning on HDMI | 0% with [16:9 Overscan] set to "Off" |
| Blacker than black | Passed |
| Calibrated black level | 0.17 cd/m2 usable |
| Black level retention | Stable in [True Cinema], [Professional] and [Game] modes |
| Primary chromaticity | Very Good |
| Scaling | Excellent |
| Video mode deinterlacing | Excellent: 3/3 bars smooth on HQV test |
| Film mode deinterlacing | Failed 3:2/2:2 cadences in all resolutions |
| Viewing angle | Excellent for an LCD TV, but lightness around edges visible on black screen |
| Motion resolution | [Intelligent Frame Creation] "Mid" or "High": 800; "Off": 300 |
| Digital noise reduction | [P-NR] is a 2D filter, makes very small difference |
| Sharpness | Defeatable edge enhancement; full Luma and Chroma detail |
| 1080p/24 capability | Accepts 1080p/24 video signal; no telecine judder |
| Input lag | 35ms in all modes, compared to a lag-free CRT |
Power Consumption
| | |
| --- | --- |
| Default [Normal] mode | 108 watts |
| Calibrated [Professional] mode | 80 watts |
| Standby | 1 watt |
The power consumed by the Panasonic TX-L42D25 will depend on how it is configured. In all picture modes except for [True Cinema] and the two [Professional] modes, the TV varies the intensity of the LED lighting to match the average picture level of the video signal (so darker scenes will cause the lights to dim and consequently causing them to consume less power, and brighter scenes will cause the lights to raise). Likewise, if the "C.A.T.S." (Contrast Automatic Tracking System) mode is enabled, the lighting will be raised or lowered depending on the ambient light.
In the modes which feature constant light output, the power consumption depends on the "Contrast" setting.
Picture Performance
Viewing Angle
As a higher-end Panasonic LCD display, the TX-L42D25 uses an IPS Pro panel. IPS is renowned for its ability to retain a high quality image when the panel is viewed from the sides, when compared to typical VA-type LCDs (which exhibit quite severe colour desaturation and loss of contrast when viewed from an angle). The Panasonic TX-L42D25 holds onto its colour properties when viewed off-axis, but as usual, contrast still takes a slight hit. Bright scenes get very slightly dimmer at extreme angles, whereas pitch-black scenes viewed in dark rooms begin to look much lighter. Sadly, no LCD panel is immune to one (or more) of these problems, and the D25's off-axis viewing is much better than most.
Black Level
Some sources (Panasonic included) have hinted that the black level of LED sidelit LCD displays should be superior to that of a standard CCFL display, but this writer has seen absolutely no evidence for this theory in testing. The Panasonic TX-L42D25's light output can be controlled by its Backlight control (labelled "Contrast"), meaning that blacks (and whites) can be almost as dark as you want them to be. I found them sufficiently deep for daytime viewing of most content, but as is the case with any LCD TV, I found myself missing my own Plasma display in darker conditions.
On the whole, the overall contrast ratio of the Panasonic TX-L42D25, whilst not unusual for an IPS-based LCD TV, was still less impressive than several traditional CCFL-backlit LCDs, meaning that the D25's image quality does seem to take a small hit in the name of style and thinness. LCD television has never been renowned for its black level, and while the TX-L42D25's is by no means bad when compared to the competition, prospective buyers especially concerned about black level in darkened viewing environments would be better served by an alternative display technology (it starts with a "P"…)
Motion Resolution
There were few surprises when assessing motion resolution. With its [Intelligent Frame Creation] mode switched off, the Panasonic TX-L42D25 managed about 300 perceptibly separate lines of resolution, which is a standard figure for an LCD panel not being driven by some sort of frame interpolation system. With the control set to "Mid", motion resolution jumped to around 800 lines, which is a significant improvement. (The "Max" setting did not manage to improve on this number, but apparently would increase the risk of processing artefacts, so we saw no point in using it).
Of course, the usual caveats of increasing frame rate via motion vector interpolation apply. While the system was unquestionably beneficial for high motion content such as news channel tickers, sports material, and video camera generated footage, it made Film content look pretty silly, so we disabled it here. Given that Film material running at either 23.97fps (or 25fps in the case of PAL TV) does not really reveal the limits of LCD's low motion resolution, turning the system off for Film content and on for Video is really a win-win situation. In fact, Panasonic should really consider given the remote control its own dedicated "IFC" button for this purpose, as most users are likely to tire of constantly changing the setting via the menus and simply leave the control set to mirror their viewing preferences (On for mostly Video material, Off for mostly Film).
Standard Definition
Having witnesses the strengths and weaknesses of the rest of Panasonic's 2010 lineup, there were few surprises at all with SD content on the TX-L42D25 LED-backlit LCD television. Film mode detection is still non-existent for both SD and HD material, meaning that an upscaling player is still required for the best results from your DVD collection. However, deinterlacing quality does appear to have been improved over the last mid-range Panasonic LCD that we reviewed here at HDTVTest, as the TX-L42D25 managed to render all three rotating bars on the HQV test disc as smooth, except for some small misplaced pixels at the edges of the most extreme angles.
Scaling, as with the rest of the 2010 Panasonic displays so far, is spectacular and up to the same standards as some high-end AV receivers and video processors: every single pixel of SD sources is represented in the final scaled HD image, with almost no overshoot (ringing) to be seen, despite everything still looking incredibly crisp (content permitting, of course). It was only last year that Panasonic's handling of 480i/576i content was remarkably blurred, so this is a huge leap in a very short space of time.
Likewise, SD content delivered via the TV's digital terrestrial and digital satellite tuners didn't have any TV-induced flaws. While the picture quality of most SD TV channels is a long way away from "good", this is not the fault of the TV, which is masking the flaws almost as much as possible and is not making poorly compressed digital TV material look any worse than it has to. The TV's highly accurate Greyscale, Gamma, and Colour chacteristics meant that the inherent low resolution and poor compression were the only real issues with SD broadcasts. The aspects of the picture quality that the Panasonic TX-L42D25 itself had control over were very good indeed, and from a far enough viewing distance where these issues are masked, the TV's strengths really shone.
High Definition
The Panasonic TX-L42D25's video circuitry has no major issues with high-def content. It represses jaggies in interlaced HD content (1080i) just as well as it does with 480i/576i SD (and of course, the end result is perceptibly better due to the fact that any slight line twitter in 1080i content will, by nature, be less visible than on SD). Like with SD, there is no film mode detection for 1080i sources.
The best-looking Blu-ray Discs looked very nice indeed on the Panasonic TX-L42D25 HDTV, after the small adjustments we made to the "Professional" mode (which included turning down Sharpness, disabling "16:9 Overscan" and "24p Smooth Film", and of course, using the Greyscale and Colour calibration controls in the Advanced menu).
Of course, these changes also benefited 1080i material coming in via Freeview HD and Freesat HD (the Panasonic TX-L42D25 is equipped to handle both). Due to the on-the-fly video compression, low horizontal resolution, image filtering, and lower bit rates used for broadcast HD content, none of it stands much of a chance of being anywhere near the quality of the best Blu-ray titles, but again, the Panasonic TX-L42D25 edge-backlit LED-based LCD television did what it could with what it was given.
Console Gaming
The Panasonic TX-L42D25 lagged by about 35ms in all picture modes. This is a fairly standard number for an LCD TV, but it's unusually good for an LED-based screen based on what we've seen lately. For whatever reason, many 2009 LED sidelit displays feature large amounts of input lag (the worst being around 100ms!), which meant they were not the best displays to play video games on. On the other hand, 35ms is a figure that's completely in line with most traditional LCD TVs — in fact, it's faster than a few of them.
This means that video games will feel slightly unresponsive (if you have a non-lagging reference), but 35ms is still on the better side of acceptability.
Conclusion
Concluding reviews of LED sidelit LCD displays is somewhat difficult, because above all, they are an effort in improving aesthetics first, and picture quality second (if at all). Whilst the buying public appears to be enthusiastic about the novelty of ultra-slim displays, when placed in the corner of a room, their aesthetic benefits are unlikely to be too visible.
Of course, looks (and their value) are in the eye of the beholder. With the TX-L42D25, Panasonic has succeeded in producing an LED LCD TV which retains most of the strengths of the company's traditional LCD TVs. In comparison to the S20 LCD series which we reviewed nearer the start of the month, the ultra-slim Panasonic TX-L42D25 has marginally more accurate colour (after calibration), very slightly inferior Greyscale tracking, and higher quality deinterlacing of SD video material.
Given that other LED side-lit products have exhibited severe screen uniformity issues, something which the Panasonic TX-L42D25 is free of, this makes it a strong contender in this category. Of course, buyers should remember that they are paying extra money for style over performance when compared to traditional LCDs. For readers already sold on a slim display, Panasonic's offering has the least issues we've seen on an edge-backlit LED LCD television to date.