Panasonic's assault on the LED TV market continues with the TX-L42DT65B – the 42in model within the Viera DT65 series – that we're reviewing today. In case you're wondering, the UK-exclusive DT65 shares nearly identical specifications with the DT60 which the rest of Europe gets: the change in numerical suffix apparently reflects not only the set's premium status, but also restricted availability through authorised dealers.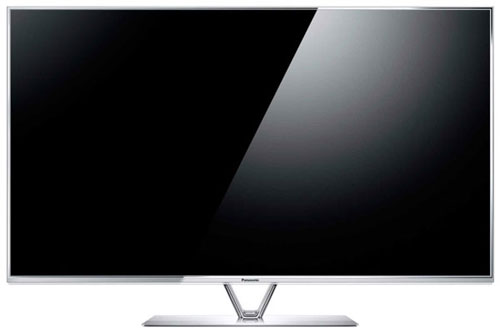 Within the Japanese TV manufacturer's ever-expanding lineup of LED-lit LCD televisions, the Panasonic DT65 sits merely one rung below the flagship WT65/WT60 series. Besides this 42-inch version, three other screen sizes are available, namely the 47-inch Panasonic TX-L47DT65B, the 55-inch TX-L55DT65B, and the 60-inch TX-L60DT65B. This review will deal with the baby of the bunch (and probably the most popular, given the smallish average British home size), then.
Of course, there's a significant change in display technology (and by extrapolation, the underlying LCD panel) between this year's and last year's Viera DT series. Because of a decision by Panasonic to adopt passive 3D across its entire 2013 LED LCD range, the TX-L42DT65 is equipped with FPR (film-type patterned retarder) polarized 3D LCD technology provided by LG Display, instead of the active-shutter glasses (ASG) system found on last year's DT50. With this in mind, let's see what the TV is capable of!
Design
Upon unboxing the TXL42DT65 and inspecting the accessories, we can't help but feel that silver is the order of the day – the designers at Panasonic HQ must have received a memo declaring this to be the new black. First, the slim bezel is beautifully chiselled and finished in gleaming silver, which may appear a touch reflective in a brightly-lit viewing environment. This is matched by the highly polished V-shaped, swivel-capable stem that supports the television on a brushed metallic – yes, you've guessed it – silver rectangular base.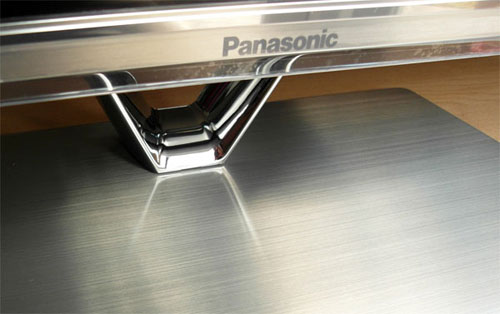 Even the two supplied remote controls are silver affairs. The first is a traditional one that sports large legible keys and can be backlit; while a secondary touchpad controller – featuring an inbuilt microphone and an innovative "trigger finger" button – aims to complement the impressive array of Smart TV functionalities including voice control on the Viera DT65.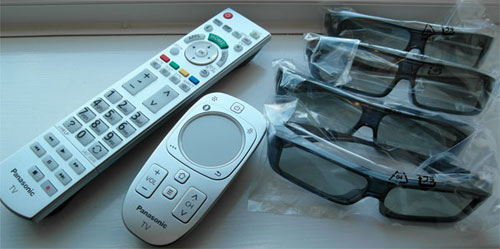 The TXL42DT65B ships with 4 pairs of polarized 3D glasses, which is double the number of active-shutter eyewear included with this year's Samsung 3DTVs, and Panasonic's own active 3D plasmas.
Calibration
To get an idea of how accurate the Panasonic 42DT65 can be out of the box, we switched [Viewing Mode] from the default of "Normal" to "True Cinema", and measured away.
Greyscale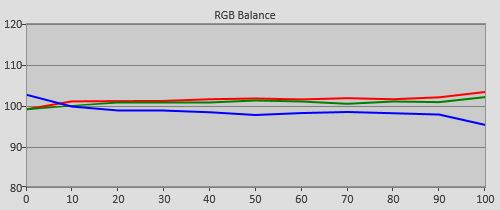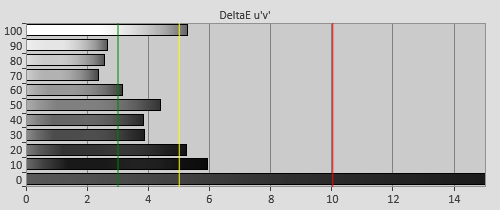 Pre-calibration RGB tracking and delta errors (dEs)
The TV didn't fare too badly here, although blue channel was underfilled, causing on-screen images to appear a touch too warm. A quick trip to the [White Balance] submenu (which houses the 2-point WB controls) sorted this out – we didn't even need to do much tweaking to the 10-point controls (accessible via the [More Detailed Adjustment] option) to obtain what we would say is an excellent result: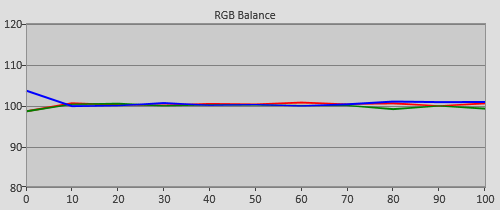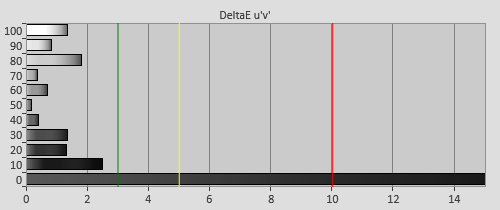 Post-calibration RGB tracking and dEs in [Professional1] mode
Delta errors (dEs) were suppressed to below 3 (widely considered to be the human perceptible limit), ensuring that greys remained tint-free which, believe it or not, is a key element for accurate colour reproduction. Near-black areas – transmissive display technologies like LED LCDs cannot render true blacks on a per-pixel basis – took on a purplish shade, which is a common trait of IPS (in-plane switching) panels.
Gamma
Perhaps to draw attention away from the not-so-deep black level (a known weakness of IPS LCD panels), Panasonic's engineers seemed to have tweaked the default gamma on the Viera TX-L42DT65B such that brighter portions of the video appeared darker than they should be. This creates a punchier image, but can look slightly unnatural due to uneven tonal transition.
| | |
| --- | --- |
| | |
| Pre-calibration gamma tracking (avg 2.45) | Post-calibration gamma tracking (avg 2.25) |
Greyscale calibration improved (but did not completely eradicate) the issue. Since the DT65's black level measured above 0.1 cd/m2, we lowered our target gamma from the 2.4 we usually aim for (this is the reference stipulated by ITU for flat-screen HD studio monitors used in a dark room, but then their blacks are quite a bit better than 0.1cd/m2!) to 2.2, so that shadow detail was not crushed. In case you're wondering why we didn't take advantage of the 10p gamma controls on offer to flatten the tracking, that's because we noticed sporadic posterization in real-world viewing with their use.
Colour
We found red to be undersaturated on our Panasonic TX-L42DT65 review sample, not only at 100% saturation point, but also at 25%, 50% and 75% points which CalMAN 5 now lets us track. Blue also suffered from a similar problem at sub-100% saturation points.
Pre-calibration CIE chart including saturation tracking
[Colour Management] to the rescue. Panasonic's HSL-based (hue, saturation, luminance) CMS (colour management system) is effective, but there's a fair bit of interaction between the parameters (for example, adjusting luminance will affect saturation to a degree, and vice versa) so care must be exercised. As per our current workflow, we prioritised getting colour luminance/brightness/intensity spot-on to wipe out any decoding error (not that there was much in the first place):
Post-calibration colour luminance (coloured bars=targets; black bars=measured values)
… and then gently used the [R-Saturation] and [B-Saturation] sliders to minimise red and blue inaccuracies respectively across the 25%, 50%, 75% and 100% saturation tracking points, while also using other controls to touch up the secondary colours. Trying to correct the slightly deviated RGB hues at 100% saturation would unfortunately also skew the sub-100% colour points, so we decided to leave them be since these hue errors were undetectable in real-life content.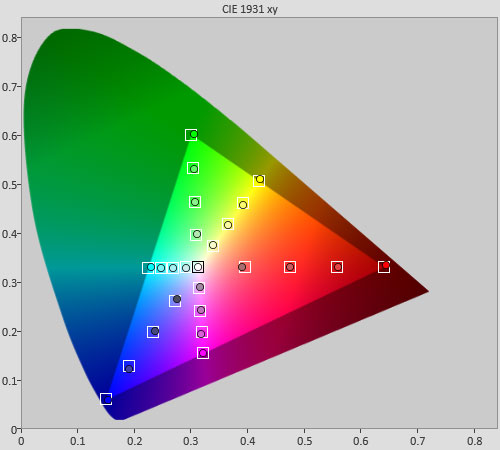 Post-calibration colour saturation tracking
Benchmark Test Results
| | |
| --- | --- |
| Dead pixels | None |
| Screen uniformity | Mild "dirty screen" effect |
| Overscanning on HDMI | 0% with [16:9 Overscan] set to "Off" |
| Blacker than black | Passed |
| Calibrated black level (black screen) | 0 cd/m2 (LEDs shut off) |
| Calibrated black level (ANSI checkerboard) | 0.156 cd/m2 |
| Black level retention | Auto-dimming with full black screen |
| Primary chromaticity | Very good |
| Scaling | Excellent |
| Video mode deinterlacing | Effective jaggies reduction |
| Film mode deinterlacing | Passed 2:2/576i & 3:2/480i with [Film Cadence Mode] on |
| Viewing angle | Very good for an LCD; washout occurs after 60° off-axis |
| Motion resolution | 900-1080 with [Intelligent Frame Creation] on; 300 off |
| Digital noise reduction | Defeatable |
| Sharpness | Defeatable edge enhancement |
| Luma/Chroma bandwidth (2D Blu-ray) | Full luma; full chroma with [1080p Pixel Direct] engaged |
| 1080p/24 capability | No judder in 2D or 3D |
| Input lag (high-speed camera) | 33ms compared to CRT TV |
| Leo Bodnar input lag tester | 36ms with [Game Mode] engaged |
| Full 4:4:4 reproduction (PC) | Yes, with [1080p Pixel Direct] engaged |
Power Consumption
| | |
| --- | --- |
| Default [Normal] mode | 49 watts |
| Calibrated [Professional1] mode | 38 watts |
| Standby | <1 watt |
Picture Quality
If you're familiar with the different characteristics of various types of LCD panel technology, then you'll know what to expect with the Panasonic TXL42DT65B which uses an IPS panel. Bearing that in mind, first let's talk about this television's Achilles' heel: at 0.156 cd/m2, its native black level was relatively bright compared to VA-based LCD displays (such as Samsung's Series 7 and Series 8 LED TVs, or Panasonic's own 42E6 model), let alone plasma TVs from these two companies that are capable of supremely deep blacks.
To be fair, the mist of greyness that pervades where it should be black was only apparent when watching predominantly dark scenes in a dimly-lit viewing environment. The presence of moderate-strong ambient light (i.e. during daytime) or some bright elements on screen went a long way towards deflecting from the less-than-impressive black-level response – we actually found the TX-L42DT65 very watchable under such conditions.
With that out of the way, it's mostly good news when it comes to the Panasonic DT65's picture performance. The Japanese TV manufacturer has developed a reputation for delivering high-quality video processing, while knowing when to hold back on any tinkering urge, so that already pristine HD detail can shine through unblemished. That's exactly what we got on the Viera TX-L42DT65B, with first-rate standard-definition handling (the set even passed our Bridget Jones: The Edge Of Reason PAL DVD torture test with flying colours) and judder-free 1080p/24 Blu-ray playback among the virtues that brought a smile to our face. Of course, a lot of credit needs to go to Panasonic's generous provision of useful calibration controls, which helped us achieve highly accurate greyscale and colours on the TXL42DT65.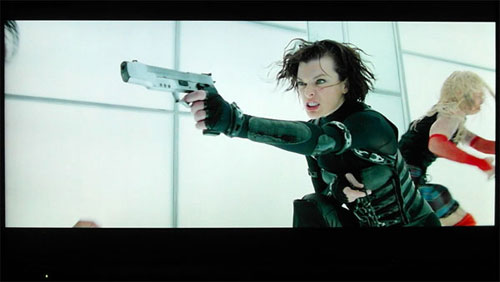 As with most edge LED televisions, a mild "dirty screen" effect (most noticeable during panning shots) was unavoidable due to the way LEDs mounted along the borders are required to illuminate the whole screen with the aid of light guidance plates. Motion quality was clean (another strength of IPS technology) without any sign of low-tone motion smearing that can afflict VA panels. Engaging [Intelligent Frame Creation] would bump motion resolution from the baseline LCD level of 300 to in excess of 900 lines – we certainly advise setting it to "Min" for video-based content to boost the clarity of moving objects. In the past we've found Panasonic's motion-compensated frame interpolation (MCFI) technology to exhibit less glitches than similar systems implemented by rival TV brands, and our 42-inch DT65 sample remained true to this trend.
IPS panels are revered too for their wide viewing angles (at least within the LCD circle), a trait that was immediately apparent on the Panasonic TXL42DT65B. Colours held on to their saturation as far as 60° off-axis before any significant washout occurred, although blacks – which were not great to begin with – became brighter earlier than that. Either way, this is a notch better than LED TVs that use VA-type LCD panel.
Since the L42DT65B uses an FPR polarized 3D LCD panel sourced from LG Display, we already knew what we're getting in the third dimension based on our experience with previous 3DTVs featuring the same technology: bright extra-dimensional images that are free of flicker, low on crosstalk, and deliver bags of depth. All three frame rates (50hz, 60hz, 24Hz) were handled impeccably without judder in 3-D mode – another testament to Panasonic's video processing prowess.
Our sensitive eyes could pick up dark horizontal scan lines through the passive 3D glasses – an inevitable side effect of the polarized filter/lens – from as far as 6 feet away. Obviously sitting farther away from the screen can make the scanlines/ lessened vertical resolution dissolve away, but then so would the tri-dimensional detail and immersiveness.
Another thing to note with passive 3D televisions including the Panasonic DT65 is that the vertical viewing angle is fairly limited – watching the screen from anything more than 15° above eye level would result in an intolerable amount of ghosting/ double images. This is of particular importance for owners who wish to enjoy three-dimensional content on their wall-mounted TX-L42DT65 – make sure the TV is installed at eye level.
Conclusion
Panasonic has worked its magic on the TX-L42DT65B to make the best of an IPS LCD panel whose strengths (wide viewing angles, no motion smearing) and weakness (less-than-impressive blacks) are common knowledge. Video processing for standard definition and 3D content is excellent, and the Viera DT65 – like most of the company's non-entry-level HDTVs this year – can be calibrated to within an inch of its life, owing to their engineers' deep understanding of what constitutes an accurate image, coupled with the inclusion of a comprehensive array of advanced calibration controls.
The TX-L42DT65 is really only let down – as all IPS panels do – by its black-level response, which makes it more suitable as a bright-room television than for critical viewing in a dimly-lit viewing environment. Had Panasonic paired its TV-making know-how with an LCD panel capable of producing deeper blacks (such as the VA one used on the TX-L42E6B), the result might have been spectacular, although the company would probably have to reverse its stance of "only passive 3D on LED TVs". Perhaps next year?
As things stand, the TXL42DT65B's stylish design, accurate images, easy-on-the-eye 3D and excellent Smart TV platform earn it a spot in the "Recommended" category, even though those who are seeking the best value for money are better served by the ET60 series which delivers essentially similar picture quality at a lower price.