It was only two weeks ago that Panasonic Europe invited journalists from across this continent to France to show off their 2013 range of Plasma and LED LCD TVs; now review units are already beginning to trickle out. The first to show up at HDTVTest is the company's's midrange Viera LED LCD TV, the 47-inch TX-L47ET60B (also available in 42, 50 and 55″ screen sizes).
Some time ago, Panasonic produced Plasma TVs exclusively, although following industry trends which prioritise other factors above overall picture quality, the Japanese brand now produces a much wider range of LED-lit televisions, too. Of course, when we consider the viewing environment, there are situations where LED LCD is the best choice: Panasonic's own recommendation is to go for LED TV for very bright rooms and Plasma for dark environments, which we completely agree with.
The ET60 series sits roughly in the middle of Panasonic's 2013 LCD output, and is the company's most affordable 3D-capable edge-lit LED LCD television this year. Picture quality differences between the ET60 and the higher-up models (namely the FT60, DT60 DT65, and at the top end of LED LCD lineup, WT60 WT65) don't appear to be gigantic, going from the spec sheets alone (although we'll withhold judgement until we see those too). Higher-priced models are rated as having a higher motion rate, and the LCD flagship WT60 WT65 is branded as having "Infinite Contrast" (hmm, infinite? We'll see!) whereas the lower-down models, including this ET60, is rated as having "Brilliant Contrast". There are some differences in off-axis viewing angle performance expected, too.
Update: Panasonic advised us that the DT60 and the WT60 series will be called DT65 and WT65 in the UK to reflect their premium status and availability only through a number of approved dealers. Ditto goes for the Panasonic VT60 and ZT60 plasmas which will be known as the VT65 and ZT65 respectively in the United Kingdom.
All of Panasonic's 2013 LED TVs deliver tri-dimensional images via passive 3D technology (meaning ultra-cheap, plentiful 3-D glasses, but lessened 3D picture resolution), which further differentiates the LED LCD and plasma categories. Finally, the Panasonic TX-L47ET60 does not feature the firm's new "Hexa-Processing Engine", instead using the older V-Real 3D Pro chipset, and doesn't feature a built-in camera or twin HD tuners. It does feature Panasonic's new "My Home Screen" smart TV layout though, which we'll touch on in the review.
We expect that the price is going to come in at slightly above the £1000 mark, meaning that as usual, there will be a fairly high amount of cash attached to the premium design. Let's see if Panasonic can produce a nice LED LCD HDTV for users with bright environments.
Note: The specific model we reviewed was the Panasonic TX-L47ET60B, which denotes the 3-pin-plug British version. Although we did not test the smaller, 42-inch TX-L42ET60B/ TX-L42ET60, there shouldn't be any significant difference in picture performance given similar specifications within the ET60 range.
Design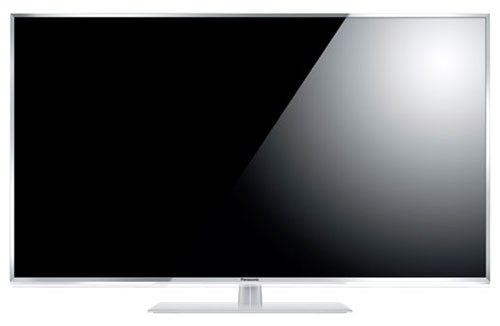 Looking at Panasonic's LED LCD (and plasma) designs over the past few years has been interesting. In just a few years, the company has gone from producing industrial-looking consumer products to turning out some truly sleek flat-screen TVs. We prefer to comment on what's on the screen rather than what's around it, but would never say no to sleeker designs, which is certainly what Panasonic is producing. The entire LED TV lineup for 2013 follows a "glass and metal" design philosophy. For the Viera ET60 series, that means a very thin, sharp-cornered metal bezel, a silver stand, and our favourite design feature, a transparent "glass"-like strip at the bottom of the screen, which houses three indicator LEDs, which appear to "float" in mid-air.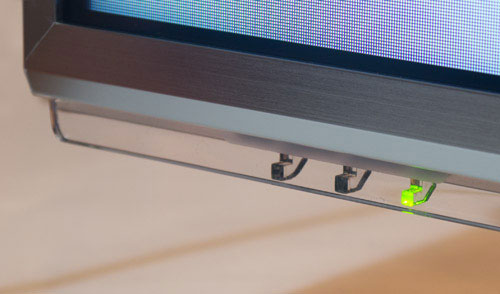 It looks very sleek indeed, and sleek in its own right, rather than as an imitation of what the Korean manufacturers (who were ahead in the style game) are doing. In terms of producing solid-feeling products, Panasonic is probably in the top spot. The entire unit feels built to last; no parts of it flex or bend.
Connections
3 HDMI inputs
2 USB terminals
1 shared Component/Composite input
1 RGB SCART input (via adapter)
RF antenna input
Ethernet terminal (wireless also built in)
Digital audio output
Headphone output
SD Card slot
Operation
There are a good number of operational changes on the 2013 Panasonic HDTVs. The most obvious one is the addition of "My Home Screen". There's also a decent amount of new video processing controls for us to decipher the purpose of.
My Home screen is the first thing seen upon power up, and is clearly inspired by the smartphone world. You can pin various apps to the predefined positions on the home screen, and indeed, watching television is positioned simply as another app, competing for your attention (and screen space) alongside the likes of Skype, Netflix, and BBC iPlayer.
If you just want the TX-L47ET60 to behave more like a traditional TV, you can also have it start up to show full-screen TV, too: My Home Screen can even be totally ignored if you so choose.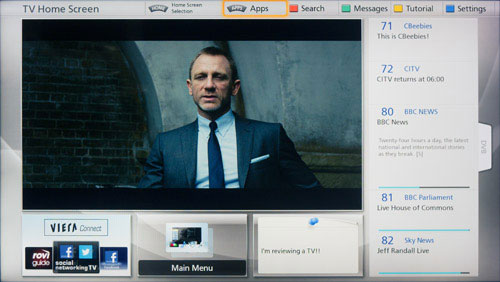 My Home Screen
My Home Screen is an addition, not a replacement, for the traditional main menu that houses the picture quality settings. You can still press MENU on the remote, as always, to adjust these. As we mentioned, the TXL47ET60B doesn't feature Panasonic's latest "hexa-core" video processor, but there are still some changes and new menu options. In fact, some of the controls present here are reminiscent of those on the American Panasonic TVs (which featured completely different menus, and appeared to have less of an emphasis on simplification), making us wonder if there's been some sort of internal unification effort.
The top-level picture adjustment, [Viewing Mode], gives us the option of "True Cinema" (which has been present for a few years on midrange European-territory Panasonic HDTVs, and is their "hands off" accurate picture mode), as well as the new "Custom", previously only seen stateside. "True Cinema" is still the mode to use for accurate video with minimal effort, although "Custom" can be set up to do the same job, albeit with a few more button presses.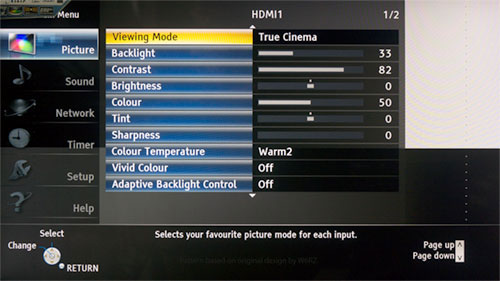 [Picture] menu
By the way, as you can see, the UK-variant model now has numbers in the menus. Other European countries have had this for a while; UK models, for some reason, did not.
Starting down the list, we also now have separate [Backlight] and [Contrast] controls. Both of these affect light output from the screen, but in different ways (Backlight directly controls the luminance of the LED lights which illuminate the LCD panel, Contrast controls the digital white level). Previously, these were tied together into one control. The rest of the options operate as expected. We now also have an on/off switch for [Adaptive Backlight Control], which was previously unavailable in the accurate "True Cinema" mode. There's an [Ambient Sensor] which adjusts the screen light output relative to the viewing environment (previously known as [C.A.T.S.]).
The [Adaptive Backlight Control] varies the intensity of the edge LED lighting relative to the video being shown on the LCD panel (predominantly dark scenes result in the lights being dimmed, at the expense of bright objects in these scenes appearing less white – this is an LCD TV so can't do both at full intensity together at once). Based on our visual observation, the "Min" setting appears to dim the LEDs only, whereas the "Max" setting dims the LEDs even more, but also applies contrast stretching in the video processor to try to keep the whites as bright as possible. With the "Max" setting, highlight details can be crushed out as a result, if they are present in a predominantly dark scene. As purists you might think that we would leave this Off entirely, but in reality, we'd advise that users do check out the "Min" setting – after all, contrast is an important part of picture quality, and IPS LCD panels do need help in displaying deep blacks… even if it is at the expense of other areas of picture quality. The choice is up to the user.
[24p Smooth Film], or [Intelligent Frame Creation] (the name changes depending on the input frame rate) is a motion interpolation system, which we'll talk about later.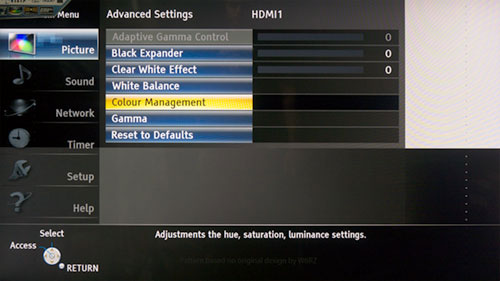 Advanced picture settings
From here, we have even more new picture adjustments scattered across several menus. In addition to 10-point White Balance, 10-point Gamma, and 3-axis control over the Red, Green and Blue colours, we have an [Adaptive Gamma Control] (which is best thought of as a variation on the "dynamic contrast" technique), a [Black Expander] which sounds like an adjustment for low-end gamma (shadowed areas), and also [Clear White Effect], which applies a blue tint to bright areas of the picture; apparently this is psychovisually associated with the whites being "clearer".
The [Option Settings] screen has a toggle for the [Game Mode] (which was previously a separate picture mode), [Film Cadence Mode] (previously called "Clear Cinema" on UK models, we'll discuss it later), and [1080p Pixel Direct] (we'll discuss that later too). The confusing [HDMI Content Type], also first seen on the USA Panasonic HDTVs, is now in Europe as well. There's also a control for [HDMI RGB Range], which can be helpful for getting the correct picture setup for users connecting computers to their TVs.
Lastly, there's another new menu, [Screen Settings], which houses the option for [16:9 Overscan], and also features the strange [H-Size], which allows you to horizontally stretch the picture.