The Panasonic TX-P42G10 is the first plasma television available to buy in the United Kingdom featuring their NeoPDP plasma panel which doubles the luminous efficiency of every plasma cells. To put it another way, the Panasonic TX-P42G10 plasma HDTV is able to display the same level of brightness while consuming only half the amount of energy when compared to its non-NeoPDP predecessors. It also means that the Panasonic TX-P42G10 should have no problem reaching the eye-torching levels of brightness that LCD TVs are capable of (if that is what you're after).

Further bolstered by an integrated Freesat tuner and 600Hz Sub-field Drive Intelligent Frame Creation Pro, let's see how the Panasonic TX-P42G10's picture quality measures up against some of the highly recommended flat screen HDTVs we've reviewed in 2009.
Note: The specific plasma model we tested was the Panasonic TX-P42G10B… the character "B" appended to the end of the model number denotes the 3-pin-plug British version available for sale in the UK.
Update 27 February 2010: This model has now been replaced by the Panasonic TX-P42G20B in their new 2010 line-up of NeoPDP plasma televisions.
Panasonic TX-P42G10 Design
The Panasonic TX-P42G10 plasma TV does not sport the slim chassis design which is understandably reserved for their more expensive lines (such as the G15 series), but it is not bulky by any means, thanks to the thinness of the glossy black bezel framing the plasma screen. Just like the recently reviewed Panasonic TX-L32G10 LCD television, the Panasonic TX-P42G10 HDTV bears a biconvex silver accent separating its logo from its curved bottom, and comes with a shiny oval-shaped pedestal stand that does not swivel.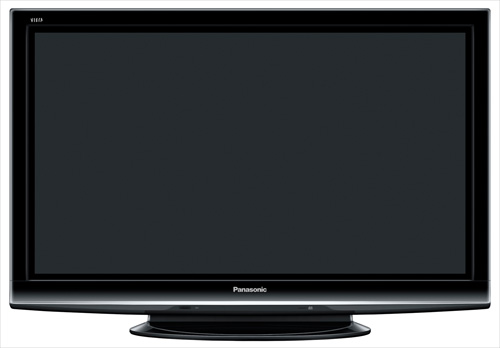 An inspection around the back of the plasma panel reveals high build quality, two cooling fans that produce a mild whirring background noise (which should be adequately masked by normal TV volume at normal sitting distance), but no recessed handgrips (found on previous Panasonic plasmas). The TX-P42G10's internal speakers can churn out surprisingly loud volume and meaty bass without distortion, but falls somewhat short predictably in the area of audio resolution and stereo imaging due to their hidden, down-firing position.
TX-P42G10 Connections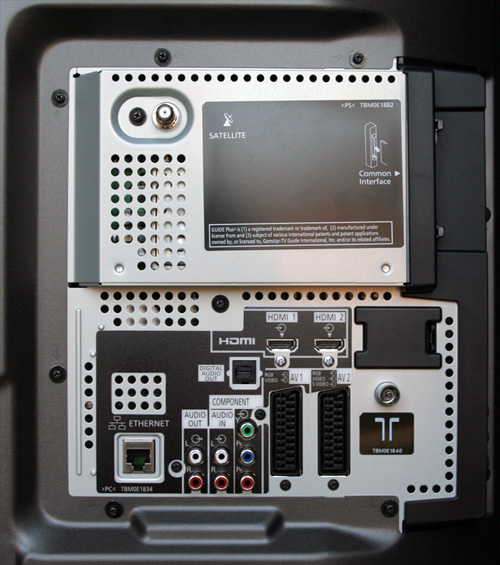 Rear: 2 x HDMI, component, 2 x Scarts, ethernet, aerial, Freesat, CI slot, audio outs
| | |
| --- | --- |
| | |
| Side: SD card, HDMI, VGA, S-video, comp, headphone | Control buttons (F=function) |
TX-P42G10 Remote Control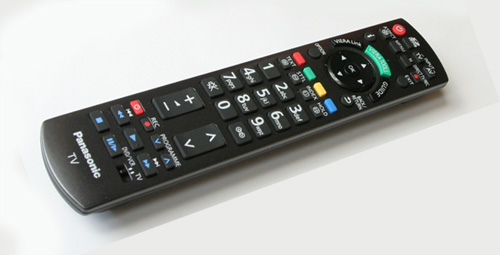 The infrared remote control bundled with the Panasonic TX-P42G10 features large and clearly labelled buttons which return delightful tactile feedback. However, two buttons granting direct access to Panasonic's Viera Link and Viera Tools have been given unnecessary prominence in the arc above the navigation pad, therefore relegating the much more frequently used [Menu] button to an easily overlooked spot near the top of the remote. The [Menu] button also sits perilously close to the [N] button – press this accidentally, and all your picture and sound settings will be instantly "normalised" (without asking for further confirmation) to the default levels within the current viewing mode.
TX-P42G10 Calibration
Greyscale
Unlike the corresponding European version TX-P42G10E, the UK variant (TX-P42G10B) lacks white balance controls in its user menu, so unless you are brave (and knowledgeable) enough to break into the service menu (which theoretically voids your warranty instantly), you'll have to make do with one of the three [Colour Balance] presets for greyscale adjustment. [Colour Balance] "Warm" in the "Standard" [Viewing Mode] (we'll explain why this is a viable alternative to "Cinema" in a later paragraph) yielded the greyscale closest to D65 video standard:

CCT of [Colour Balance] "Warm" in [Standard] mode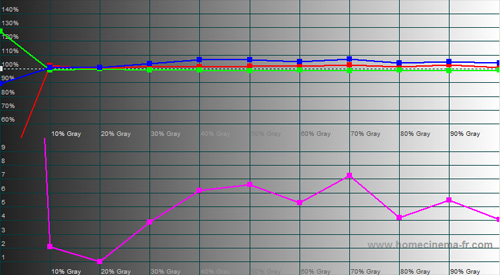 RGB tracking and delta errors (dEs) with [Colour Balance] "Warm"
There remained a touch too much blue in the greyscale, though casual users usually won't notice this subtle degree of deviation in day-to-day viewing.
Colour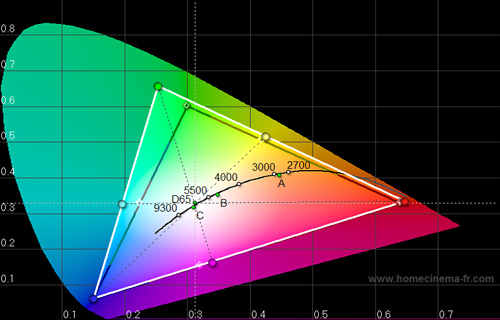 Panasonic TX-P42G10 CIE chart with reference to HD Rec. 709
Like all Panasonic's low-end and mid-range plasma TVs we have tested in the past, the Panasonic TX-P42G10 HDTV exhibited an oversaturated green primary colour point that was tilted towards blue. Magenta secondary colour point was slightly off, and there was a mild red push (a colour decoding error which cannot be inferred from the CIE diagram alone). Toning [Colour] down could attenuate this red push, but because the [Colour] control affects all colours globally, the final picture would look unhealthily desaturated.
Benchmark Test Results
| | |
| --- | --- |
| Dead pixels | None |
| Screen uniformity | Perfect |
| Overscanning on HDMI | 0% with [Picture Overscan] set to "Off" |
| Blacker than black | Passed |
| Black level | Deepest yet from a Panasonic plasma |
| Black level retention | Stable in [Cinema] mode |
| Primary chromaticity | Average; green oversaturated and tilted towards blue |
| Scaling | Very good for progressive video signals (576p) |
| Video mode deinterlacing | Very effective jaggies reduction |
| Film mode deinterlacing | Failed 3:2/ 2:2 cadences in all resolutions |
| Viewing angle | Excellent (> 150°) |
| Motion resolution | 1080 |
| Digital noise reduction | Less PWM noise than Pioneer Kuros |
| Sharpness | Defeatable edge enhancement |
| Image retention | Virtually none |
| Posterization | Mild, though worse with poor source |
| Phosphor trails | Yes; severity depends on individual susceptibility |
| 1080p/24 capability (PS3) | Accepts 1080p/24 video signal; no telecine judder |
| Input lag (rel. to Samsung F96) | Up to 21ms faster with [Game Mode] engaged |
Power Consumption
| | |
| --- | --- |
| Default [Standard] mode | 181 watts* |
| Calibrated [Standard] mode | 235 watts |
| Standby | 1 watt |
* The default factory settings in "Standard" [Viewing Mode] was unusually dim: luminance output measured at only 64 cd/m2 on a 100% stimulus windowed pattern. This is the reason why the power consumption of our Panasonic TX-P42G10 review sample was lower out-of-the-box than that after calibration.
TX-P42G10 Picture Performance
Black Level
We measured the calibrated black level on our Panasonic TX-P42G10 review unit to be 0.03 cd/m2, which puts it on par with the Pioneer PDP-4280XD 8G Kuro plasma, but still some way off the 0.0031 cd/m2 record currently held by the Pioneer PDP-LX5090 9G Kuro plasma TV. While this may sound like a lot of difference, when there's full-screen content the black-level advantage of the Pioneer PDP-LX5090 over the Panasonic TX-P42G10 will appear subtle rather than obvious in a subjective side-by-side comparison.
The Panasonic TX-P42G10 plasma television suffered from fluctuating black levels in all picture [Viewing Mode] except "Cinema", although to be fair this was extremely slight and practically unnoticeable in real-world viewing.
Standard Definition
The Panasonic TX-P42G10 plasma TV does not deal with standard-def interlaced video signal (576i) very well at all, which is a shame because that's how Freeview and Freesat SD broadcast signals are received by the television. Even though its video processing circuit cleaned up moving jagged edges very effectively (judging by the rotating wheel, bouncing bars and waving flag patterns in the HQV test disc), the TX-P42G10 fared poorly in the area of film-mode deinterlacing. It completely failed to detect and process 3:2 and (more pertinently for UK users) 2:2 cadences over 480i and 576i respectively, causing deinterlacing artefacts like moire and line twitter to rear their ugly heads in film-based material such as movies and American dramas.
Moreover, the Panasonic TX-P42G10 appeared to lose some resolution when converting 576i to 576p before upscaling the video signal to fit on its 1920 x 1080 panel. Check out the following screenshots of the SMPTE RP 133 test pattern when the TX-P42G10 was asked to:
Deinterlace and scale (the TV was fed a 576i signal over HDMI);
Scale only (the TV was fed a 576p signal over HDMI);
Compete against the Sony PS3 (the TV was fed a 1080p signal from a PS3 doing the upscaling).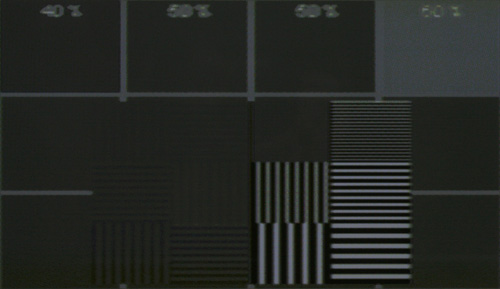 Photo 1: 576i over HDMI from a Toshiba HD-E1 HD DVD player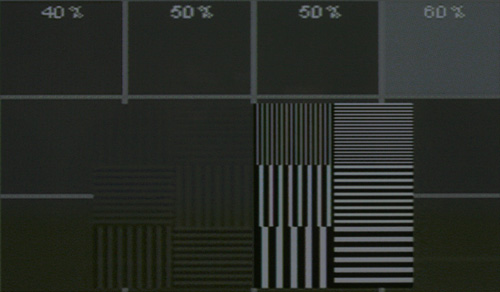 Photo 2: 576p over HDMI from a Toshiba HD-E1 HD DVD player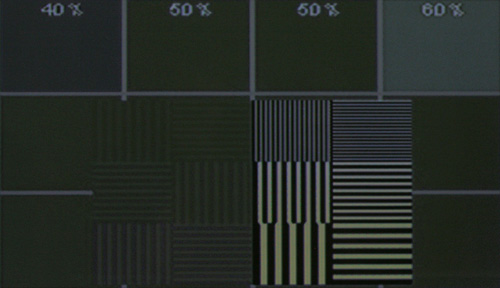 Photo 3: 1080p over HDMI from a Sony PS3 with [DVD Upscaler] set to "Normal"
Notice how the finest vertical lines were blended into a grey field in Photo 1, not to mention the blurriness of the characters. The fact that the TX-P42G10 scaled the 576p image in Photo 2 so cleanly and crisply without excessive ringing – dare we say matching even the Sony PS3 – suggests that the loss of picture resolution and detail occurred during 576i to 576p conversion.
Here's the bottom line: you should always try to send a progressive video signal (i.e. let your DVD player/ set-top box/ external video processor perform the deinterlacing) to the Panasonic TX-P42G10 plasma television if you wish to obtain the best standard definition picture quality possible.
But what if you have no choice but to watch 576i programmes, such as those from the inbuilt Freeview and Freesat tuners? All is not lost, for the Panasonic TX-P42G10's inky blacks, natural colours and excellent motion clarity are more than adequate to enthrall you and draw your attention away from its deficiencies. To combat the softness of SD images, you can either sprinkle in a dash of measured edge enhancement via the [Sharpness] control, or simply sit farther away from the screen (which renders any video processing/ compression artefacts less visible as well).
High Definition
Thanks to the integrated Freesat tuner on the Panasonic TX-P42G10 plasma HDTV, we feasted our eyes on a host of HD sports broadcasts.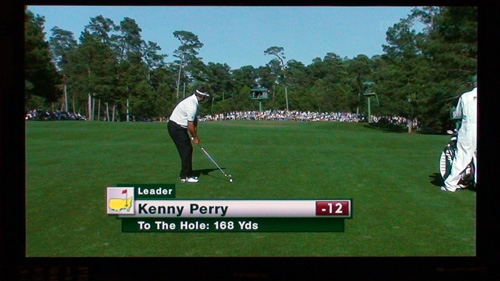 The sharp detail and lush colours delivered by the TX-P42G10 made the nail-biting final day of the Masters Golf Tournament 2009 a joy to watch on BBC HD. Because of the marginally plus-blue greyscale and the green primary colour point which was deviated towards blue, the greens in the sun-drenched golf course did appear a tad bluish, but this should irk only the most demanding of videophiles.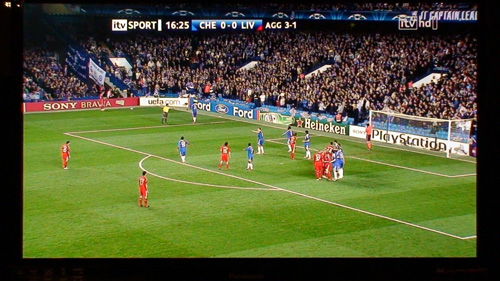 We also managed to catch the roller-coaster goal fest in the UEFA Champions League quarter-final second-leg match between Chelsea and Liverpool on ITV HD. Even without [Intelligent Frame Creation] engaged, motion clarity on the Panasonic TX-P42G10 was typically superb. Activating [Intelligent Frame Creation] did not really bring about any further subjective improvement in motion resolution, but did cause the ball to "shimmer" when flying past the crowd though this was nowhere near as conspicuous or offensive as the notorious "triple-ball" tearing artefact witnessed on older Samsung flat screen HDTVs.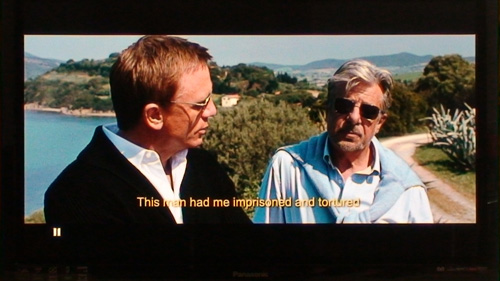 In "Cinema" [Viewing Mode], overall gamma was 1.95 after calibration. Image contrast took a small hit as a result: most scenes in Quantum of Solace on Blu-ray looked a bit washed out, and did not achieve the degree of "pop" seen on HDTV displays boasting 2.2 gamma such as the Pioneer PDP-LX5090 plasma, and the Sony KDL40W5500 and the Samsung LE40B650 LCD televisions. Some viewers may appreciate the (sometimes excessively) revealing shadow detail though, for example during the interrogation and foot chase sequences in the Siena cisterns, and also in the sinkhole where Bond (Daniel Craig) and Camille (Olga Kurylenko) had landed after parachuting from their crashing plane.
User-accessible gamma control – stripped from the British TX-P42G10B but included with the European equivalent TX-P42G10E – would have been extremely helpful in this instance. In the end we had to resort to the "Standard" [Viewing Mode] which provided a punchier balance between bright and dark scenes, and a more realistic rise from blacks into lighter shadows. While this entailed some subtle black level fluctuation and just a hair more PWM noise (both barely noticeable in real-life material from more than 4 feet away), the resultant image exuded more depth and dimensionality worthy of the set's inky blacks and wide dynamic range.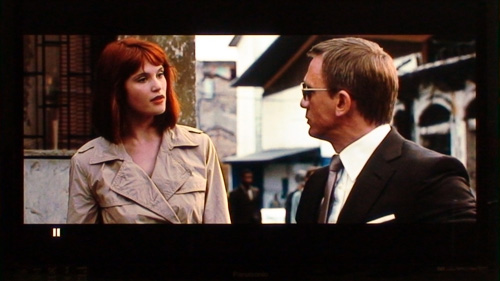 The Panasonic TX-P42G10 HDTV handled 1080p/24 video signal from the Sony PS3 fluidly without any sign of telecine judder. Engaging [Intelligent Frame Creation] did not introduce the dreaded video-like effect nor any significant interpolation artefacts, but because we did not observe any convincing improvement in motion resolution either, we decided to leave it off.
Console Gaming
If you're not one of the few unfortunate viewers with high retinal persistence who are extremely susceptible to phosphor trails on plasma televisions, high-definition gaming on the Panasonic TX-P42G10 will be a blast thanks to its punchy contrast, vibrant colours, lucid detail, and almost non-existent input lag.
Objective measurements placed input lag with [Game Mode] activated at up to 21ms faster than our resident Samsung F96 LED-backlit LCD TV. Even if [Game Mode] was not engaged, the TX-P42G10 was on par with the F96 regardless of whether [Intelligent Frame Creation] was on or off.
TX-P42G10 Review Conclusion
Pros
Exceptional black level that rivals that on an entry-level 8G Pioneer Kuro PDP-4280XD
Revealing shadow detail delineation
Fantastic motion clarity even with [Intelligent Frame Creation] disabled
Handles 1080p/24 signals correctly without telecine judder
Very effective video-based jaggies reduction
High quality upscaling of standard-def progressive video signals
Natural-looking colours
Negligible input lag allows for enjoyable gaming response
Virtually no image retention
Integrated Freesat tuner
Wide viewing angle with no drop-off in contrast/ colour up to 150° (but can exhibit the odd "double image"; see Cons)
Perfect screen uniformity
Consumes less power than previous 1080p plasmas
Cons
No white balance and gamma controls available in user menu
Non-existent film mode deinterlacing
Some picture resolution and detail loss with 576i to 576p conversion
Green primary oversaturated and bluish
Mild red push
Settings cannot be saved independently per input (though can be saved separately for each picture mode)
Multilayered plasma glass causes "ghost image" of specific material (e.g. white text on a black background) to be repeated behind the original image, which is noticeable from certain off-axis angles/ distances
Still consumes more power than similarly-specced LCD TVs.
Summary
Pioneer's bottom-line-driven decision to stop developing and manufacturing their critically acclaimed Kuro plasma televisions has left a huge gap in the market for consumer-grade reference quality displays. As Pioneer's business alliance partner during the Kuro's twilight year, and a logical refuge for former Kuro engineers, Panasonic seems best-placed to benefit from Kuro's demise.
Armed with their latest Neo PDP technology, the TX-P42G10 is Panasonic's first attempt at claiming the vacant throne. Although its black performance has improved to the level of an entry-level 8G Pioneer Kuro PDP-4280XD, the TX-P42G10 still trails behind the nearly extinct Kuros in terms of colour accuracy and standard-def video processing.
Nevertheless, if you can forgive Panasonic for omitting white balance and gamma controls from the UK variant, and the set's subpar SD deinterlacing (which can be overcome by letting a competent external device do the job), the TX-P42G10 still represents excellent value-for-money due to its virtues of inky blacks, revealing shadow detail, natural colours, superb motion clarity, negligible input lag, integrated Freesat tuner, wide viewing angles, and reduced power consumption (cf. previous 1080p plasmas).