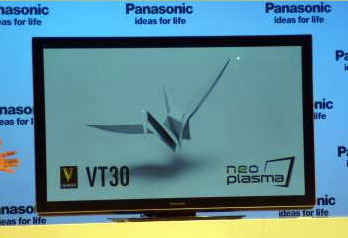 Japanese TV manufacturer Panasonic has launched its 2011 range of Viera HDTV displays at its annual convention held in London today. Sitting at the top of the crop, and boasting 3D THX certification is the company's VT30 series of 3D plasma televisions, which is available in screen sizes of 42, 50, 55 and 65 inches. The Panasonic TX-P42VT30B and TX-P50VT30B are expected to be the most popular models – in its opening presentation a company executive revealed that half of the flat-panel HDTVs it sells in Europe are 42″ and 50″.
| | | |
| --- | --- | --- |
| Screen Size | UK Model Number | European Model Number |
| 42-inch | Panasonic TX-P42VT30 or TX-P42VT30B | Panasonic TX-P42VT30E |
| 50-inch | Panasonic TX-P50VT30 or TX-P50VT30B | Panasonic TX-P50VT30E |
| 55-inch | Panasonic TX-P55VT30 or TX-P55VT30B | Panasonic TX-P55VT30E |
| 65-inch | Panasonic TX-P65VT30 or TX-P65VT30B | Panasonic TX-P65VT30E |
This year, Panasonic's NeoPDP moniker has been replaced by "NeoPlasma", heralding the deployment of newly developed fast-switching phosphors in the company's plasma panels. The Panasonic VT30 NeoPlasma models will feature 600Hz subfield drive Intelligent Frame Creation Pro MCFI (motion-compensated frame interpolation) technology, plus Infinite Black Pro and High Contrast Filter Pro which together deliver deeper blacks and high contrast ratios even in brighter rooms.
There is no sign of the Osaka-headquartered conglomerate shying away from 3D technology anytime soon. The Panasonic VT30 is of course 3D-capable, and is the first flat-screen HDTV range from Panasonic to be both 2D and 3D THX-certified. The company claims that its flagship 3D TV model will offer the most satisfying three-dimensional viewing experience, owing to a combination of minimal crosstalk (made possible by 600Hz motion, fast 0.001ms response time, and the new plasma phosphors) and active-shutter 3D technology (which allows for full HD resolution in 3D mode). Two pairs of active-shutter 3D glasses are included with each VT30 model purchased.
Aesthetically, the Panasonic TX-P42VT30B, TX-P50VT30B, TX-P55VT30B and TX-P65VT30B are no slouches either: all four 3D plasma TV sets boast a super-slim and one-sheet-of-glass design. Other features include the company's new Viera Connect internet-enabled service providing access to interactive online content such as Facebook and Skype, wifi connectivity (each VT30 ships with a USB wireless dongle), and USB-to-HDD as well as SD card recording.
The VT30 is scheduled to hit UK shops in May and June this year, starting with the 42-inch Panasonic TX-P42VT30B. We will provide an update on the prices as soon as we get them from company officials.