Although Panasonic's VT20 series of plasma 3D TV started with only one 50-inch model, the Japanese TV manufacturer has recently been rolling out a wider variety of screen sizes – including the 46-inch TX-P46VT20 we're reviewing today – to flesh out its top-end Plasma range. The Panasonic TX-P46VT20B features the company's latest 3D-capable NeoPDP panel, its best ambient light screen coating for improving contrast performance, and dual HD tuners for receiving satellite and terrestrial broadcasts. (For our readers across continental Europe, the TX-P46VT20E version on sale there can also tune into cable signals, although we haven't tested this variant model).

We've already covered the 42″ and 50″ VT20 models, but there have been some surprising performance differences within the VT20 range that haven't been accounted for on spec sheets, meaning that it's not safe to assume identical performance across all screen sizes. Additionally, graphics card manufacturer Nvidia sent us one of their 3DTV Play kits which allows a back catalogue of Windows games to be enjoyed on a 3D TV such as this one, and we couldn't resist giving this a good look.
Let's see where the Panasonic TX-P46VT20 sits within the VT20 range…
Note: The specific model we tested was the Panasonic TX-P46VT20B, which denotes the 3-pin-plug British version. The same 3D plasma television may be sold by high street stores such as John Lewis, Comet and Currys, or online retailers like Amazon and Dixons as the Panasonic TXP46VT20, TXP46VT20B, TX-P46VT20 or TX-P46VT20B. Throughout this review, these model numbers may also be used interchangeably to refer to the same HDTV.
Design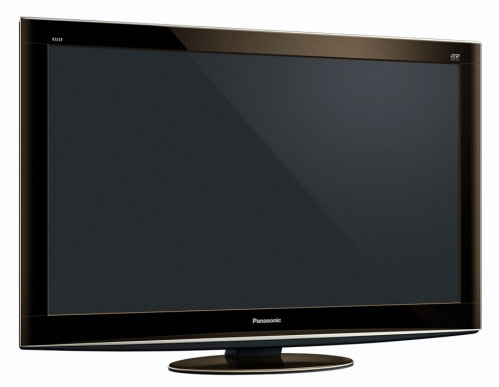 Panasonic's 2010 HDTVs haven't startled anyone with their appearance, and tend to divide people into two camps: those who feel they look dated, and others who don't really care what they look like, so long as they're built to a high enough standard and aren't distracting (count me into the latter category). Both sides would probably agree that the styling is functional rather than aesthetically dazzling. The Panasonic TX-P46VT20B, like the 42″ and 50″ versions, has a prominent, glossy black bezel. Under certain lighting conditions, some owners might spot that the plastic surround is actually slightly brown tinted. This serious looking, no frills plasma display sits solidly on top of its supplied disc-shaped stand.
Connections
No surprises here: as part of the VT20 range, the TX-P46VT20 features 4 HDMI inputs (one of them's on the recessed side panel), 2 SCART terminals, Component video sockets, an analogue RGB input for computer usage (marked "PC"), and hook-ups to the terrestrial ("Freeview") and satellite ("Freesat") tuners. There's an Ethernet port, SD card slot, and USB sockets for use with the TV's multimedia functionality, too.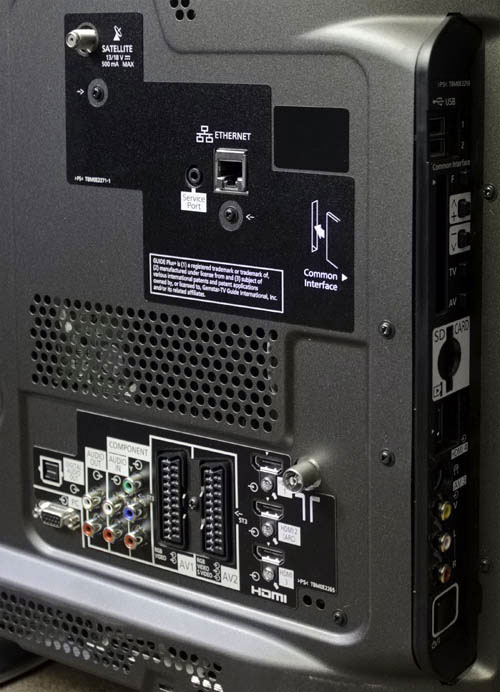 Rear and Side: 4 x HDMI, VGA, component, 2 x Scarts, aerial, Freesat, ethernet, 2 x USB
Operation
Panasonic has been neatly dividing its minimalist menus into three categories for some time now. Pressing the MENU button on the remote reveals the choices of [Picture], [Sound] and [Setup]. A trip into [Setup] allows users to alter [3D Settings] (wouldn't it make more sense to have these in the Picture menu?), satellite/terrestrial tuning options, and Panasonic's [Intelligent Frame Creation], something we find to be largely irrelevant given the Plasma panel's naturally clear motion rendering. Users also have to enable the [advance(isfccc)] option here, in order to unlock the full range of picture calibration controls.
[Picture] menu
With the advanced options unlocked, the [Picture] menu allows the user to select from a variety of picture modes, some of which impose their own aesthetic onto the video. The three modes which aim to show material as intended are [THX], [Professional1], and [Professional2]. The [THX] mode is the result of the THX display certification program, and is aimed at everyday consumers who want high picture quality with minimal fuss. The [Professional] modes are for users who'll be doing more in-depth calibration.
These three picture modes all aim to reproduce the most accurate image quality, meaning that the colours of red, green, blue, and all of the picture's grey shades, will be a very close match for what the filmmakers and programme producers saw in the studio. However, there are some small differences between the [THX] and [Professional] modes:
Like some other Panasonic Plasmas, the [THX] mode produces brighter, higher contrast images.
The [THX] mode has no [Colour Management] properties to control the Saturation and Hue of Red, Green and Blue, although it still has very accurate, realistic colour thanks to the certification work done by THX.
The [THX] mode has a visible [Gamma] option – but it does nothing! Gamma in THX mode is effectively locked to the "2.2" setting.
Strangely, [THX] mode has an on/off switch called [Vivid Colour] which, thankfully, does nothing.
2D Calibration
Note: Our Panasonic TX-P46VT20B review sample was calibrated using Calman Professional, the industry-leading video calibration software.
2D Mode Greyscale
Before measuring the [THX] mode on the Panasonic TX-P46VT20, we could, by eye, detect a slight excess of red in the Greyscale mix. This is to be expected – every individual TV is different, and the THX Certification process can't cater to every single individual unit (that's what specialised calibration is for). We took some measurements to get some hard data on the plasma TV's Greyscale tracking: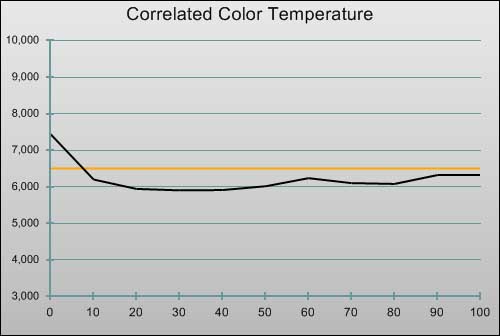 Pre-calibration CCT in [THX] mode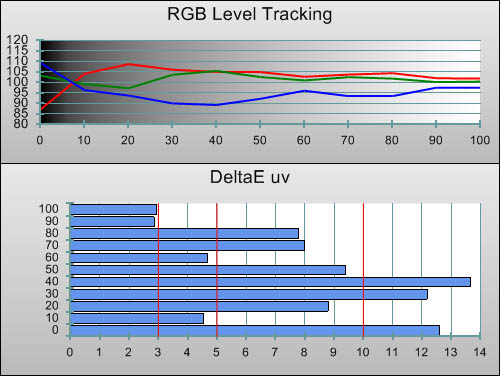 Pre-calibration RGB tracking and delta errors (dEs)
As we witnessed by eye, the Panasonic TX-P46VT20B was rendering grey shades with a touch too much red – specifically, around 5-10% too much. Or, expressed differently, the TV's colour temperature (top chart) was slightly too low, measuring at around 6000K rather than the desired industry standard of 6500K. This isn't the best result we've seen from a Panasonic plasma's [THX] mode, but for an attempt that is uncalibrated (and therefore has little chance of being as visually perfect as possible), it's still very good. For comparison, the blue-tinted [Dynamic] and [Normal] modes on many HDTV sets typically measure at around 9000K, having far too much blue in the picture.
Normally with Panasonic displays, we now switch over to the [Professional1] mode to perform Greyscale calibration, since it gives us maximum control over Colour and Gamma later on in the process. However, we've calibrated plenty of Panasonic TVs this way, all with similar and predictable results. For this review, we're deliberately calibrating the [THX] mode to give readers an insight into an alternative way of calibrating the 2010 Panasonic Plasma displays. The benefit here is the [THX] mode's higher light output, which will be desirable in brighter viewing environments. We've heard of some calibrators deliberately foregoing the other added benefits of the [Professional] modes for this reason, so we feel it's worth covering.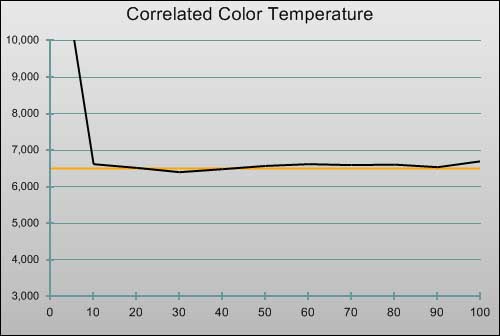 Post-calibration CCT in [THX] mode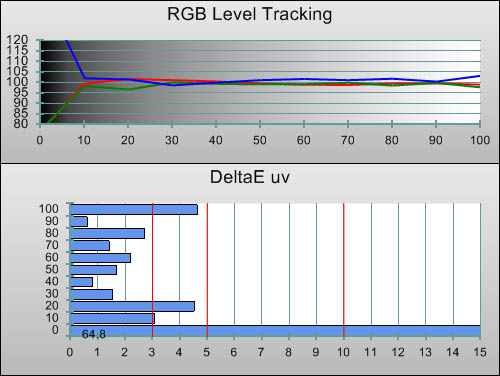 Post-calibration RGB tracking and dEs in [THX] mode
Although [THX] picture mode doesn't let use the [Colour Management] or [Gamma] calibration controls, its [Advanced Settings] menu does still allow us to fine-tune Greyscale tracking, which is certainly the most important of the three. By jumping back and forth between 20 and 80% stimulus test patterns and measuring the colour of the grey shades being generated by the TX-P46VT20, we could reduce unwanted colour casts to negligible levels. The final result is excellent, and can be seen above: only die-hard videophiles would notice the tiny errors remaining in the image, and even then, we'd likely need test patterns (or an ultra-accurate studio monitor for comparison) in order to do so.
| | |
| --- | --- |
| | |
| Gamma curve in [THX] mode | Corresponding gamma tracking |
As we previously noted, the [THX] mode's [Gamma] control is non-functional. Fortunately, Gamma tracking on the TX-P46VT20B was somewhere in the right ballpark anyway, and was what we expected from a Panasonic Plasma display. At the time of writing, the most consistent performers in this area have all been LCD TVs. Like most (all?) Plasma displays, the measured luminance varies depending on the size of the test patterns used during measurements (as usual for Plasma reviews, the above measurements were captured with the windowed patterns from the AVSHD Calibration Test Disc).
2D Mode Colour
The [THX] mode doesn't allow the user to access any Colour Management options. This isn't a huge problem, because one of the purposes of the [THX] mode is to match the HDTV Rec.709 gamut without any user intervention, anyway. In other words, any calibration work has already been done for us. The colour performance was completely serviceable to the naked eye, and we confirmed the high level of accuracy by measuring: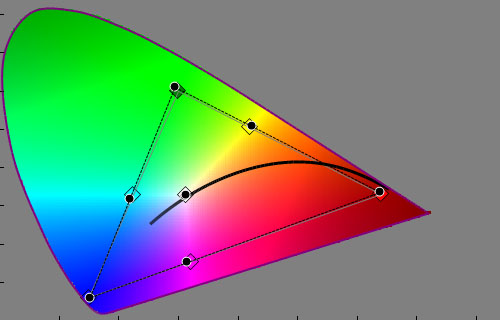 Post-calibration CIE chart with reference to HD Rec.709
As you can see, there are no blatant hue or saturation errors, although there is still a tiny bit of room for improvement. This performance wasn't surprising at all, because even before Panasonic introduced Colour Management controls on their HDTVs, the THX mode would often save the day and produce natural colour. Very slight inaccuracies in Green, Magenta and Cyan are measurable, but not especially visible.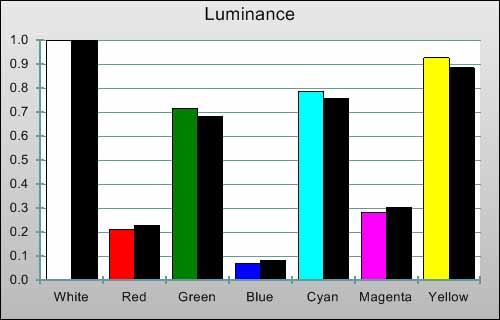 Post-calibration colour luminance (coloured bars = targets; black bars = measured values)
The triangular chart (CIE Chart) above only tells us part of the story when it comes to colour. The Brightness (or Luminance) of each colour is also critically important. As we expected, there were no obvious errors in this area. No adjustment of the basic [Colour] control was necessary: the [THX] mode produced these high quality results without any extra adjustment.
3D Calibration
The calibration situation is somewhat different with 3D. Because the Panasonic TX-P46VT20 has not been through THX's 3D certification programme (only the 2D part), the [THX] brand name disappears when the plasma TV is operating in 3D mode, and is replaced with the more generic [True Cinema]. Be careful, though – only the name has changed. If you adjust the [True Cinema] mode in 3D, the settings you save here will apply to the [THX] mode once you switch back to 2D – the two modes share the same memory space.
Fortunately, in 3D, the light output of the [Professional] modes is not limited like it is in 2D. As a result, we switched over to the [Professional1] mode to save our calibrated 3D settings, since there was no reason not to for 3D.
The 2010 Panasonic Plasmas are the only 3D TVs we've reviewed so far that do not automatically apply different picture settings when the user changes between 2D and 3D modes. Obviously, this is at odds with the fact that different setup is required to counter-act the colour tinting effects of the 3D Shutter Glasses. This meant that we had to manually select [THX] for 2D viewing and [Professional1] for 3D, and switch between the two modes manually upon entering and leaving 3D mode. So far, we've been most pleased with Sony's 3D implementation in this regard (it handles just about everything on the user's behalf, and does so seamlessly), and hope that Panasonic will make their 3DTVs more user friendly in 2011.
3D Mode Greyscale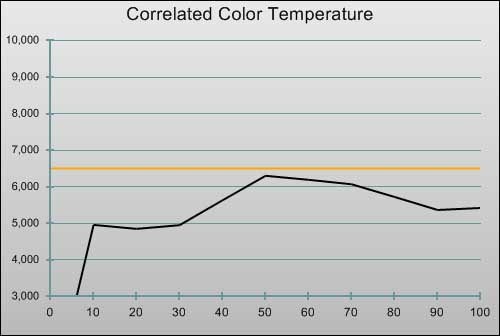 3D Pre-calibration CCT in [Professional1] mode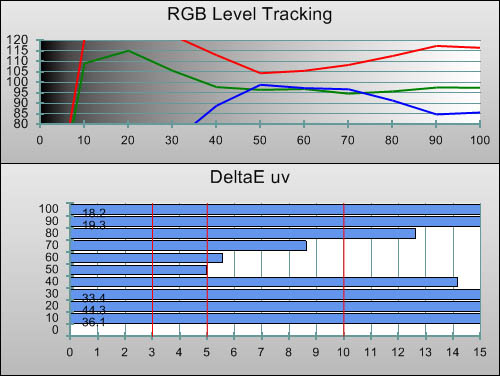 3D Pre-calibration RGB tracking and delta errors (dEs)
Every time we look at test charts or measure for Greyscale linearity on current 3D Plasma TVs, we're reminded that it's early days yet for the technology. As usual, prior to calibration, the 3D image put out by the Panasonic TX-P46VT20B appeared overly reddish when viewed through the 3D shutter glasses (especially in darker areas of the picture). The only competing TV maker that has sent us 3D Plasma TV is Samsung (we haven't seen any from LG yet), and their display featured the same problem. 3D LCD TV displays typically do much better here, but they suffer from excessive crosstalk, which is a much worse problem.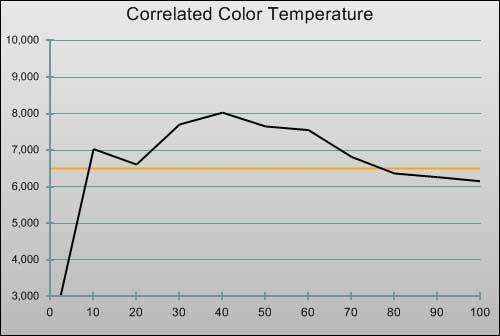 3D Post-calibration CCT in [Professional1] mode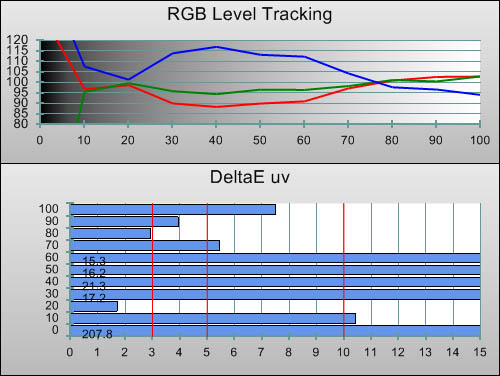 3D Post-calibration RGB tracking and dEs in [Professional1] mode
We spent a good amount of time attempting to not only neutralise the colour of grey in the 3D image (relative to the HDTV Rec.709 standard's specified D65 white point), but also to make it consistent from the darkest parts of the picture through to the brightest ones. Unlike the last plasma 3D TV we attempted to calibrate (the Samsung PS50C6900), we did manage to make a visible improvement to the neutrality of the picture. As you can see from the above RGB Level Tracking chart, our calibration basically inverted the previous "curve" present in the Greyscale tracking: we traded red-tinted shadows and neutral-ish midtones for slightly blue midtones but less tinted shadows. We found this to be a worthwhile result, since errors in mid-tones are generally much less obnoxious than tinted shadows.
However, we do still have to point out the obvious: if a TV presented inconsistent Greyscale tracking like this in its 2D mode, we would not be kind to it. It's only a lack of any clearly superior 3D option that allows us to tolerate these inconsistencies (3D LCD TVs generally do much better here, but they have a huge amount of 3D-killing crosstalk, which is a much worse problem). Hopefully 2011 will be the year where the quality of 3D displays starts to catch up to the standards set by 2D.
3D Mode Colour
By default, the [Professional] modes, when displaying 3D images, show a widened colour gamut. In lieu of any agreed-upon standards for 3D, we chose to calibrate the 3D mode's colour to the Rec.709 HDTV standard. The Panasonic TX-P46VT20's Colour Management controls allowed us to achieve a nearly perfect result here.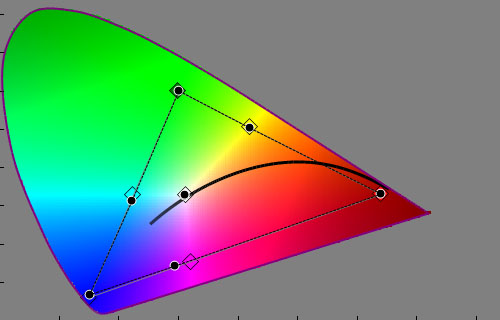 3D Post-calibration CIE chart with reference to HD Rec.709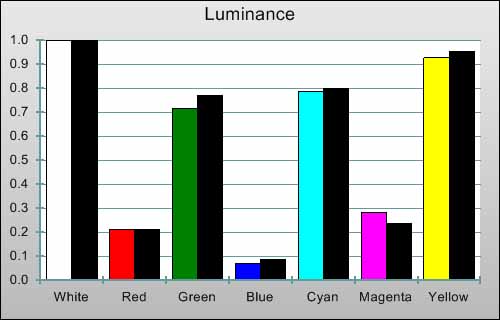 3D Post-calibration colour luminance (coloured bars = targets; black bars = measured values)
Benchmark Test Results
| | |
| --- | --- |
| Dead pixels | None |
| Screen uniformity | Perfect |
| Overscanning on HDMI | 0% with [16:9 Overscan] disabled |
| Blacker than black | Passed |
| Calibrated black level (black screen) | 0.013 cd/m2 |
| Calibrated black level (ANSI checkerboard) | 0.044 cd/m2 |
| Black level retention | Occasional subtle "floating blacks" |
| Primary chromaticity | Excellent |
| Scaling | Excellent |
| Video mode deinterlacing | Excellent, very effective jaggies reduction |
| Film mode deinterlacing | Failed 3:2/ 2:2 cadences in all resolutions |
| Viewing angle | Excellent (> 150°) |
| Motion resolution | 1080, but with some fuzziness around motion areas |
| Digital noise reduction | [P-NR] is a spatial filter, very little effect |
| Sharpness | Defeatable edge enhancement |
| Image retention | Virtually none in 2D, some in 3D |
| Posterization | Mild, though worse with poor source |
| Phosphor trails | Yes (reduced from 2D-only models); severity depends on individual susceptibility |
| Luma/Chroma bandwidth (Blu-ray) | Full Luma, horizontally blurred Chroma (except in 3D) |
| 1080p/24 capability | No judder (2D), No judder with "3D 24p Film Display" on (3D) |
| Input lag | 41ms (2D Game Mode), 16ms (3D Game Mode) |
| Full 4:4:4 reproduction | No, input subsampled |
Power Consumption
| | |
| --- | --- |
| Default [Normal] mode (2D) | 198 watts |
| Default [Normal] mode (3D) | 263 watts |
| Calibrated [THX] mode (2D) | 230 watts |
| Calibrated [Professional1] mode (3D) | 310 watts |
| Standby | 1 watt |
Measurements taken with full 50% grey screen. Actual power consumption varies relative to luminance of video content.
Picture Performance
Black Level
In the best possible conditions (that is, with a fully black screen in a darkened room), the nearly-new Panasonic TX-P46VT20B review sample reached down to 0.013 cd/m2, meaning that it produced deep, inky blacks which are nearly as dark as the flagship TX-P50VT20 model. Unlike LCD-based displays, dark areas are a perfectly uniform shade with absolutely no inconsistency (except for rare cases where the Plasma TV is suffering from temporary image retention). Although some LCD TVs are managing very impressive blacks these days, no consumer-grade LCD panels avoid some slight brightness inconsistency across the panel surface, and certainly none can show a deep shade of black when viewed from the sides. Panasonic's Plasma televisions still take the crown both in terms of absolute darkness (although only just!), and certainly in terms of the consistency of black areas.
We're now peforming ANSI test chart measurements routinely at HDTVTest, to assess how well the contrast performance of flat panel displays holds up under more realistic conditions. For readers not familiar with this method, the test chart is divided into black and white squares, giving us an idea of how black the blacks stay when they must co-exist on screen with pure white sections. In this case, the black squares measured 0.04 cd/m2. Because of how we perceive darkness, this rise in black level is not actually apparent to the eye, due to the surrounding white areas.
The Panasonic TX-P46VT20 does also feature "floating blacks", which is a mildly irritating and rare occurrence. If you're watching a 2.35:1 movie with black letterbox bars above and below the picture, occasionally you might spot the blacks get very slightly greyer in the middle of a scene. This wouldn't usually be noticeable, but the black bars above and below the picture make it easier to spot if you're looking out for it, since the bars are an always-present reference for what pure black should look like. Some users have pointed the finger at Panasonic and suggested that the company has deliberately programmed this unwanted luminance shifting in as some sort of misconstrued "feature", but we don't believe this to be the case: that is to say, the "floating blacks" seem to be an unavoidable quirk of how Panasonic addresses the Plasma panel, and not a Panasonic engineer attempting to introduce an unwanted video processing gimmick. We should also point out that the "floating blacks" are not specific to Panasonic: the last Samsung Plasma display we reviewed also showed this behaviour, albeit not during the same test scenes. For users who have perfectly consistent light output as a priority, we suggest looking at LCD televisions instead. Sadly, there is no "perfect" TV.
Motion Resolution
Running the FPD Benchmark Software's motion resolution test reveals that the TX-P46VT20B, like the rest of this year's 3D-capable Panasonic Plasma displays, can just about hold on to all 1080 lines of resolution even during movement. However, the moving areas are surrounded by "fuzzy shadows", which some users have complained about. In the past, we've speculated that the visiblity of these "fuzzy shadows" has become greater on more recent Panasonic displays as a side-effect of other changes the company made to make the Plasma panel more suitable for displaying 3D video. The bottom line is that although the Panasonic 3D Plasma displays show what most people would regard as blur-free motion, it is not completely free from artefacting.
Turning [Intelligent Frame Creation] on does visibly reduce the "fuzzy shadows" effect, but introduces digital-looking motion compensated frame interpolation errors instead, as we expected. Samsung's recently reviewed PS50C6900 Plasma display did manage to produce cleaner motion than any of Panasonic's efforts this year, but it featured a large amount of crosstalk in its 3D mode, which Panasonic (understandably) appears to be preoccupied with avoiding. We just hope that 3D compatibility is not damaging the 2D picture quality of these displays, because we'd guess that, like us, our readers (many of whom we expect can take or leave 3D at this stage) would not be in the least bit happy about this.
3D Material
When we viewed 3D content and test patterns on the Panasonic TX-P46VT20, it became apparent that it has the same 3D resolution limitation as the TX-P42VT20 and TX-P42GT20. Although it accepts Full HD 3D 1080p input via its HDMI connectors, not all of (only "most of") that vertical resolution makes it to the screen due to the way that the Plasma panel is addressed when operating in 3D mode. Jaggedness can be seen in especially detailed areas of the picture, and on diagonal edges, both in test patterns and with 3D Blu-ray movies such as Avatar and Cloudy With A Chance Of Meatballs. So far, only the TX-P50VT20 has shown a full-resolution, jaggies-free 3D picture, suggesting that Panasonic is having difficulty in getting its plasma 3D technology fully operational at smaller screen sizes.
In spite of this, the 3D images put out by the lesser 3D Panasonic Plasmas still have the same sense of depth as the flagship 50″ model. Although some jaggedness is visible as a result of the resolution limitation, and although the Gradation quality and Greyscale linearity both degrade when the panel is operating in 3D mode, Crosstalk is still almost non-existent, which is the most important factor in believable 3D images.
Although we didn't see the same level of consistency and Greyscale purity as we saw in 2D mode, calibration produced visibly superior 3D image quality on the TX-P46VT20B. Hopefully, the 2011 Panasonic 3D Plasmas go through the THX 3D Certification programme and do not need the same amount of complicated calibration work in order to gain the same results. Although the situation is somewhat excusable given that home 3D displays are still relatively new, we'll be less thrilled if the 2011 models don't produce more natural, less tinted pictures out-of-the-box.
3D Gaming (Nvidia 3DTV Play)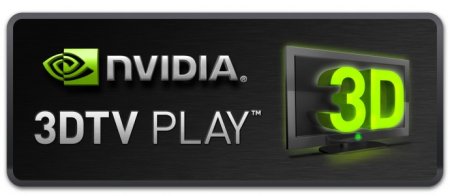 As we mentioned earlier in the review, Nvidia, who have partnered with Panasonic in the United States, sent us one of their 3DTV Play kits, which allowed us to connect one of the company's powerful PC graphics cards to the TV and enjoy Stereoscopic 3D gaming with fluidity and quality beyond what is currently being offered on games consoles. Seeing as Panasonic's 3D TVs are arguably the best first-generation compromise thanks to their almost total freedom from crosstalk, we were excited to have a look at some 3D PC gaming on the TX-P46VT20.
The 3DTV Play kit is certainly worth a look for content-hungry 3D aficianados. At the time of writing, the current "high powered" games consoles – the PS3 and Xbox 360 – do not appear to have the horsepower necessary to deliver a no-compromises 3D experience. In fact, these machines have a difficult enough time in drawing 2D visuals, with most games only managing to run at 30 frames per second (a figure which hardened PC gamers will likely scoff at, and for good reason). Nvidia's 3DTV Play software allows hundreds of PC-based Windows games to play back in genuine 3D thanks to the fact that it is implemented at the Graphics Processing Unit (GPU) level. In other words, it has access to genuine depth information and is simply "unlocking" stereoscopic 3D display, rather than using the cruder forms of analysis that in-TV 2D-to-3D conversion systems must resort to.
Although the version of the kit that we received didn't have instructions specifically addressing how to use it with a Panasonic 3D TV (our kit contained instructions for PC LCD monitors and 3D DLP televisions, but not Panasonic's 3D Plasmas), Nvidia assure us that the current version will specifically address this usage scenario and that 3D Plasma owners will have no difficulties in getting the software up and running. Certainly, the 3DTV Play software gave us the best 3D gaming experience we've had to date. We were able to play games such as Resident Evil 5 – a game which was released before stereoscopic 3D displays were available in the home cinema world – in full 3D, and at 60 frames per second, no less (the Playstation 3 and Xbox 360 versions of the game run at 30fps, in 2D). Due to limitations in the HDMI standard, we had to play at 720p resolution, since it was not possible to send 1080p/60fps in Full 3D to the TV. This wasn't a particularly bad compromise, because for gaming, the fluidity offered by a smooth frame rate is arguably much more important than the highest possible resolution.
After downloading a 3D-capable version of PowerDVD, we could also use our 3DTV Play-equipped PC to play Blu-ray 3D movies. The user experience is not quite as smooth as current set top players (we encountered a few particularly annoying instances where the software would only play 3D Blu-ray Discs back in 2D), but once things were up and running, there were no noticeable picture quality issues. More information on 3DTV Play can be found at Nvidia's web site. Given how far off new, designed-for-3D games consoles might be, it could turn out to be a wise investment for content-hungry 3D gaming fans who can connect their PC to a large-screen 3D display.
Standard Definition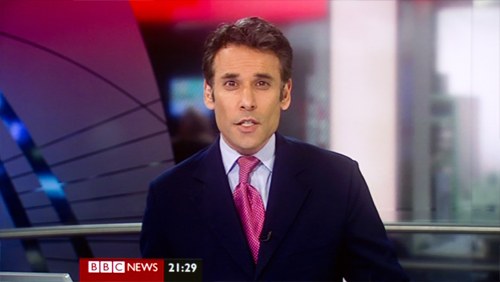 The TX-P46VT20B features the same SD video processing quality as every other 2010 Panasonic Plasma television. There are only so many times we can re-word this, so allow us to re-hash a quick summary:
Suppression of jaggies in interlaced material (TV sporting events, chat shows, cheaper drama shows) is very good, but not top-of-the-range. You might notice some slight flickering in very detailed areas (think brick walls, car grilles, etc.)
Film mode detection for film camera/ low-motion material is still non-existent. This means that films input to the Panasonic TX-P46VT20 in interlaced standard definition (such as on Freesat, Freeview, or from an older non-upconverting DVD player) will have small jaggies visible in some areas. A high quality Upconverting DVD player will sidestep this issue, assuming it doesn't have the exact same issues on its own video processing chip, that is.
Scaling performance is excellent, meaning that in spite of the above, SD TV pictures look as clear and sharp as they possibly could (albeit with the shortcoming mentioned).
The last point plays strongly in the Panasonic TX-P46VT20B's favour, and once combined with the accurate Greyscale tracking, colour performance, and high contrast Plasma look, makes for some very satisfying standard definition viewing.
High Definition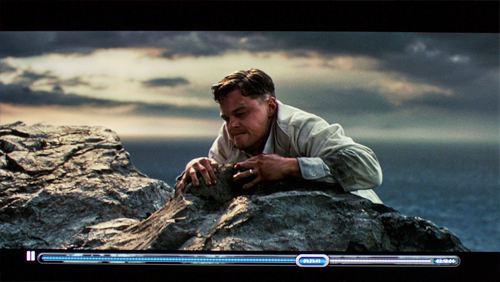 It's difficult to argue against the opinion that the Panasonic VT20 displays offer the best 2D HD picture quality out of any HDTV sets currently being manufactured (those three words, "currently being manufactured", allow us to excuse the unsurprising fact that not all aspects of Panasonic's best efforts are a complete replacement for Pioneer's departed KURO range). It's true that their way of rendering motion does occasionally result in noisy "fringes" around fast moving objects, but the sufficiently glossy, reflection-rejecting panel has deep blacks and sufficiently high light output, meaning that most users will be wowed by the richness and depth of the image. Combine this with the suitably accurate [THX] picture preset (which can be made even better with individual calibration attention), and you're left with an image which is naturally, rather than artificially vibrant and crisp.
There's no unwanted undefeatable image processing: the picture is never over-sharpened (unless you set the [Sharpness] control too high), it doesn't attempt to scrub the grain out of grainy film material, and provided you don't turn it on, there's no processing which produces a "soap opera effect" with films. A perfect image? Not quite – this is still a Plasma display, after all, and all current display technologies have their strengths and weaknesses – but to the naked eye, it's every bit as good as the TX-P50VT20 is in 2D, making it one of the best 2D HDTVs on sale today.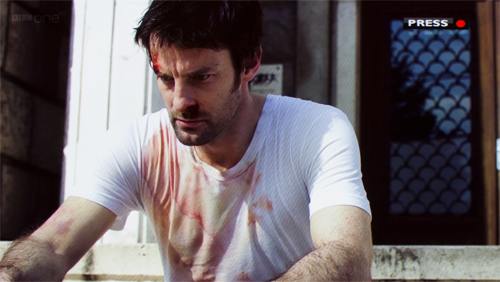 Console Gaming
When we played games on the Panasonic TX-P42VT20, we were disappointed at the relatively high amount of input lag. The TX-P46VT20B followed in the 42″ model's footsteps, sadly, and measured as lagging by around 41ms – an unusually high figure for a Panasonic Plasma display. For comparison, the best we've measured was from the TX-P50S20, at just 16ms. We're not sure what processing is causing the processing delay, but so far, TVs which are equipped with the (pointless) 2D to 3D conversion option have all featured higher input lag (even when this processing is not being used). In any case, the end result is the same: games requiring fast reflexes are simply not as enjoyable as they are on previous Panasonic TVs. We will be bitterly disappointed if 2011 is the year where Panasonic squanders their reputation for gaming performance, and although 41ms is not a terrible result, hope for a return to form in this new year.
One other oddity to note: just like the 42″ model, input lag during 3D gaming was only 16ms. It's actually possible to engage the TV's 2D-to-3D conversion mode (obviously causing the panel to switch to 3D display mode) to enjoy faster response. If Panasonic are to continue with whatever additional processing is causing the increased delay, we hope that in 2011, they'll add a real "Game Mode" (not just the relatively pointless "Game" picture preset they have now) to produce the fastest gaming response possible.
Conclusion
Like the 42″ model, the Panasonic TX-P46VT20B 3D Plasma TV still doesn't manage to be quite as recommendable as the wonderful TX-P50VT20 we reviewed back in May last year. Although its Stereoscopic 3D video output has the same involving 3D effect (thanks to its freedom from annoying crosstalk), its 3D pictures are slightly less clean and suffer from some jaggedness when compared to the 50″ version. And, unfortunately, this 46″ version isn't quite as responsive with (2D) video gaming as most of the company's HDTV lineup.
With those points out of the way, the 2D image quality is still as excellent as we've come to expect from Panasonic's Plasma range. The killer combination of deep blacks and suitably bright whites, combined with accurate, lifelike Greyscale and colour rendering, all make for deep, involving images. If you must have a 3D TV right now, though, we highly recommend looking at the Panasonic TX-P50VT20. A look around online reveals that it can be had for nearly the same price as this 46″ model, but HDTVTest readers will now know that 4 inches of screen size is not the only difference between the 46″ and 50″ models – the 50″ version has superior performance.
If you can't make room for the 50″ version, then the TX-P46VT20 is still one of the better 3D displays on the market, and certainly one of the better 2D displays, too. Right now, even with some quirks, Panasonic's Plasma displays are in first place when it comes to 3D, thanks to the fact that the images they put out actually do look three dimensional (you'd think this would be a basic requirement for a 3D TV, but all of the LCD-based attempts we've seen have been worryingly crosstalk-ridden). We'll be interested to see how the competition responds now that we're in 2011, but most of all, we're curious to see how Panasonic's new 3-dimensional models can improve on the 2010 efforts.