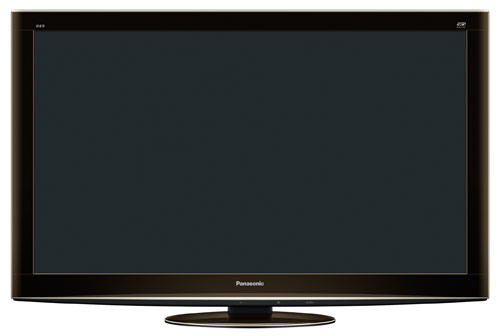 Hot on the heels of the Viera G20 NeoPDP plasma we reviewed recently, Panasonic will soon be releasing their flagship VT20 series — comprising the 50-inch Panasonic TX-P50VT20 and the gargantuan 65-inch Panasonic TX-P65VT20 — in the United Kingdom.

Update 21 May 2010: We have completed and published a full review of the Panasonic TX-P50VT20.
Note: Different countries may have different alphabets appended to the end of the model name. For example, the Panasonic TX-P50VT20B denotes the British 3-pin-plug version, while the European variant would be the Panasonic TX-P50VT20E.
The Panasonic VT20 series of plasma HDTV will be blessed with the following features:
A true HD native screen resolution of 1920 x 1080;
NeoPDP plasma technology;
A Freeview HD DVB-T2 tuner;
A Freesat HD DVB-S tuner;
THX certification with ISFccc;
600Hz Sub-field Drive Intelligent Frame Creation Pro; and
Two USB ports which allow you to playback music, pictures and video files, connect wirelessly via a wifi dongle (not included), or record HD or SD TV content to an external hard drive like a PVR. Unfortunately the recorded programmes are encrypted and cannot be viewed on other televisions or computers.
However, the single attribute that distinguishes the Panasonic VT20 series from step-down models is its full HD 3D TV capabilities. The Panasonic VT20 3D TV uses the alternate-frame sequencing method where discrete full HD images (1920 x 1080 pixels) are displayed alternately for the left and right eyes. With the help of 3D eyewear (active shutter glasses) which opens and closes its left and right shutters in sync with the delivered images, these separate images are processed by your brain and then perceived as 3D picture.
Facing stiff competition from other TV manufacturers who are also launching their respective ranges of 3D TV this year, Panasonic claim that their NeoPDP plasma panels will create the clearest and sharpest 3D images due to the NeoPDP's quick response time (which reduces crosstalk) and faster light emission (which reduces afterglow) stemming from new technological breakthroughs in phosphor composition and light-emitting control.
Of course, for those who don't really care much about 3D, what's really exciting about the Panasonic VT20 series of plasma television is the potential reincarnation of Kuro technology (in particular its legendary black-level reproduction) as a result of a panel sharing agreement between Panasonic and Pioneer. While we did not witness any Kuro magic on the mid-range G20 we tested, hopefully Panasonic will not hold things back on VT20.
Panasonic TX-P50VT20
Our first encounter with the Panasonic TX-P50VT20 (as well as the Panasonic TX-P65VT20) was at the Panasonic Convention 2010 in Munich.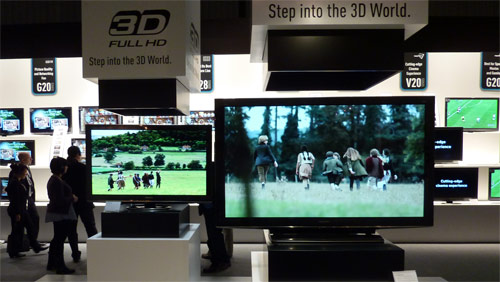 Left: Panasonic TX-P50VT20; Right: Panasonic TX-P65VT20
We were mightily impressed with the blacks on the Panasonic TX-P50VT20 3D TV, but because the showroom was pretty bright, we shall reserve judgement until we are able to run our tests in a dimly-lit viewing environment when we get our hands on a review sample.
Front view and side connections
The metallic brown finish on the bezel was pretty inconspicuous most of the time, only exhibiting a bronze undertone when examined under bright lighting.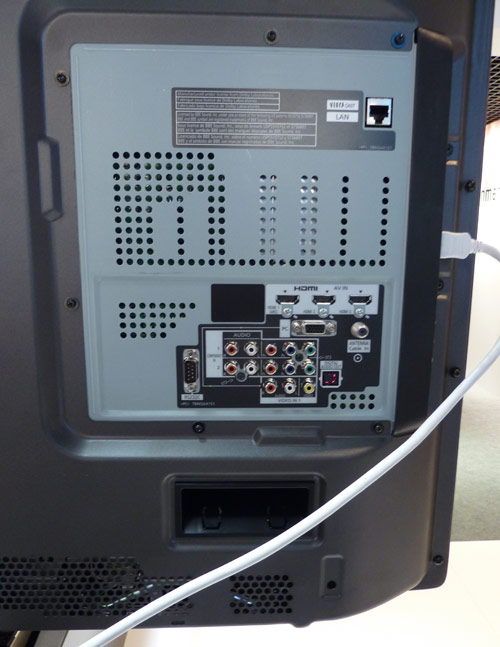 Rear connections and recessed grip handle
A quick inspection around the back revealed a few cooling fans, and a pair of recessed grip handles near the bottom of the panel that will help immensely in handling/ lifting the 3D plasma TV.
The Panasonic TX-P50VT20B can now be bought from Comet at a price of £2184.99 (using voucher code AW5199 which gives 5% discount). Included in the price are two pairs of Panasonic TY-EW3D10 (TY-EW3D10B in the UK) 3D glasses which felt somewhat flimsy, but nevertheless was quite effective in terms of functionality and aesthetics when we tried them on at the Panasonic Convention in Munich.