At its annual convention which is this year held in Hamburg, Panasonic has launched its top-end VT50 series of Smart Viera plasma TVs for the UK and Europe. The VT50 will be the Japanese manufacturer's flagship product among all the twelve ranges (six plasma-based; six LED/ LCD-based) of HDTV displays unveiled this afternoon.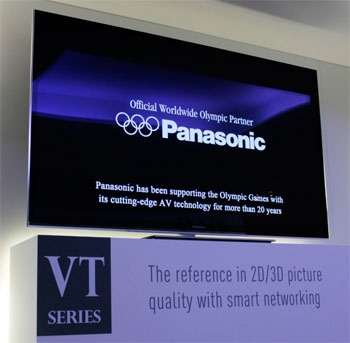 Panasonic TX-P50VT50 & TX-P55VT50 3D plasma TVs launched
The Panasonic VT50 will come in three screen sizes for European markets: a 50-inch Panasonic TX-P50VT50, a 55-inch TX-P55VT50, and a 65-inch TX-P65VT50. The equivalent models that will go on sale in the United Kingdom are the Panasonic TX-P50VT50B, TX-P55VT50B and TX-P65VT50B – the "B" suffix simply denotes the 3-pin-plug British version. We have been informed that the VT50 won't come in a 42-inch flavour, which means that those with limited space may have to settle for the step-down GT50 series.
At first glance, there is not much in terms of specifications that we do not already know about from the Consumer Electronics Show (CES) 2012 in Las Vegas last month. The Panasonic VT50s will feature full HD resolution in both 2D and 3D, Infinite Black Ultra panel with Deep Black hues complemented by High Contrast Pro Filter, fast-switching phosphors, 2500 FFD (Focused Field Drive) and 24,576-step gradation technology, 2D-to-3D conversion, 2D and 3D THX certification, ISFccc calibration mode, minimalistic one-sheet-of-glass design, as well as Viera Connect internet-enabled platform with integrated web browser and WiFi.
A dual-core Pro4 processor on board allows for seamless multitasking between apps within the Viera Connect portal, and also unrestricted web browsing (i.e. websites with Flash can be displayed without any problem). The Panasonic TX-P50VT50, TX-P55VT50 and TX-P65VT50 will ship with a Viera Touch Pad controller and two pairs of the company's latest active-shutter 3D glasses included with each package.
Prices have not been officially set yet, but Panasonic representatives have hinted at the event that they would range from £2000 for the 50VT50 to £4000 for the 65-incher. The Panasonic TX-P50VT50B is scheduled to hit UK shops towards the end of March, while the TX-P55VT50B and TX-P65VT50B should arrive early April.