So, the shiny new 2012 Panasonic Plasma models have just been announced at CES, but we still think it's worthwhile having a look at Panasonic's largest, highest-specced Plasma 2011 NeoPlasma display – especially given that there could well be some end-of-the-line bargains appearing with the introduction of the 2012 panels as they roll out over the next few months. The TX-P65VT30B features Panasonic's high-quality 1080p NeoPlasma panel, the best screen filter currently available (High Contrast Filter Pro) for improving picture richness in daytime viewing environments, 4 HDMI inputs, high-def terrestrial and satellite tuners (that's Freeview HD and Freesat HD in the UK), and THX approval and picture modes for both 2D and 3D. It also features Panasonic's most advanced suite of picture calibration controls, adding highly precise 10-point adjustments for both Greyscale mixing and Gamma, which can be used by a calibrator to squeeze every last drop of performance out of the HDTV.

We've already had a look at the VT30 Series in its 50″ version earlier in 2011, but the 65-inch model arrives with us with all of the benefits that time brings: Panasonic has since issued new firmware to address the issue of floating gamma (brightness changes during dark scenes in films) that we pointed out, along with other scientific reviews. This was one of our lingering gripes with the earlier version of the VT30, so we'll see if it is indeed a thing of the past during this review.
The current cheapest online price for this 65″ television is around £3000, so let's see if the Panasonic TX-P65VT30 can deliver big-time picture goodness to match the big-time price tag.
Note: The specific model we tested was the Panasonic TX-P65VT30B, which denotes the 3-pin-plug British version.
Design
2011 marked the first year where Panasonic (we're told) outsourced its TV designs, and nobody seemed to disagree that the new models were a step forward in terms of aesthetics. The TX-P65VT30 is certainly slick, and we'll point out again that it reminds us of a gigantic Apple iPad, with its silver trim, gloss black bezel, and "one sheet of glass" design. After hauling the 65″ plasma out of its box and attaching it to its tabletop stand (Panasonic recommends four people to carry the weight of the screen), we had to give it a good clean to wipe away the greasy fingerprints – as part of the slimming down process, recessed hand-grips are no longer present on the back of Panasonic Plasmas.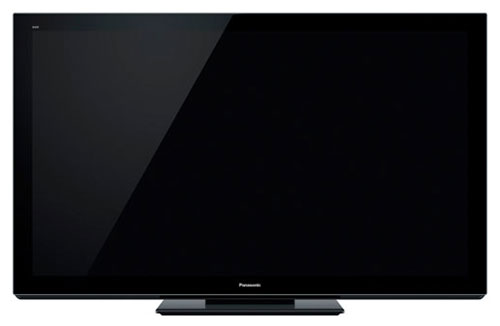 The border around the screen seems slightly larger than on the 50″ model we reviewed previously, although we're not sure if this is our imagination or not.
As usual for Panasonic products, and thankfully for a screen of this weight, the table-top stand feels incredibly sturdy.
Connections
The Panasonic TX-P65VT30B is (nearly) fully loaded in terms of connectivity, although the European models don't feature an analogue VGA PC input like the North American equivalents do. There are 4 HDMI inputs, USB sockets, an SD card slot, and, through break-out adapter cables (required in order to maintain the TV's ultra-slim profile), provision for Component, RGB SCART, Composite video, aerial and satellite dish feeds. There are also various audio-only output terminals.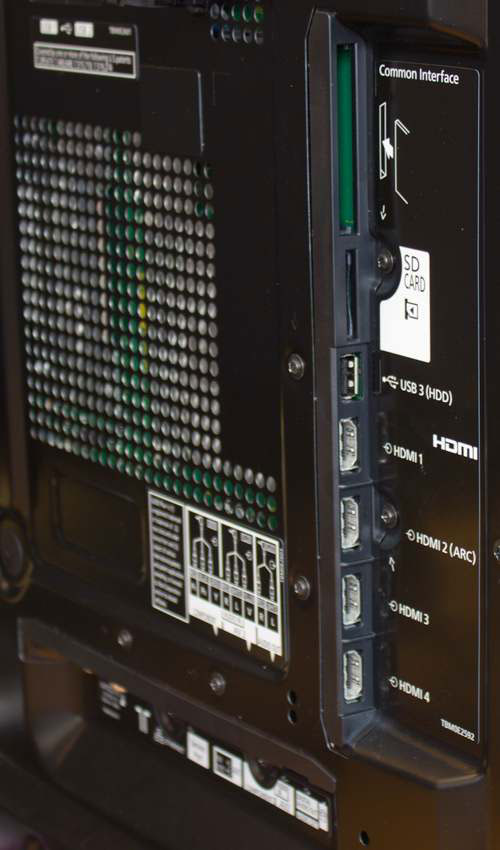 Rear: 4 x HDMI, Component, SCART, aerial, Freesat, USB, SD card, LAN, etc.
Operation
The most critical picture adjustment on the Panasonic TX-P65VT30 is the [Picture Mode]. Some of these modes enforce non-standard colour gamuts and unusual Gamma curves. Users who just want to get the most accurate picture quality possible out of the box, without any additional work or expenditure, can select the [THX] option, which is the THX Display Certification programme's most-likely-to-be-accurate picture settings. The individual materials in each panel are different, though, so to get all of the picture accuracy possible from the VT30 (or any other HDTV, for that matter), it's necessary to have it individually calibrated. The two [Professional] modes (unlocked in the [Setup] menu) grant full access to all of the advanced calibration controls and allow for this work to be done.
[Picture] menus
The [Advanced Settings] screen grants access to precise 10-point White Balance (Greyscale) controls, used to fine-tune the colour of grey on the television (if the colour of grey is wrong, then all the others will be too, to a lesser or greater extent), a complete [Colour Management] system, which, unlike that found on the lesser Panasonic models, allows for all three attributes of all six primary and secondary colours to be finely adjusted, and a [Gamma] control with 10-point correction (again only found on the VT-series models) to fine tune the distribution of light between dark and bright. We couldn't really ask for anything more than this.
There's also Panasonic's [Intelligent Frame Creation] system, which has two levels of sensitivity as well as an Off setting, which we'll investigate during the review process. Lastly, there's [Clear Cinema], which is a Film Mode detection option, which can be enabled to gain maximum vertical resolution and freedom from jaggies with film content transferred to interlaced video (in other words, any film broadcast on SD or HD TV). We'll find out how well that works later.
The Panasonic TX-P65VT30B's menus contain legible fonts and react quickly to user input, and remember the last position used, which is handy given how often we'll be diving in and out of them during setup.