We recently put Samsung's highest-specced 2012 plasma TV through the HDTVTest review process, making the arrival of Panasonic's contender, the TX-P65VT50, all the more timely. We've had a good look through most of the Panasonic plasma range already, although not at this particular combination of screen size and series.
The VT50 series naturally features a 1920×1080 Full HD plasma display panel, and Panasonic's best anti-reflective screen filter (branded "Infinite Black Ultra") for keeping contrast performance high even in more brightly lit rooms. What's more, it's THX-certified in both 2D and 3D, and accordingly comes with a THX-branded picture mode, which is the next-best thing to having your HDTV individually calibrated. Of course, that's a possibility too, since the Panasonic TX-P65VT50B has a full suite of Imaging Science Foundation (ISF) branded picture calibration controls.
Panasonic's "2500hz Focused Field" panel driving algorithm is on board for clean and crisp motion, and the 15th-gen plasma panel can produce 24,576 shades of gradation, resulting in better portrayal of subtle near-black shadow details with less plasma dither noise (that's the "sparkling" pixels you can see on plasma TVs if you sit right beside the screen). The availability of this feature depends on the picture mode setting, as we'll discuss fully.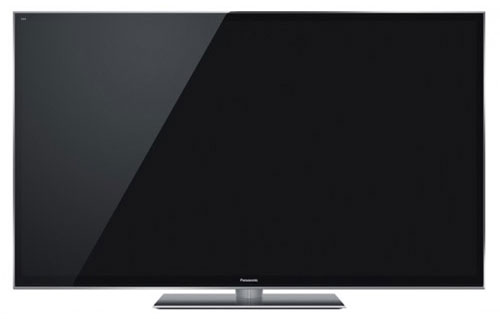 The Panasonic TX-P65VT50 is not cheap, with the best online price at the moment being around £3,800. That is nearly £1000 more than the midrange TX-P65ST50. Is the Japanese manufacturer's biggest and highest-specced 2012 plasma television worth the premium?
Note: The specific model we reviewed is the Panasonic TX-P65VT50B which is the 3-pin-plug British version.
Connections
4 HDMI inputs
1 Composite / Component shared input *
1 SCART input *
Aerial input (DVB-T2 / "Freeview HD")
Satellite input (DVB-S2 / "Freesat HD")
Ethernet terminal
* via supplied adapter cable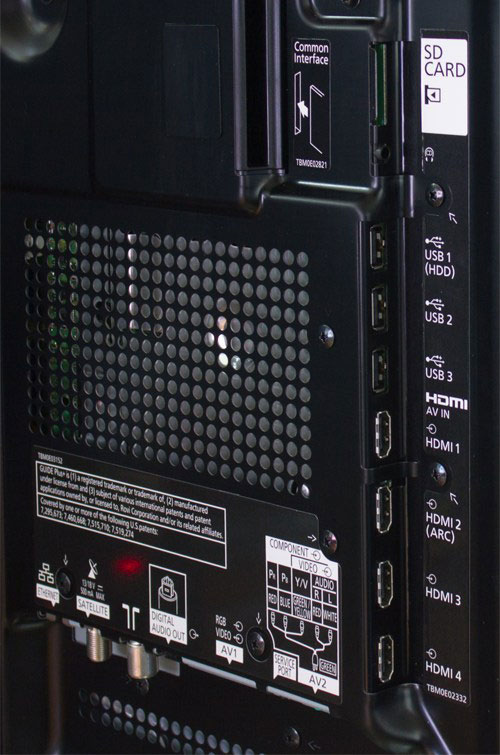 Rear: 4 x HDMI, SCART, Component/Composite, aerial, Freesat, ethernet & audio outs
Operation
There are various different picture modes on the Panasonic GT50 and VT50 plasmas. Rather than type paragraph after paragraph, or create a table of all the data which takes up an entire screen, we've summarized the info into bullet point form. If you're interested in accurate video that reproduces the same (or very similar) colours as intended by the filmmakers, the THX Cinema and Professional modes are your choices (as such, we've put these at the top of the list).
"THX Cinema" has the best contrast performance, with incredibly deep blacks and suitably bright whites. Gradation quality in dark areas is decreased compared to the "Cinema" and "Professional" modes, but this is subtle. Accuracy is very good, but there are no calibration controls available in this mode should eagle-eyed video enthusiasts want to take part in any fine-tuning. 2-point Greyscale calibration can be achieved by entering the service menu, but we recommend this for qualified calibrators or enthusiasts who really know what they're doing. Gamma is locked at around 2.2 and cannot be adjusted without an off-board video processor. The same goes for colour, although it's very good already.
"Professional1" and "Professional2" are fully calibratable and offer 10-point Greyscale, 10-point Gamma, and full Colour Management controls. They also offer high gradation, so shadow details appear more stable with less panel-generated noise. Black levels are not quite as deep as the THX Cinema mode, which we feel is an acceptable tradeoff for the better gradation, especially considering that they're still very good (measurements later in the review).

Unfortunately, peak light output is too low and on the European model, can't be adjusted (US models have a "Panel Brightness" setting, but there is none here). After calibration, a 100% white window in the Professional modes measured just 65 cd/m2, compared to around 90 cd/m2 in the THX mode. This restricts the Professional mode usability to darker viewing environments only.
The other modes (Dynamic, Normal, Cinema etc.) have under-the-hood processing which reduce the accuracy of the images to create different effects ("Dynamic" loses detail and overall picture quality in order to produce a very bright image, for example). The final interesting one is "THX Bright Room", which uses a very low gamma setting combined with very high panel light output, in order to display a picture that's still visible in intensely bright environments. This mode will appear washed out and greyish if you watch it in a normal viewing environment, as the name suggests.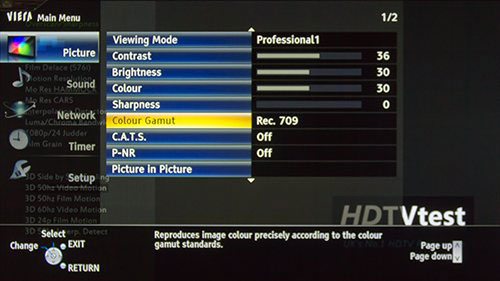 [Picture] menu
So, the TX-P65VT50 has no shortage of picture setup controls, but if you want to use all of them, there are some provisos attached. The [THX Cinema] picture mode is the most recommendable setting for nearly all users. While it uses a panel driving mode which lacks the advertised highest level of gradation, and therefore results in a little bit of extra plasma "fizzing" in near-black areas of the picture, you'd have to be sitting very close to the screen for this to be a problem. This mode features excellent picture quality and a very high contrast ratio, with the deepest blacks we've ever seen on a Panasonic plasma, and suitably bright whites.
2D Calibration
Note: Our Panasonic TX-P65VT50B review sample was calibrated using Calman Professional, the industry-leading video calibration software.
Greyscale
The purpose of the THX Cinema mode is to give users a quick, easy way to see films with undistorted colours and brightness distribution, as the director intended. We put its output to science by measuring greyscale shades, to see how pure and free of unwanted colour casts they were: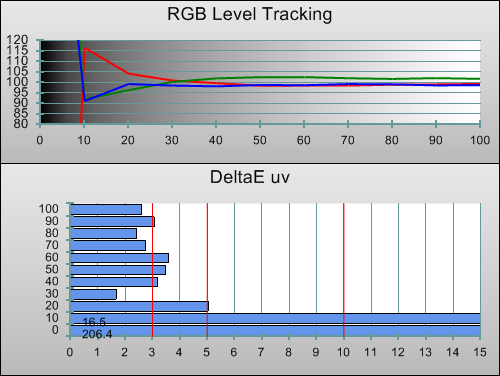 RGB tracking and delta errors (dEs)
Considering that all we did to achieve the above result was turn on the [THX Cinema] mode on the Panasonic TX-P65VT50, this is very impressive. Greyscale tracking errors are so low as to be almost unnoticeable in brighter areas of the picture.
Strangely, 10% and 20% stimulus levels are tinted red – something we didn't see on smaller VT50s. Unfortunately, there is really no way for us to fix that without adding an off-board video processor because as we discussed earlier, the THX Cinema mode doesn't have any calibration controls. In the Professional modes, which are too dark for most people's usage (at least during the day), we could simply select the 10% stimulus position and dial the Red control down. (The service menu does feature a less precise Greyscale control which can be used with some difficulty, but correcting the red tint in the shadowed areas would involve trade-offs elsewhere).
As a result, there is really no great improvement we can make on the TX-P65VT50B in this mode, which is a shame.
Gamma
| | |
| --- | --- |
| | |
| Gamma in [THX Cinema] mode | Corresponding gamma tracking |
Measured with standard-sized windows, the THX Cinema mode's gamma tracking averaged at around 2.3. Differently-sized windows yield different measurements, reminding us that this characteristic isn't consistent with all different scenes (different average picture levels will cause different results). Most importantly, none of them resulted in unnatural looking video.
Colour
Except for a barely visible oversaturation of green, the TX-P65VT50 offered outstanding colour quality in the THX Cinema mode. The errors here were so small that we can't imagine them coming close to compromising the intended feel of a film or TV show: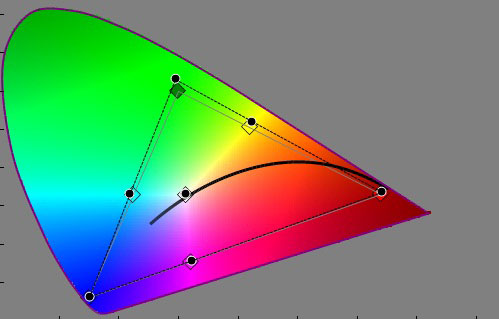 CIE chart with reference to HD Rec.709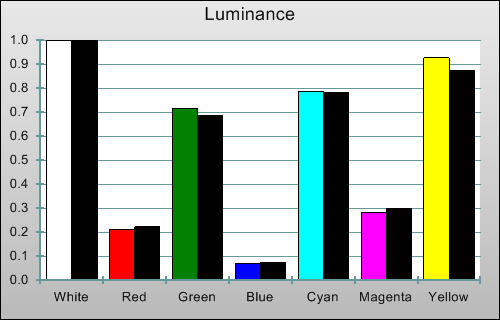 Colour luminance (coloured bars = targets; black bars = measured values)